Park Named E.J. "Woody" Rice Associate Professor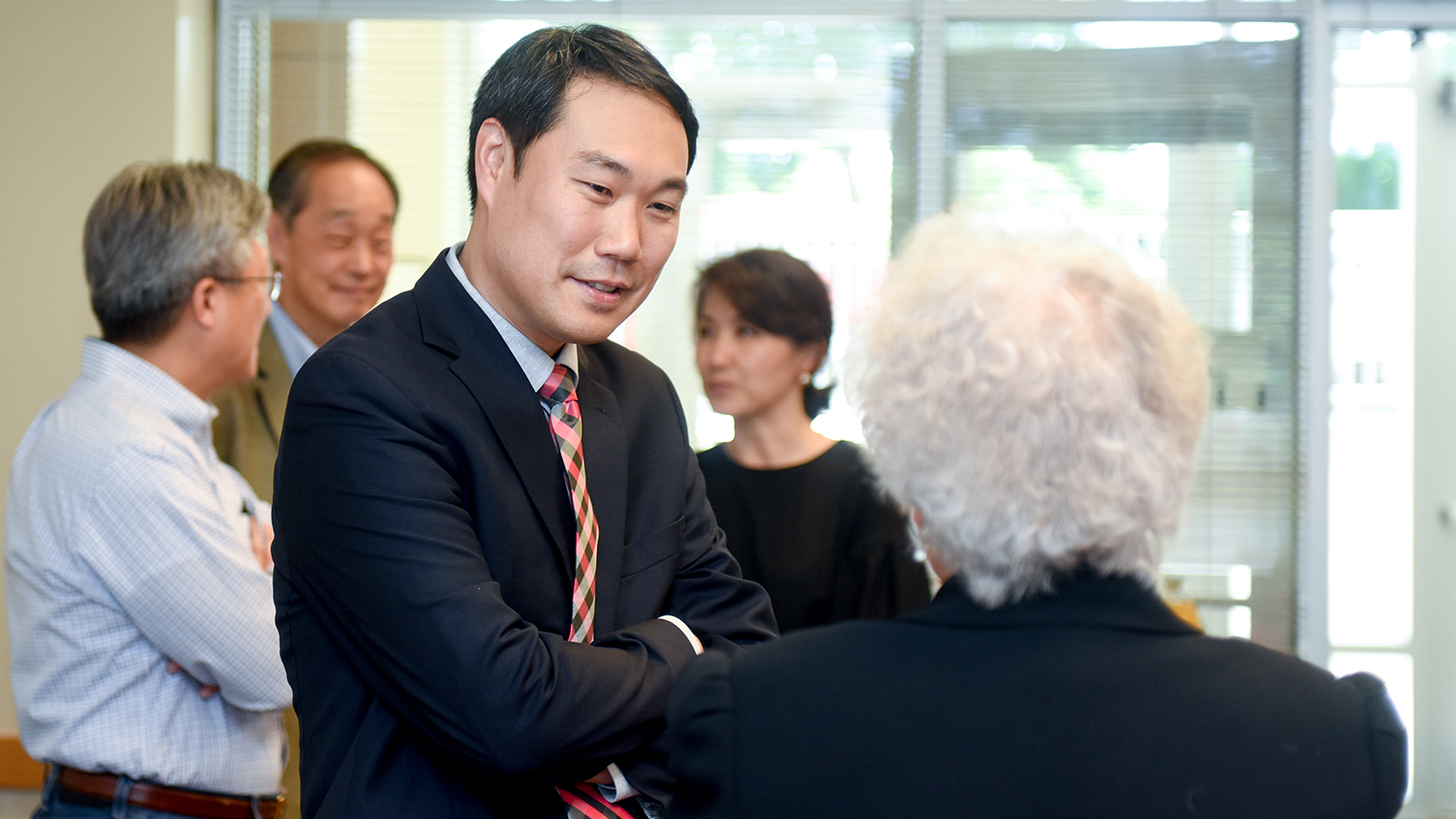 Dr. Sunkyu Park was recently named the E.J. "Woody" Rice Associate Professor in Paper Science and Engineering. This professorship was established by E. J. "Woody" Rice in 2008 to recognize a tenured faculty member in the Department of Forest Biomaterials who is focused on research and teaching in biomass utilization for sustainable bioenergy and biomaterials. The associate or full professor should have a strong track record of graduate student education and an international reputation.
"I want to say how grateful I am to receive this recognition," Park said. "Especially knowing that I work every day with colleagues and faculty in the Department of Forest Biomaterials who are equally deserving. As an associate professor, I think this is a starting moment and a great motivation to work together more for biorefinery and bioeconomy development. I did not make the journey here alone and I greatly appreciate all the support from our faculty, staff, and dean. I also would not be here without the encouragement from my students, postdocs and family."
An associate professor and University Faculty Scholar, Park has served the Department of Forest Biomaterials, College of Natural Resources, NC State University, and his professional societies in a variety of ways. He teaches several courses on bioenergy and biomaterials engineering, mentors students and serves on graduate committees.
"Dr. Park has built an outstanding reputation in the U.S. and globally," according to his nomination. "Some of his publications are highly recognized, including those in the areas of cellulose crystallinity and biomass conversion into biofuel production. He carries out very productive research, is very successful in international activities, and is a service to our profession."
Park's research focuses on sustainable production of fuels, chemicals and materials from lignocellulosic biomass. He has more than 70 publications and 30 research grants, 18 as a lead PI, in biomass reactivity and biorefinery development.
"Our research at NC State covers a broad spectrum of biorefinery development and is focused on the fundamental understanding of lignocellulosic biomass reactivity because growing concerns over climate change and the desire to stimulate a sustainable economy have renewed the urgency for developing substantial replacement of fossil feedstocks with renewable resources," he said. "Chemical and other commodity industries are gradually shifting from relying on petroleum to lignocellulosic biomass as feedstocks. To make biorefinery financially attractive, it is critically important to co-produce high-value chemicals and materials in addition to biofuel production. I do believe the bioeconomy will come and we can contribute by making products derived from biomass, not from petroleum."
Rice spent 35 years with Hercules Incorporated and established Hercules' presence in Southeast Asia and Latin America. He also made life-long contributions to the pulp and paper industry and to NC State University. He retired as Group Vice President in 1992, following a year of consulting with the Institute of Paper Science and Technology, where he was named Vice President of Business Development, and became President of IPST in 2002. Rice retired in 2004 when IPST merged with Georgia Tech. The endowment for the E.J. "Woody" Rice Professorship was funded through outright gifts by Rice, Hercules Incorporated, friends of Rice, and matching funds from the North Carolina Forestry Foundation.
"During my 55 years or so in the paper industry I had the good fortune to be associated with some fine organizations," Rice said. "I began supporting them directly and indirectly. Nearly 70 years ago, I was picking potatoes on 50 acres of potato fields and at the end of the harvest, many bags of the best potatoes were put aside for seed for the next year's planting. That memory of saving some of the best potatoes for seed has stayed with me. It is really no different from putting some of the fruits of our labor back for seed through scholarships. I am honored to see firsthand the results of past harvests and to have the joy of helping put some of the best of the best back for seed. Dr. Sunkyu Park, is truly the best of the best."