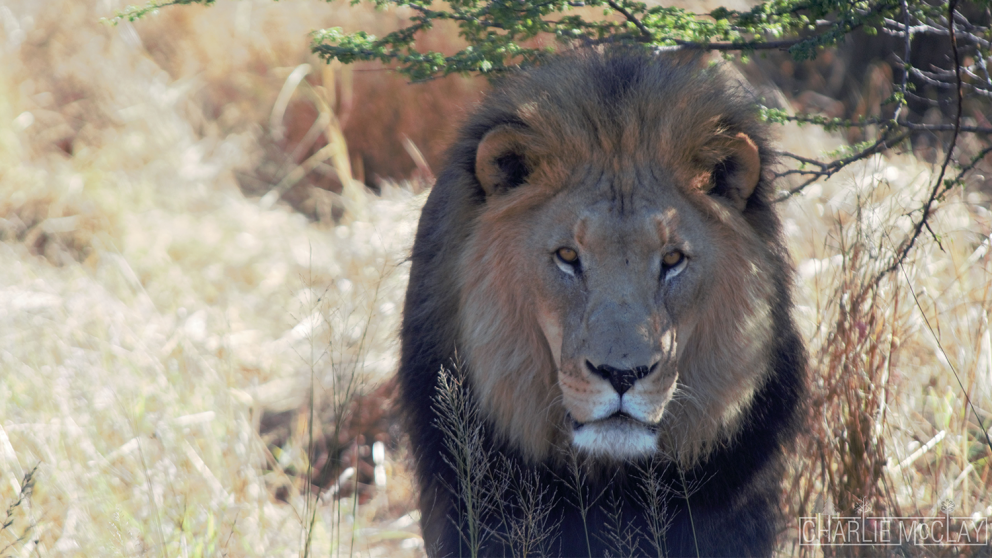 Lions and tigers and bears, oh my! While Fisheries, Wildlife and Conservation Biology major Charles McClay didn't see any bears or tigers this summer, he did see plenty of lions when he studied abroad in Namibia, Africa as part of the African Ecology and Conservation trip. This fall, you can find McClay out and about NC State as an Ambassador for the College of Natural Resources, member of the Leopold Student Wildlife Society and NC State Herpetology Club. He's also a third-year Resident Advisor and member of the Student Wolfpack Club. Find out more about McClay's extraordinary summer supported by the CNR Student Assistance and Enrichment Fund.
Tell us about your hands-on experience.
I traveled to the beautiful country of Namibia in Africa and spent 3 weeks learning about African Ecology and Conservation as part of the FW 465 course. It was amazing to see wildlife that I never thought I would be able to see and experience a rich, and very different, culture while I was there. I ate a lot of good food, took some decent photographs, and learned so much about how a place that is very different than the Southeastern U.S. manages wildlife.
How did this experience impact you?
It was pretty eye-opening to experience what life in Africa, and specifically Namibia, was like. This was my first time out of North America and I consider myself much more worldly and cultured now after my experiences this summer. I also was impacted by how severe the threats to endangered wildlife and habitat are. I want to educate others so we can try and lessen human's pressures on the environment.
How did this opportunity enhance your experience as a CNR student?
I got more connected to a few of my classmates and Dr. Dorgeloh. I am also thankful for the opportunity to go on this trip and I think it will help my overall knowledge and perspective in the classroom.
What did you learn about yourself during your experience?
I still don't want to do field work and I would really enjoy environmental education. I also don't like people who complain about literally every activity, and who don't appreciate how lucky they are to even be in Africa and a part of this program. I think I grew from this summer and want to continue to travel far and wide while I can.
Would you recommend this experience to other students?
YES! It was spectacular, and really highlighted several unique environments and just opened up some amazing opportunities that would be hard to get if you were planning it yourself. If you want to visit Africa and see some charismatic wildlife, and the most amazing views of the stars you will ever see, travel to Namibia!!!
Any advice to incoming students thinking about your major?
This is an amazing program here at NC State and I think it prepares students to get a job, especially through the external experiences that we have as well. Summer Camp, internships, study abroad and undergraduate research are vital if you want to get ahead and be truly successful in this field. While getting good grades and going to class is very important, getting hands-on experience is just as, if not more, important.
What do you enjoy most about being a CNR Student?
I really enjoy the feel of the college. NC State is a huge university but our college is much smaller and has a tight-knit feel to it. We have a lot of resources proportionate to the size of the college and there are always activities to get involved.
Anything else you would like to say?
I love NC State and love CNR. I feel at home in the college, have made some good friends, feel prepared for life after college, but I don't want to leave, I am having so much fun.