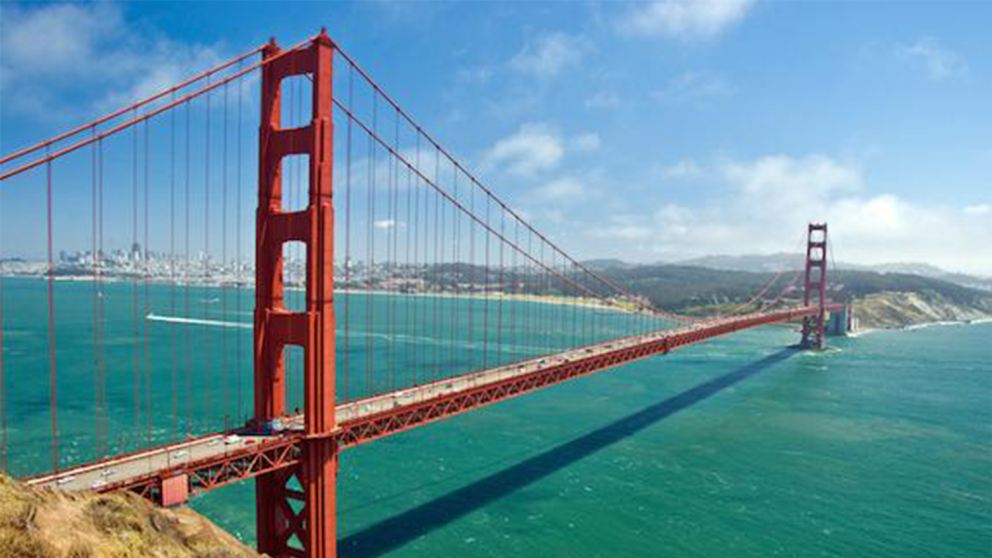 Paper Science and Chemical Engineering double major, Jayme Currie takes professional development very seriously. Last year the Aubrey Lee Brooks Scholar and Chancellor's Leadership Scholar spent four days at the American Institute of Chemical Engineers (AIChE) National Student Conference in California, where she networked with other students and potential employers. As the NC State AIChE VP of Industry Relations and the Merchandising Chair for TAPPI, she sees networking as imperative to her success as a student and advocates for other students to gain important leadership and professional development skills. Check out her hands-on experience supported by the CNR Student Assistance and Enrichment fund.
Tell us about your hands-on experience.
Myself and 14 other NC State students traveled to San Francisco for the AIChE Conference, where thousands of chemical engineering professionals and students met for their annual conference. While at the conference I attended lectures on the status of the industry, resume workshops, leadership panels and even a segment on home brewing for chemical engineers!
Why was participating in this experience important to you?
It was important for me to attend the AIChE conference for a few reasons. First, I wanted to have the chance to connect with students from across the globe who share my same interests. I also wanted to meet with industry professionals from companies that do not recruit at NC State because they are located primarily on the West Coast. It was exciting to represent NC State and absorb so much interesting information from industry leaders, decorated professors and grad students that gave technical talks.
What did you enjoy most about your experience?
I enjoyed getting to meet and network with students from other universities the most. It was really interesting to me to speak with other students and learn about their experiences, how their university is similar/unlike NC State, and about their industry experience. It was great to exchange contact info and possibly meet someone who may be my coworker one day.
Would you recommend this experience to other students?
Yes! I think that everyone should attend some type of student conference! Because this was such an impactful experience for me, I am going to work this year with our AIChE chapter's fundraising chair to try to raise more money so that we can bring a larger group of students next year, specifically underclassmen. I was one of 3 sophomores that attended, so I would really like to see the freshman and sophomore classes better represented this year.
Any advice to incoming students?
Get connected during your first semester! Join TAPPI, AIChE, WISE or really any student organization that is related to your major. Not only do these organizations provide a lot of fun events, most of them provide scholarship opportunities, industry networking events or other enrichment activities that are invaluable and that you wouldn't have access to otherwise.
Other hands-on experiences?
This past semester I completed my first co-op rotation at BioGen. I had a great first industry experience and plan to return to work this semester. I worked in the Manufacturing Sciences Cell Culture Division, which acts as a support group for the full-scale manufacturing facility onsite. Most of my work consisted of growing cells, sampling culture, designing experiments and assisting the other engineers as needed. I learned so much in such a short amount of time and really discovered what type of work environment I enjoy. I am so happy that I got to have this experience so early in my college career so that I can begin shaping my coursework around things I know interest me and are applicable to industry.
What do you enjoy most about being a CNR student?
I definitely enjoy the individualized attention that we receive from our professors and the family feel of the college. From day one, CNR has been a welcoming environment that encourages creativity and collaboration across all its majors. I love that each department within CNR is interconnected. The Department of Forestry and Environmental Resources focuses on managing trees, while the Department of Forest Biomaterials helps convert biomass into usable materials and designs new uses for bio based products.