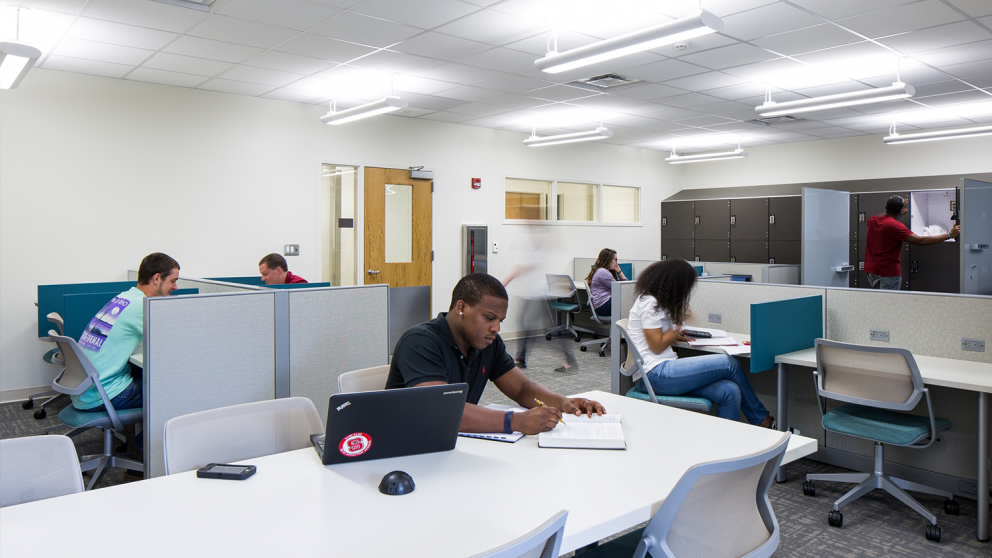 While many of our students' best experiences happen outside of the classroom, having high-quality indoor learning facilities and collaborative spaces is key to providing a top-notch education. As technology, research and student needs change, the College of Natural Resources must keep pace with our facilities in Biltmore and Jordan Halls and Jordan Addition.
Investments in our physical spaces give our students and faculty greater opportunity to pursue cutting-edge research, collaborate and exchange knowledge. In fact, we think that investing in infrastructure is so essential to the CNR experience, we included it in our Strategic Plan: Goal Four – Strengthen and enhance infrastructural support and organizational excellence across the college.
"For the college to achieve its ambitious academic, research, scholarship and engagement goals, we must have robust and efficient infrastructure systems and facilities that can support current and new endeavors," said Dean Mary C. Watzin.
Some of our recent innovative infrastructure investments include:
Renovated three Forest Biomaterials research labs in Biltmore Hall
Created new graduate student offices and study space in Biltmore Hall
Renovated the large lecture hall and its 34-person teaching computer lab in Biltmore Hall.
Renovated the Sustainable Materials and Technology offices and collaboration spaces in Biltmore Hall.
Created new offices for the BioResources Journal in Biltmore Hall.
Renovated the Parks, Recreation and Tourism Management departmental offices and collaborative graduate student spaces in Biltmore Hall.
Created new offices for Forest Assets Team by renovating the mailroom in Biltmore Hall.
Re-cabling all three buildings to update the internet wiring for better efficiency.