Promoting Sustainability at Carter-Finley Stadium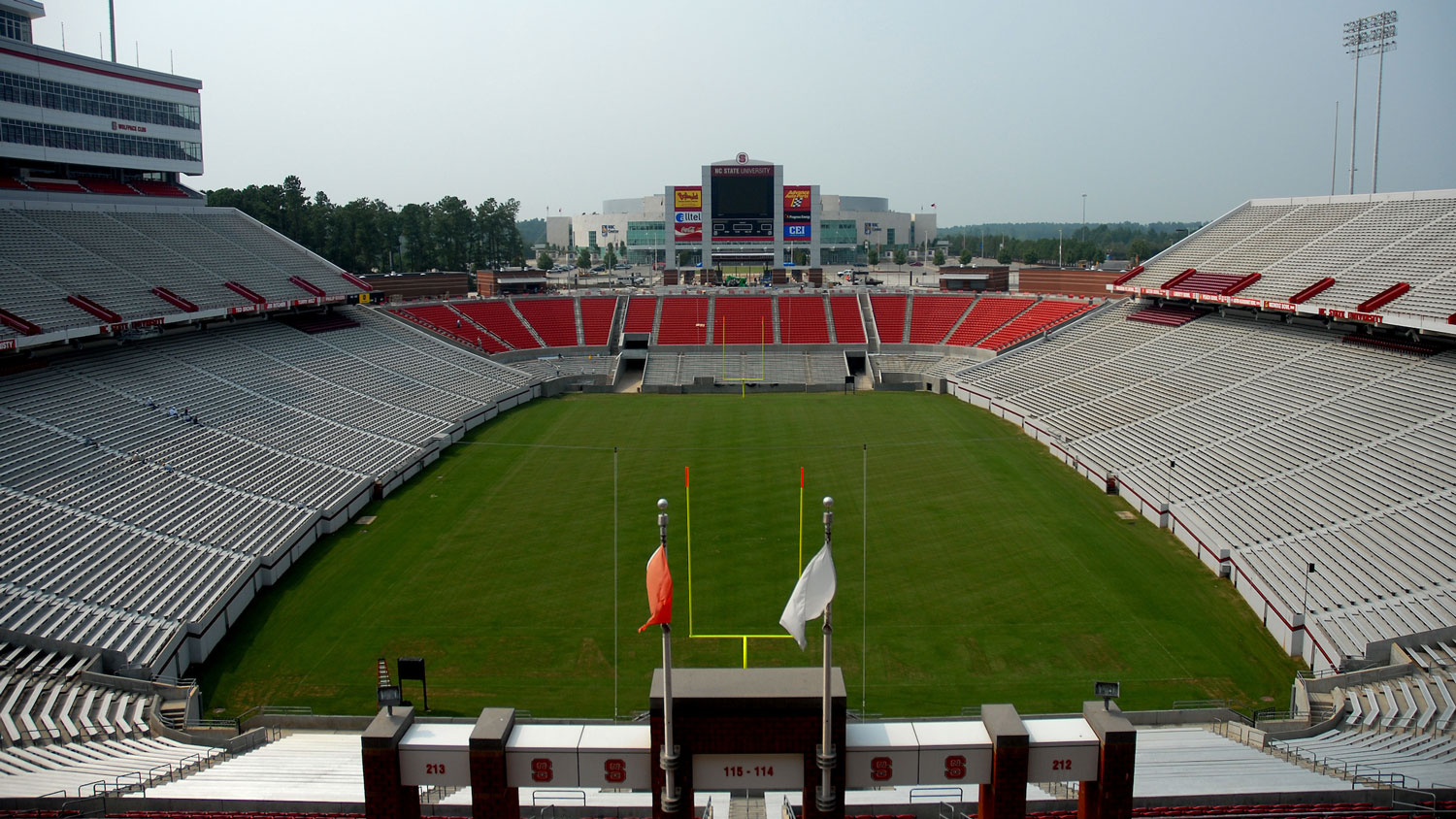 October 7-13 was Campus Sustainability Week at NC State. At the College of Natural Resources, we strive to prepare our students to solve the grand sustainability challenges facing our society. Meet Mary Paz Alvarez Valverde, a junior studying sustainable materials and technology, who is involved with Zero Waste Wolfpack, a waste reduction program on campus.
Tell us more about Zero Waste Wolfpack.
Zero Waste Wolfpack is geared towards reaching a net zero waste goal for the University and different University events. This can mean a variety of things but our department, Waste Reduction and Recycling, has been working to achieve this goal in a variety of ways that includes composting during football games at Carter-Finley Stadium, setting up a variety of bins around campus to divert waste that are normally not found around the city, tabling to educate students and faculty and hosting waste audits to investigate what on-campus waste looks like when it is sorted.
Why did you get involved with this initiative?
I decided to be involved with this program because it's a topic that I take to heart. There have been times when I go back to my home country of Costa Rica and notice just how much more polluted our water sources have become. Our coastline has become polluted by multiple products that are generally recyclable. Having an idea of where waste actually goes when we landfill it definitely impacts the way someone can see waste and recycling. Recycling as a whole is important since not only is it helping achieve a zero-waste future, but it is also cost-effective at times. Even more important than recycling is source reduction. Source reduction is when you're standing in line at the grocery store and remember you have a reusable bag or thinking twice about the materials that you use during the day. There would be no need to recycle if we didn't use the product in the first place.
How can other members of the NC State community participate in this initiative?
Students can get involved with Zero Waste Wolfpack by volunteering at one of our different opportunities. During football games at Carter-Finley Stadium, students and community members encourage fans to sort their waste and make sure that we have reduced landfill waste inside the stadium. The program has made some incredible changes to Carter-Finley's waste—just this season we reached about 48% waste reduction at one of our football games which is an amazing feat. We also volunteer before the football game by passing out recycling supplies to tailgaters and encouraging them to recycle their cans. Students that volunteer with us are normally more invested and interested in our programs if they have an environmental background, but its always interesting to see how volunteers' views change on waste after they volunteer.
What other ways do you promote sustainability on campus?
I work on the Student Leadership committee for the University's 5-year sustainability plan which focuses on finding ways for student leaders to be sustainable. The group is working on implementing the goals and programs that were discussed in the 5 year plan. I am also part of the Sustainable Sisterhood that is within the College of Natural Resources. Last year, we held several night walks to gauge what parts of campus needed alterations to increase safety. I was also a part of the EcoVillage for 2 years and mentored in the village. With EcoVillage I was able to visit Portland and Seattle for spring break and study city sustainability which completely changed my college career.