Leading a Global Conversation on Deforestation Through Remote Sensing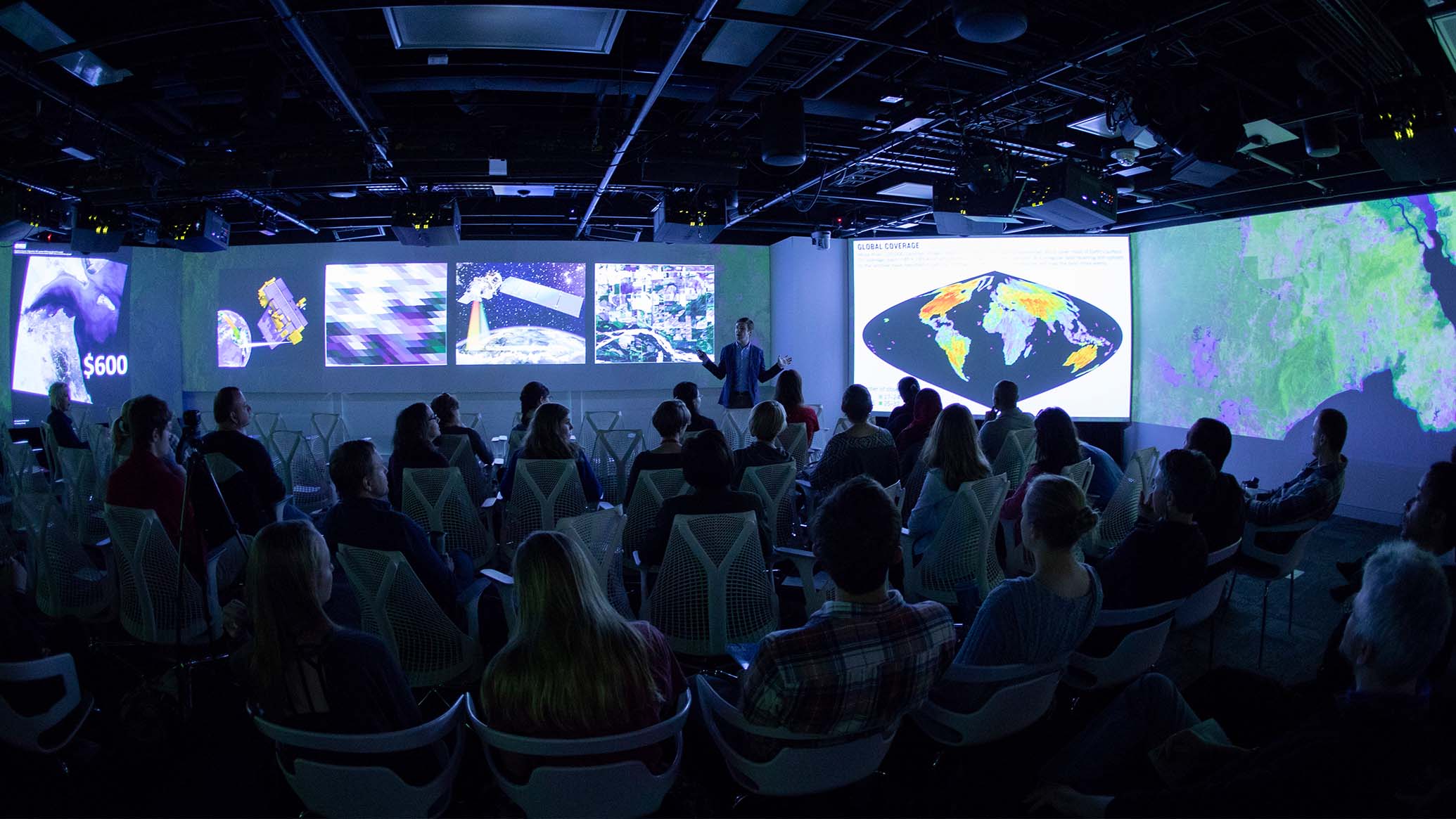 Never-before-seen images reveal a patchwork of the earth's surface and a snapshot of deforestation patterns—pinwheel shapes in the Bolivian Amazon and a fishbone design in Brazil. They're visible thanks to remote sensing that is unveiling new views for Earth's scientists.
The remarkable images are all part of an interdisciplinary project between Dr. Josh Gray, an assistant professor in the department of Forestry and Environmental Resources and a faculty fellow in the Center for Geospatial Analytics, and Dr. Erin Sills, a professor of forestry and environmental resources. The project, seeded through the Junior Faculty Mentorship Program, formed a natural partnership that is now bearing fruit.
A Resourceful Collaboration
Sills, a recipient of the 2018 Jackson Rigney International Service Award presented by the NC State Office of Global Engagement, uses rigorous statistical approaches to evaluate the impact of policies and measures that promote sustainable forest management. These approaches require long-time series of data, opening the door for collaboration with remote sensors who generate and manage these data sets. Gray applies remote sensing algorithms to data from multiple sensors to provide a long-term and consistent record of change across Earth's surface.
It's not a perfect system, but Gray says, "we're getting better and better at characterizing those changes." As remote sensing capabilities improve, giving researchers increasing detail, they hope to one day outline with certainty when and where forested areas have become human settlements, row crops or other land uses and provide consistent, unbiased measures of how the changes are happening.
Sills points out the essential role remote sensing plays in the tropical deforestation domain: "It's at the core of all international discussions about tropical deforestation." Before the advent of Earth-observing satellites to capture images of our planet's surface, we knew Earth's forests were exploited, but we had no way to see it over large extents.
Now deforestation is not only visible, but the technology yielding that visibility can be used to compensate and provide incentives to countries to reduce deforestation and help mitigate climate change. When compensation is conditional upon performance, remote sensing raises the stakes by capturing images that provide visual evidence of landscape changes over time.
But Gray emphasizes the changes remote sensors see are patterns, and patterns alone do not imply causality or explain the process of deforestation. For example, simply holding timber concessions does not make landowners responsible for patterns of deforestation evident on their property. Impact evaluators need a lot more information to determine actual causes, and Gray says emerging conversations among remote sensing scientists reminds them that analyzing processes requires significant input from those on the ground.
Sills agrees, acknowledging complete dependence on the dedicated researchers in regional areas. One of the most challenging aspects of her role is the dialogue surrounding causal impact. "When anyone invests in an intervention, they want it to succeed," she said.
Agencies and organizations may be hesitant to have their interventions evaluated because they don't want to hear the impact wasn't as large as they'd hoped. But in the end, Sills says, "We all want the same thing," and we have to find ways to make the conversation about evaluations more constructive.
Practical Solutions
Sills and her future-focused counterparts across the globe have their sights set on more sustainably managed tropical forests, and "not just more forests, but more ecosystem services, timber, and other products valuable to people." Gray supports that aim with a hands-on approach made possible through remote sensing.
He's optimistic the tools at his disposal will strengthen evidence-based decision-making. Remote sensing has the potential to provide increasingly accurate impact assessment, improving comparisons between what's actually happening in tropical forests and what might've happened without intervention in those regions.
Sills and Gray recognize the College of Natural Resources and the Department of Forestry and Environmental Resources for offering a resourceful environment for professionals like Gray who are just starting out, and for 20-year veterans, such as Sills to engage in bold, exploratory research that is relevant to global conversation.
"It's a department that supports both interdisciplinary and applied research. That's inherent to the culture of the department."
Sills holds on to a "shred of hope that we can do something about climate change," and the college recently named her an Edwin F. Conger Professor, in part for her efforts toward that end. Grateful for the funds that come with such acknowledgement, Sills says they are a small safety net that lets faculty take more risks.
She believes professorships are valuable for building community and connections between the department and its supporters, keeping all engaged in a two-way recognition that has lasting impact from the classrooms on campus to the remote corners of the world.