Nontraditional Graduate, Celeste Kathleen, Reflects on Time in the College of Natural Resources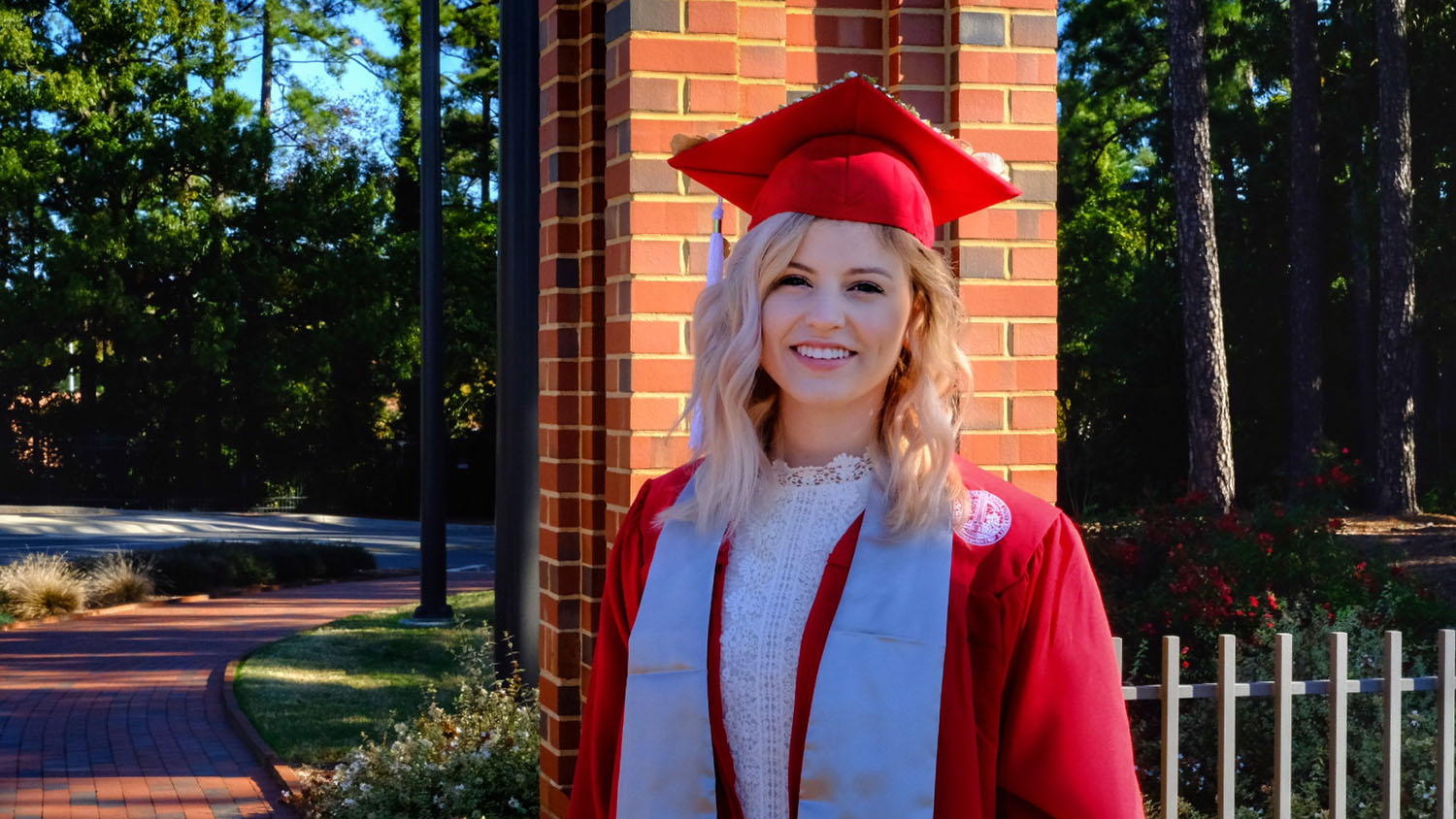 New alumna, Celeste Kathleen, was selected as the Department of Parks, Recreation and Tourism Management (PRTM) student speaker for the December 2018 commencement ceremony. Below, she reflects on her time in the PRTM program and the impact its had on her life and career.
What are your plans after graduation? Do you have a job lined up?
I have a couple of plans for after graduation. I am working full-time as a Project Specialist for the Volunteer Engagement Team at the Food Bank of Central and Eastern NC. I'm also planning on attending graduate school starting in the fall of 2019 to pursue my Master's in Social Work. I've applied to programs and am waiting to hear back now.
How has the College of Natural Resources impacted you and prepared you for your first job?
My coursework in the College of Natural Resources and with PRTM has been incredibly hands on, practical, and skills based. I've been able to emulate real work scenarios in the classroom and be more prepared in my job as a result. The project based nature of the curriculum has mirrored the collaborative style of my work environment and made me more adept to working with others.
What kind of research or other hands-on/in-the-field learning did you participated in?
One of my favorite and most useful learning experiences was the semester long project in PRT 380. This course is taught by Dr. Hipp and Dr. Knollenberg and the project focussed on evaluation in program services. I was able to work with a team to identify a question, design an evaluation approach, perform the research and analyze the result. I learned that I really love being able to quantify the impact of services and have since been able to perform the role of evaluator on work and grant projects.
What's your favorite memory from your time at the College of Natural Resources?
My favorite memory is filming a group video project for PRT 238 (Diversity & Inclusion) at Hunt Library into the wee hours of the morning my first semester back in school. I was anxious about the social experience of being a nontraditional student. Working in groups so often in this major really helped take some of that anxiety away. This was the first major group project for me and I had a blast with my teammates. We ordered a pizza to the library, made a lot of jokes and got a good grade on our video.
What was your favorite class at the College of Natural Resources? Why?
It's hard to pick one, but my top two without a doubt are PRT 380 and PRT 359. Dr. Hipp and Dr. Knollenberg teach 380 and Dr. Bocarro teaches 359. You can tell that all three put time into planning their courses, really enjoy their content area, and are genuinely interested in getting to know their students. I was consistently engaged in the classes and feel that I gained a plethora of useful skills for the workplace. These professors welcome class discussion, respond well to questions and make their classes a place that students want to be.
Tell us about a faculty member who influenced you.
Dr. Hipp has been a phenomenal professor and I feel lucky to have had the experience of being a student in his class. He took time to chat with me about being a working student when I first began his course and truly made me feel like my experiences were relevant, not in the way, of the content we were learning. He was always open to my questions and emails even after I had completed his course. He even took the time to meet with me and help me make graduate school plans. It was a huge deal for me to feel respect from a professor for coming back to school and even more influential for him to continue to be so kind and helpful as I work to further my education.
What advice would you give incoming freshmen?
Get to know your professors! CNR is filled with so many really kind, incredibly smart, and invested faculty. There are several that I kept up with long after I finished their courses because I was energized by their teaching and their class. When it's a topic I'm really interested in (like evaluation) I'll keep my professors updated on my relevant work or send them articles I find interesting that are related to their course. They are experts in the field you are studying so it is beyond worth forming a relationship.