Alumni Profile: Kelly Quiring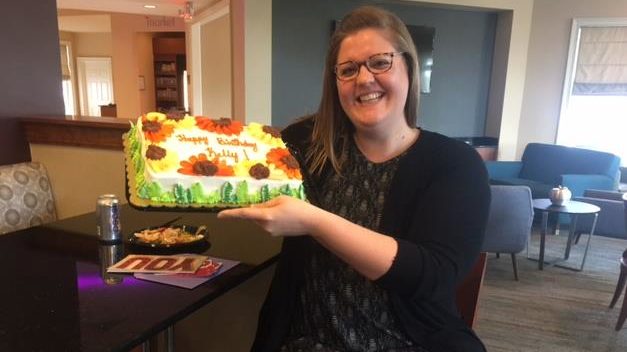 Kelly Quiring '09, is a dual food and beverage Manager for the Summit Hospitality Group where, for the past 8 years, she has used her experience as a Parks, Recreation, and Tourism major to oversee the food and beverage department for various hotels, including the Marriott Residence Inn Crabtree Valley, Courtyard Crabtree Valley and Fairfield Inn Crabtree Valley.
What is a typical day like for you?
No telling – Every day is different but that's what makes it fun. Typically, I will check in with both breakfast teams at each hotel and make sure they have what they need and lend a hand if it is busy. Our hotels do a Morning Huddle where we discuss the needs of the day and upcoming hotel activities and service lessons. We usually have caterings at one or both of the properties for lunch, so I assist with ensuring food is presented well and set out on time, but work to train my associates to handle these duties on their own. I assist with placing orders for equipment and food and develop meeting room set up charts for our team to execute in the evenings. We have an Evening Mix at the Residence Inn and bar/room service at both Residence Inn and Courtyard, so my evening is spent checking in with the team and assisting when needed with extra service. When not "on the floor," I assist the sales team with leads, building menus, testing products, replying to emails and guest questions, feedback and concerns and try to stay on top of employee motivation as they are the most important part of my job.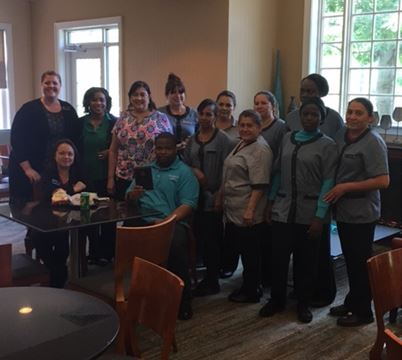 What do you enjoy most about your current position?
I spent eight years at the Residence Inn learning hotel management from the ground up and building a team I am very proud of. I am extremely familiar with the Marriott Residence Inn standards and how our team works together. Having the opportunity to now learn a new hotel brand and create a new team and join one already in place has helped me develop my skills as a manager and opened my eyes to new processes and procedures I can mold to help both properties.
What do you find most challenging about your current position?
Time management. In a field that is 24 hours/day, 365 days per year, just one property can be demanding of your time. Adding on a second has definitely made me feel pulled in different directions at times; however, I strive to train my associates to do exactly what I do so that I do not have to physically always be there to make sure it gets done. This helps me carve out time to do more "behind the scenes" work that will build our department and also empowers my team to take the next step in management as well.
What is your best memory of CNR or NC State?
If you're a student now, you won't believe me, but I really enjoy looking back on all of the "in the field" lab work we got to do and group projects. Not many majors give you so much hands on education opportunities that really allow you to test the waters in all departments that you study. In my CNR Classes, I got to see private, public, and non-profit sectors and it helped me know what direction I wanted to head in when I graduated. The group projects, as frustrating as they can be, give you incredible leadership experience. Through the off-campus labs and group work I had plenty of resume builders to count on after graduation.
What was your favorite CNR class?
Very hard to say. I focused on all of the Program Management and Tourism classes and always enjoyed our easy-going professors and intimate class sizes. However, the one class that always stands out to me when I look back is a Natural Resource based class where the entire semester revolved around preparing for a week in the Great Smoky Mountains. While the majority of the time was spent fundraising for the trip, it all accumulated with a week-long stay in the Mountains where we got to go on a lot of educational sessions with at least four or five other College of Natural Resources and PRTM programs from other colleges around the US. It was incredible to take a step outside of my normal classwork and experience a week in the Great Smoky Mountains.
What did you enjoy most about being a CNR student?
My sister was in the School of Business studying accounting and her class sizes were well over 200+ for her core classes. I know this has changed a little bit these days as the Parks, Recreation and Tourism major has gained popularity, but when I was a student our class sized maxed out between 30-50 students. We really got to know each of our fellow students and all of the faculty. There was a strong family feel among the entire program.
Did you complete any hands-on experiences like internships, study abroad, co-ops or undergraduate research? If so, what did do you and how did it impact you?
Almost all of our courses required a project that gave us internship and study experience, but I specifically did my 900 hour internship with the City of Raleigh Parks and Recreation Corporate Events department. I was able to plan and execute Family Fun days in the city's parks for businesses in the area. It was a lot of fun and allowed me to see what working in the public sector is like. In classes, we were able to work with special events planners and see what the private sector is like. I enjoyed "dipping my toes" in a little bit of everything so that when I graduated I had a better sense of what I really enjoyed and what I didn't even though I thought I would.
Were you involved in any clubs, hobbies or on-campus activities? Any stories you would like to share about your experiences?
I participated the most with CNR's Rho Phi Lambda National Honor Fraternity. It was nice to work with fellow CNR students that took their studies seriously and plan annual fundraisers that exercised our leadership, sponsorship acquisition and program management skills.
Any advice for incoming CNR students?
Make the most of each opportunity you're given outside of the classroom to work with professionals in the industry. Most of your courses will involve labs that are off site and in the field where you can experience different career paths and make great connections along the way.
What was the most important thing that you learned as a CNR student?
How to work with others. The Parks, Recreation and Tourism field is very people-centered, so not only do you learn how to work with and serve the public, but you also work on your interpersonal skills working with teammates and fellow students in group settings.
Do you have any career accomplishments you are particularly proud of?
In 2009, the economy was not ideal for someone just graduating. The job market was pitiful and it was stressful trying to get established somewhere. I had a Program Management and Tourism focus so I thought about getting my foot in the door at a hotel. Even though I had worked, volunteered and interned at numerous places in college and graduated valedictorian, my first job out of college was a Hotel Bartender. This position allowed me to learn from the ground up and as I gained responsibilities and knowledge, I moved my way into a front desk supervisor position, guest service manager position and now into a dual food and beverage manager for two hotels. This may not be the path for everyone and if you're able to get a management roll right out of college – MORE POWER TO YOU! However, I feel this path made me a good manager for my team, because I could actually jump in and help when needed, give best practices and know what it takes to get the job done since I had done it myself before.
How did you choose your major and what attracted you to the program at NC State?
I wanted to do event planning and thought I would need to find that within the College of Business or Communications. I had no clue that PRTM in the College of Natural Resources even existed. At a college fair, I was able to ask around for which major would best suit event planning and everyone pointed me over to the "people in khakis." When I walked up, I asked my question about event planning courses for what seemed to be the 100th time and was warmly welcomed by one of the professors. She pointed out all of the classes that would go towards a Program Management degree and I knew I was in the right place. Not just because of the perfect blend of coursework for my desired career, but also because of the welcoming and encouraging environment I could tell the College of Natural Resources and Parks, Recreation and Tourism program had cultivated.
Did you receive any scholarships? If so, which ones?
I received two scholarships based on academic standing. I did not apply or ask for these scholarships, I just received notification that I had been awarded the Phillip Rae Scholarship along with another one during my time in CNR just because of my GPA. I was floored by this. I think it's important for people to reach out for scholarships and be recognized for their submissions; however, earning one just for doing what I was already doing really gave me a boost and sense of pride/thankfulness for my college.