Alumni Spotlight: Sam Freeze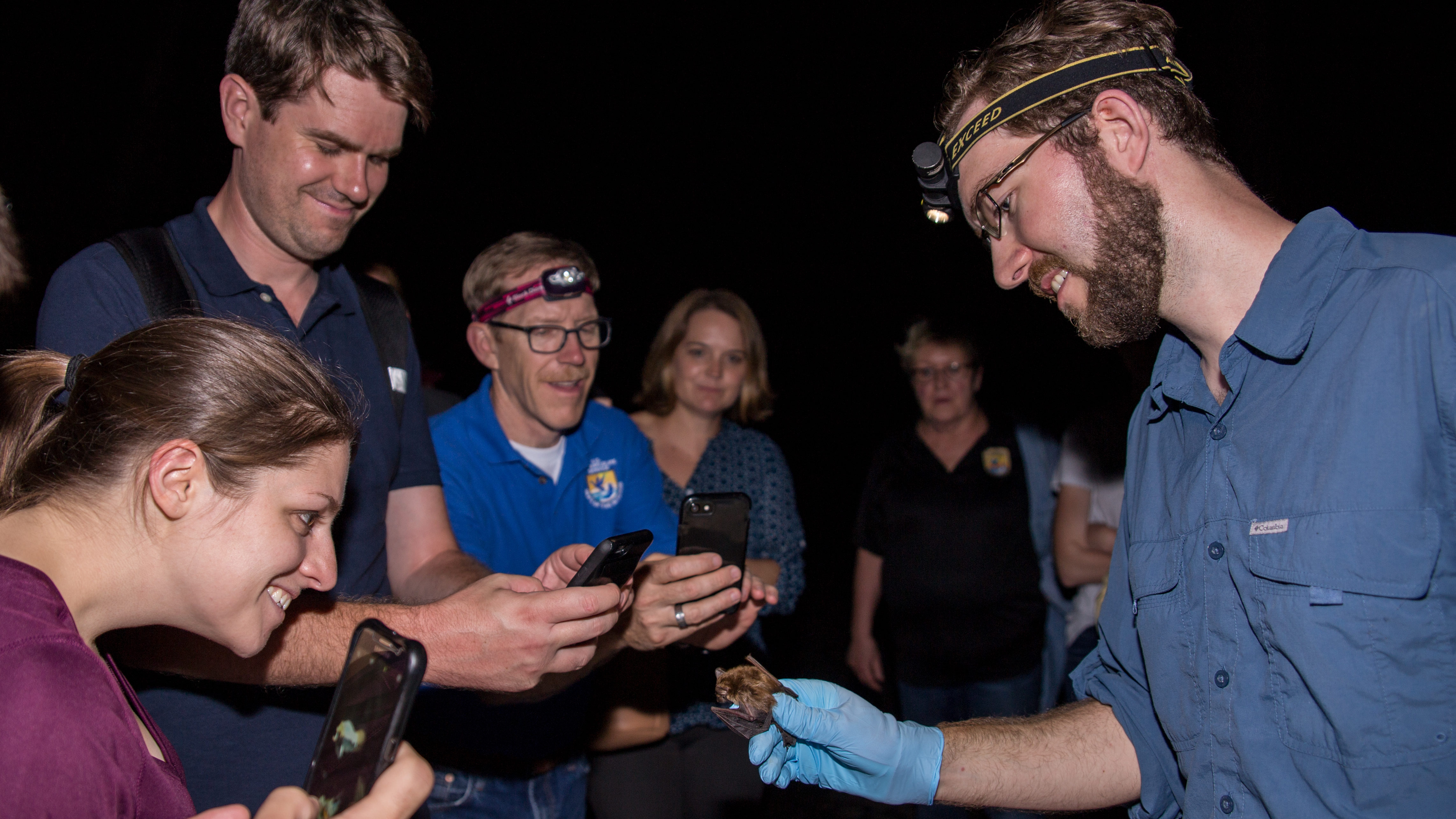 Sam Freeze '16, is a PhD student at Virginia Polytechnic Institute and State University, expanding his knowledge of fisheries, wildlife, and conservation biology with the Marine Corps Base Quantico to mitigate the impacts of military training on threatened and endangered bats by studying the effects of fire on bats and studying the roosting ecology of the federally threatened northern long-eared bat. As an undergraduate in the College of Natural Resources, Sam earned several awards, including the Thomas L. Quay Wildlife and Natural Resources Experiential Learning Award, R.B. and Irene Jordan Endowed Scholarship, Hoffman Forest Scholarship, James L. Goodwin Scholarship, and Felton F. Coley Scholarship.

What is a typical day like for you?
There is no typical day for me! I may spend my time in the office analyzing data and reading up on all the latest scientific publications, going to meetings and giving presentations, out in the field catching and radio-tagging bats late at night or crawling around caves in search of bats!
What do you enjoy most about your current position?
The challenge of studying a cryptic and poorly understood critter so that we can better conserve our threatened bat populations.
What do you find most challenging about your current position?
Juggling the various stakeholders involved in my research project so that wildlife management can support the military's mission rather than hinder it.
What is your best memory of CNR or NC State?
I loved all the fun activities I got to be a part of through the Leopold Wildlife Club and the Engaging Leaders program. I also have good memories of just stopping by people's offices to chat. I always enjoyed stopping by Tiffany's office!
What did you enjoy most about being a CNR student?
CNR is one big, close-knit family!
Did you complete any hands-on experiences like internships, study abroad, co-ops or undergraduate research? If so, what did do you and how did it impact you?
I was fortunate enough to work for the NCSU Honey Bee Research Lab, U.S. Fish and Wildlife Service, Clemson University Bat Research Lab, NC Museum of Natural Sciences, and a wildlife consulting firm during my time at NC State.
Were you involved in any clubs, hobbies or on-campus activities? Any stories you would like to share about your experiences?
I was heavily involved in the Leopold Wildlife Club and the Engaging Leaders program. I went on to serve as a mentor for the Engaging Leaders program and president of the Leopold Wildlife Club.
Any advice for incoming CNR students?
Step outside your comfort zone and get involved in CNR clubs and student organizations.
What was the most important thing that you learned as a CNR student?
Wildlife management is people management!
How do you feel CNR prepared you for your current career?
The hands-on coursework, friendly faculty and staff, extracurricular opportunities and professional development programs all played vital roles in preparing me for a career in the natural sciences.
Do you have any career accomplishments you are particularly proud of?
My proudest moment and the culmination of all my efforts as a wildlife student at NC State was when I was recognized in front of all my peers and mentors with the North Carolina Chapter of The Wildlife Society's Ken Wilson Memorial Award for Excellence in Wildlife Conservation.
How did you choose your major and what attracted you to the program at NC State?
As a kid I was always fascinated with the "creepy crawlies" living in the forest and loved being outside. During middle and high school I volunteered at the NC Museum of Natural Sciences working beside and learning from natural science experts, which continued to nurture my love for science and the natural world. At a museum meeting a lady from the College of Natural Resources at NC State gave a presentation on the major programs available at NC State. The fisheries, wildlife, and conservation biology program sounded exactly like what I wanted to do!
Anything else you would like to say about CNR, NC State, your career, your experiences, etc.?
If you are interested in an exciting, challenging and rewarding career protecting and managing our natural resources, the College of Natural Resources at NC State is the place to be!