Graduation to Vocation: Researching the Impact of Human Population Density on Leopards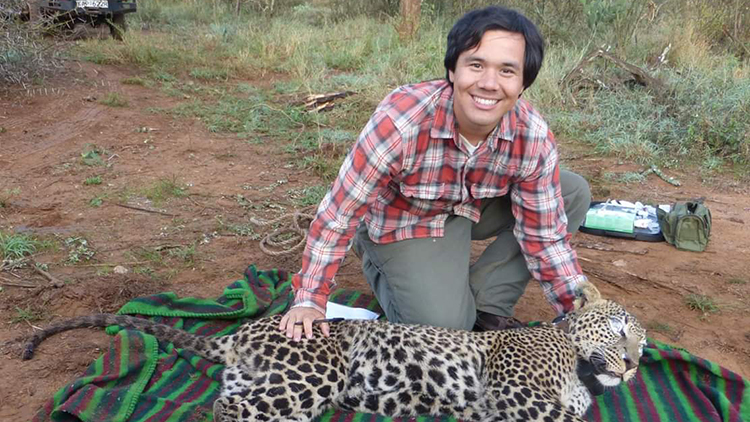 Matt Snider is graduating with a Master's in Fisheries, Wildlife and Conservation Biology (FWCB). He will be continuing his PhD in FWCB in Dr. Roland Kays' lab.
How has the College of Natural Resources impacted you and prepared you for your future?
CNR has allowed me to develop my advanced academic skill sets in statistics, modeling, and scientific writing under the mentorship of highly experienced experts within my field.
What kind of research or other hands-on/in-the-field learning did you participate in?
I have been researching how leopard home range behavior is impacted by human population density. Under Roland's tutelage, I have also been working on understanding large mammal communities for camera trapping data we collected on Mt. Kenya.
Tell us about a faculty member who influenced you.
Dr. Roland Kays has made a massive impact on my academic growth. He has encouraged me to broaden my ecological perspective on how complex systems work and helped me build skills in statistics and analysis to test these ideas. He has also mentored me in how to improve my academic writing and science communications skills as well as showed me how to more effectively build collaborative networks.
What is unique about your work?
My work is unique within the department because I generally focus on ecological systems and species in Sub-Saharan Africa. I have built a collaborative network which has allowed me to test hypotheses for species like leopard, with research subjects ranging from India to Namibia and understudied biomes like high elevation zones of Mt Kenya.
What advice would you give students entering your major or field?
Reach out to experts in our field within our department. There is a wealth of knowledge and experience with the faculty here and a spirit of building young scientist.
Anything else?
CNR fosters a strong attitude of collaboration and collegiate encouragement. Faculty are always interested in the work of grad students that are not officially academically connected to them. CNR faculty, staff, and graduate students all seem genuinely invested in each other's success.