Meentemeyer Named Goodnight Distinguished Professor of Geospatial Analytics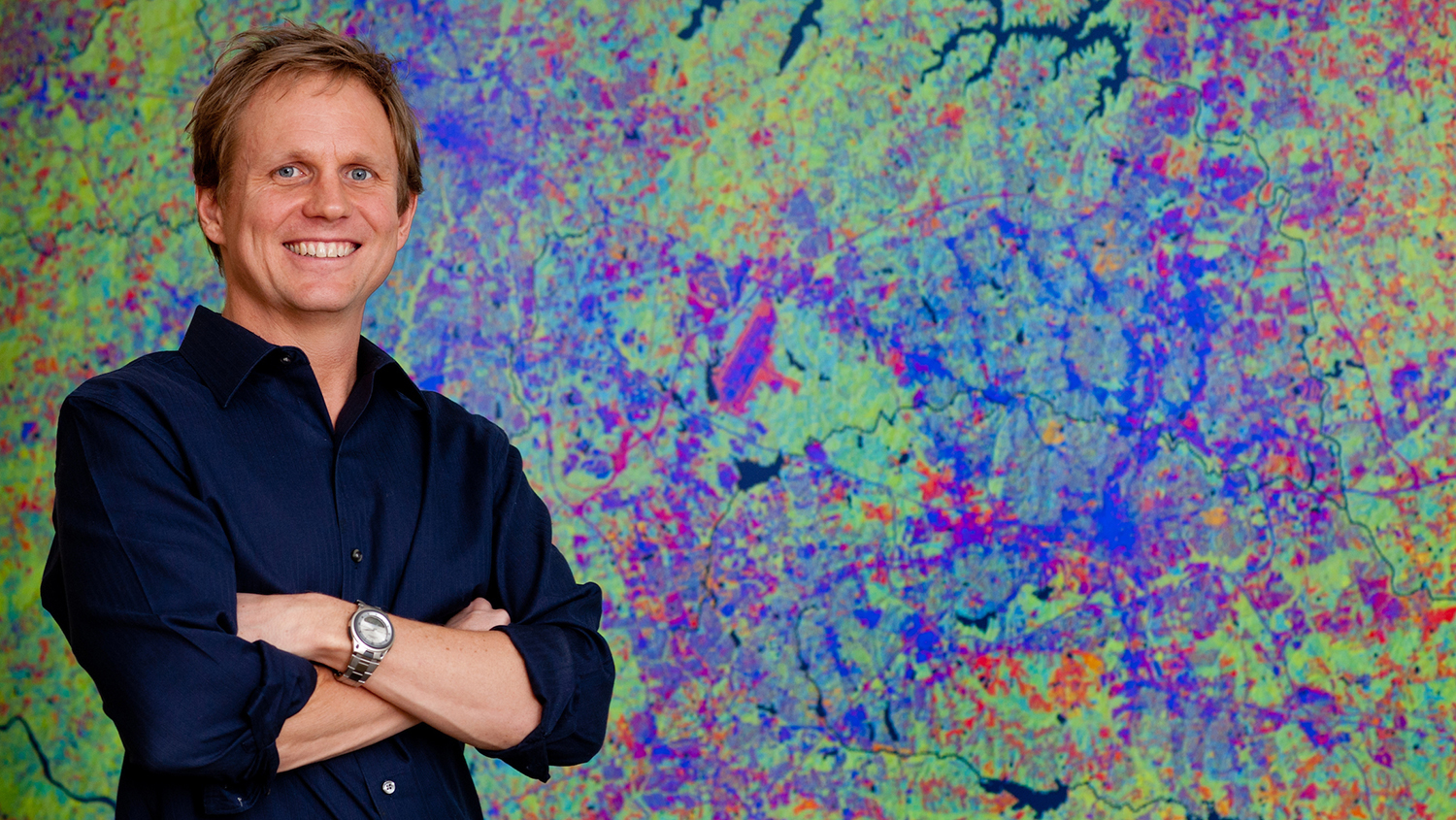 NC State's College of Natural Resources is pleased to announce that Dr. Ross K. Meentemeyer, Director of the Center for Geospatial Analytics, has been appointed the Goodnight Distinguished Professor of Geospatial Analytics.
"We are thrilled that Dr. Meentemeyer has been selected for this much deserved honor. His appointment as Goodnight Distinguished Professor of Geospatial Analytics not only elevates the Center, it is a recognition of his extraordinary work and commitment to advancing the field of geospatial analytics," Interim Dean Myron Floyd said.
Meentemeyer is a foundational member of the Chancellor's Faculty Excellence Program's geospatial analytics faculty cluster and is a faculty member in the College of Natural Resources' Department of Forestry and Environmental Resources. Since taking over strategic direction of the Center for Geospatial Analytics in 2013, Meentemeyer established the center's now-signature Geospatial Forum series, which brings together distinguished guests and the campus community for interactive presentations every semester; the center's Faculty Fellows program, which unites 30 faculty members from 12 departments and six colleges at NC State to advance the frontiers of geospatial data science; and the new doctoral program in Geospatial Analytics, which launched in fall 2018 with its first cohort of students.
Meentemeyer develops and applies geospatial analytics for scientific discovery, communication of complex ideas and decision-making. His research has particularly focused on forecasting the spread and control of emerging plant disease, as well as modeling tradeoffs between scenarios of future urbanization and environmental change. Meentemeyer deploys these models to support decision-makers through the use of hands-on tangible user interfaces and web-based decision analytics. Tangible interfaces allow groups of people to collaboratively build management strategies on a shared interactive landscape, and web-based platforms combine sophisticated back-end algorithms with user-friendly dashboards to visualize geospatial data clearly and quickly. Meentemeyer's research also involves participatory modeling techniques that engage communities to tackle natural resource challenges in the places important to them.
Over the course of his career, Meentemeyer has produced over 100 peer-reviewed publications; secured over $15 million in funding from external grants, including two decades of continuous funding from the National Science Foundation; and mentored over a dozen Ph.D. students to graduation.
Meentemeyer received his Ph.D. in Geography from the University of North Carolina at Chapel Hill. He also served as president of the US-International Association of Landscape Ecology from 2016 to 2018.
The professorship was made possible by a gift from longtime NC State supporters Dr. Jim and Mrs. Ann Goodnight.
The Goodnights are NC State alumni and co-chairs of the Think and Do the Extraordinary Campaign. Dr. Goodnight – the CEO and founder of SAS – earned his B.S. in applied mathematics in 1965, his M.S. and doctorate in statistics in 1968 and 1972, respectively, and the university conferred an honorary degree to him in 2002. Mrs. Goodnight earned her B.A. in political science in 1968 and works as the senior director of community relations at SAS.
In addition to supporting 245 North Carolina students each year through the Goodnight Scholars Program, established in 2008, the Goodnights have generously strengthened centers, programs and additional scholarships across NC State. Their commitment to faculty excellence has resulted in the creation of 15 named faculty positions across several colleges at NC State.
Increasing the number of named and endowed professorships is a key priority of the Think and Do the Extraordinary Campaign. Since the launch of the Campaign, generous supporters have endowed an additional 83 faculty positions, bringing the total of endowed professorships and chairs to 235. The Goodnight Distinguished Professorship in Statistics further strengthens NC State's commitment to attracting, retaining and supporting outstanding faculty.