Newswire
Graduation to Vocation: Alyssa Quakenbush is Promoting Marine Conservation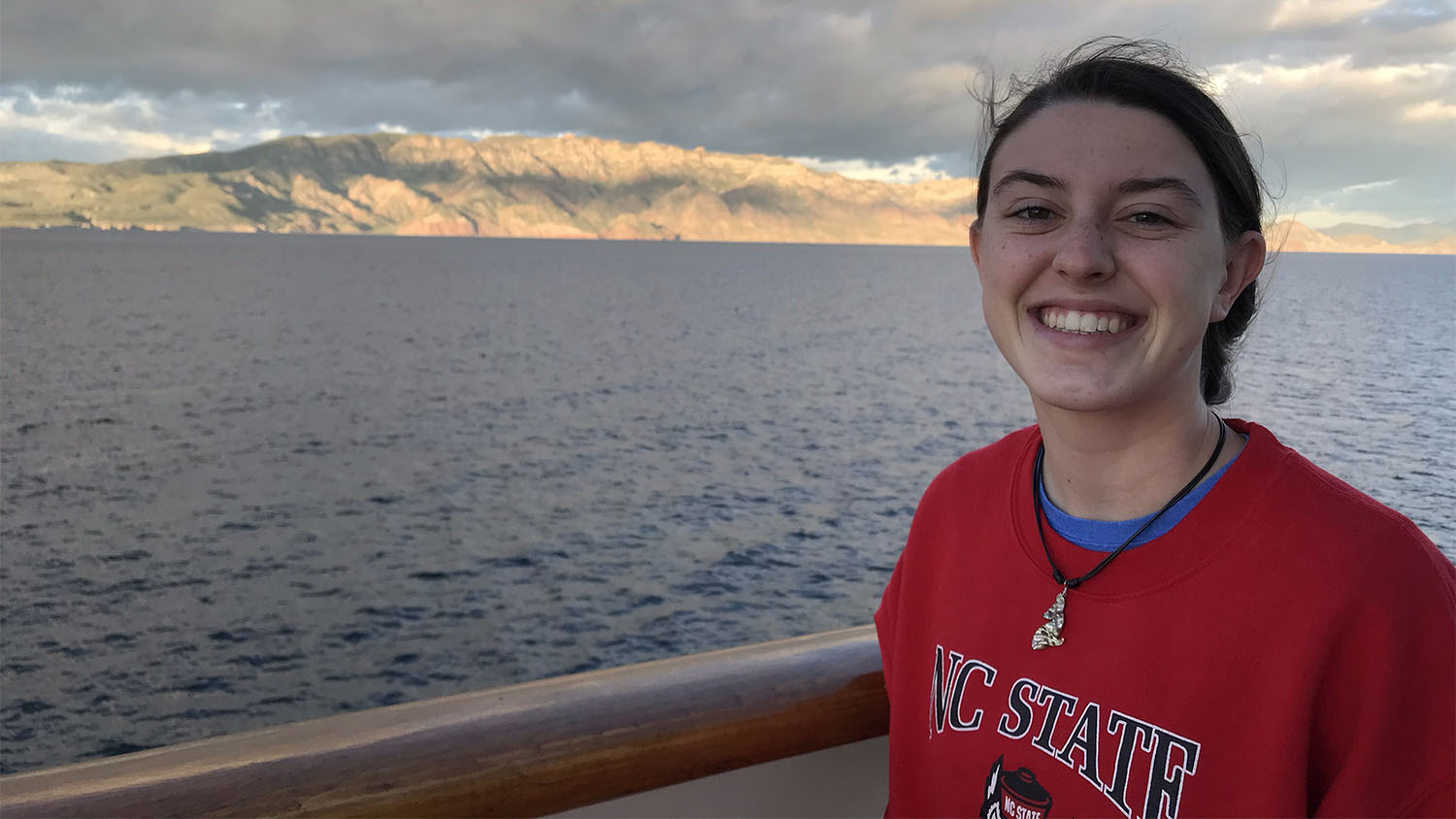 Alyssa Quackenbush is graduating with an undergraduate degree in Environmental Sciences, with a focus on marine science. After she graduates, she plans to pursue work for a couple of years as a field and lab assistant, working on marine mammal research. To fund her fieldwork, Alyssa received a scholarship from the CNR Enrichment Fund.
Alyssa plans to attend graduate school to receive her master's degree in Marine Sciences. She hopes to one day research the impacts of anthropogenic sounds on marine mammals.
What kind of research or other hands-on/in-the-field learning did you participate in?
I participated in the Semester at CMAST (Center for Marine Science and Technology) program. I got to go on a lot of neat field trips while in Morehead City, N.C. We went on a deep-sea fishing trip, a shark tagging trip, toured a commercial fishing vessel, visited a fish house (where they package fish when they come off the vessel) and many others. In my marine mammals course, I got to witness a common dolphin necropsy (an autopsy on a non-human), dissect dolphin stomach contents, and rehabilitate cold-stunned sea turtles.
I have worked on two research projects in the Dr. David Eggleston Lab. The first was to quantify dispersal of juvenile blue crabs in Pamlico Sound, N.C. I sorted through seagrass samples and picked out juvenile blue crabs. The second was to quantify the distribution of large marine debris in Pamlico Sound saltmarshes. For both, I helped Ph.D. student Erin Voigt with fieldwork, which involved being on a small boat in the sound all day and flying a drone at eight sites to create maps from the photos. For my marine debris project, we picked up debris at the sites. I also used the drone maps to quantify debris and compare the drone data to the ground data.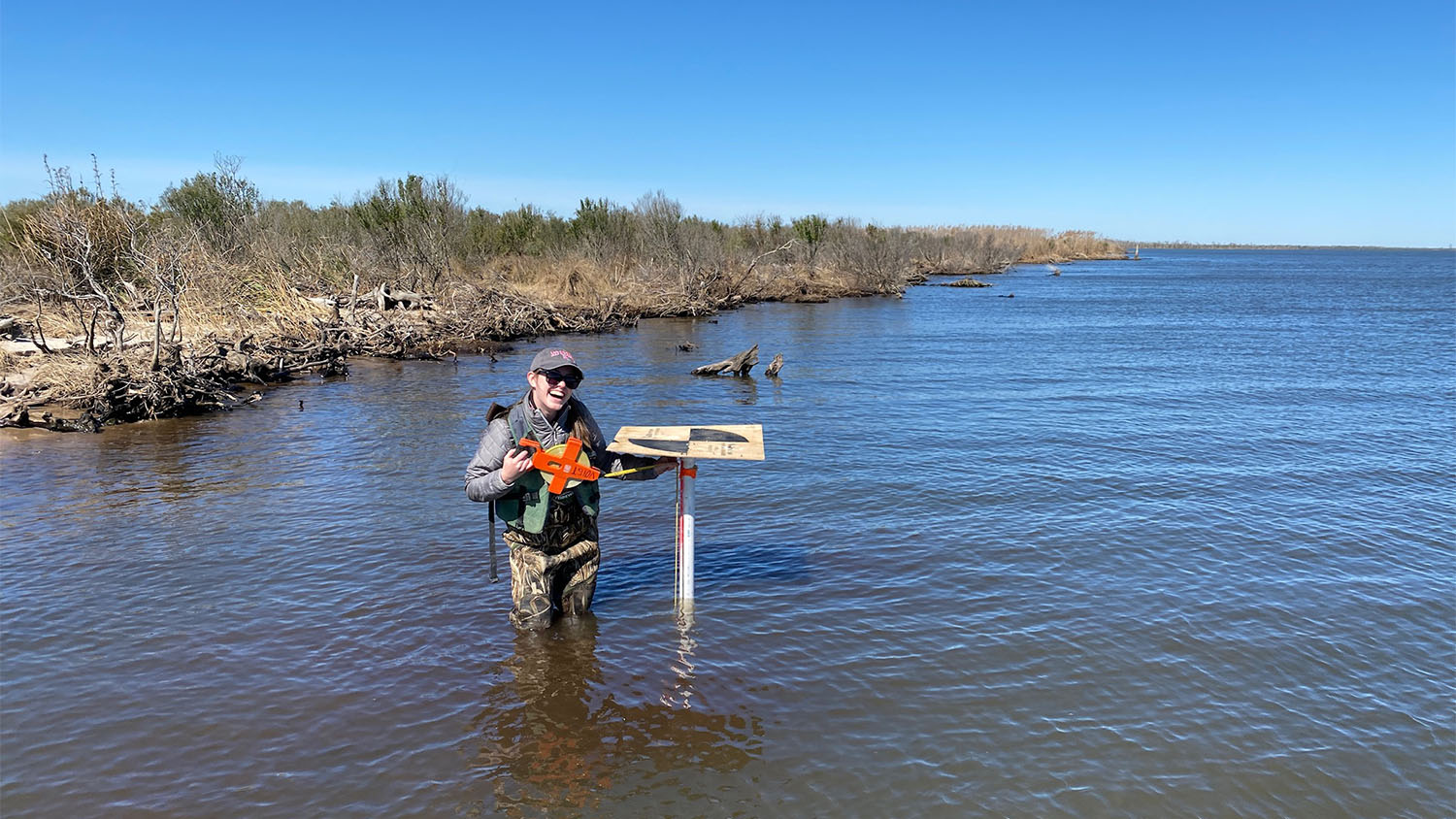 Tell us about a faculty member who influenced you.
He isn't in CNR, but Dr. David Eggleston is the faculty member who influenced me the most. He inspires me because he loves what he does and is so busy but always tries to make time for me (since I work in his lab with his graduate students). He gave me great feedback on my research when I was figuring out how it would all work. He dreams big and wants to do so many projects, even though they aren't all feasible.
I remember after a seminar at CMAST, he was sitting with us undergrads, telling us how he got into marine science. He took many years off after undergrad to pursue drumming, but he eventually got tired of it and didn't want to do that forever. So, he went back to school. His story inspired me because it made me feel less pressured to know what I want to do right now. To see how successful he is and hear that he didn't start on this path until later in life inspires me.
What is unique about you or your work?
The sight of human or terrestrial animal blood makes me sick and faint, so when I found out I had to witness a dolphin necropsy, I told my teacher that I might have to step out. I was so intrigued by the anatomy that the blood didn't bother me! Marine mammal anatomy, specifically cetacean anatomy, is fascinating to me. I think it's so cool to look at the brain of a dolphin, but I feel faint thinking about getting my blood drawn.
What motivated you to pursue your work?
I became interested in anthropogenic sound effects on marine mammals after I learned how much they rely on sound for survival and how loud we make the oceans. It took me taking a marine mammals course to learn this, and I think it should be known by the public. In general, there is such a large gap between scientists and public knowledge, and most people don't realize how much they affect wildlife. Marine mammals can't defend themselves, so I want to learn about them so I can protect them.
Regarding my current research with marine debris, Erin and I noticed while doing her field work that there was a lot of debris at her sites. We thought it would be a good project for me to work on so I could get more experience doing research. I also became interested in environmental sciences to begin with because of the marine debris problem. I remember learning about the Great Pacific Garbage Patch in high school and wanting to just go clean it all up. I am passionate about the debris problem because of its negative impacts on wildlife and habitats.
What advice would you give students entering your major or field?
The Environmental Sciences major has built-in room for you to explore your interests by taking classes, so if you think you might be interested in something, take a class on it. You'll find out you either love it or hate it. Also, even if you're good at something, it doesn't mean you have to like it or make it into a career.