Black Excellence: Assistant Professor Zakiya Leggett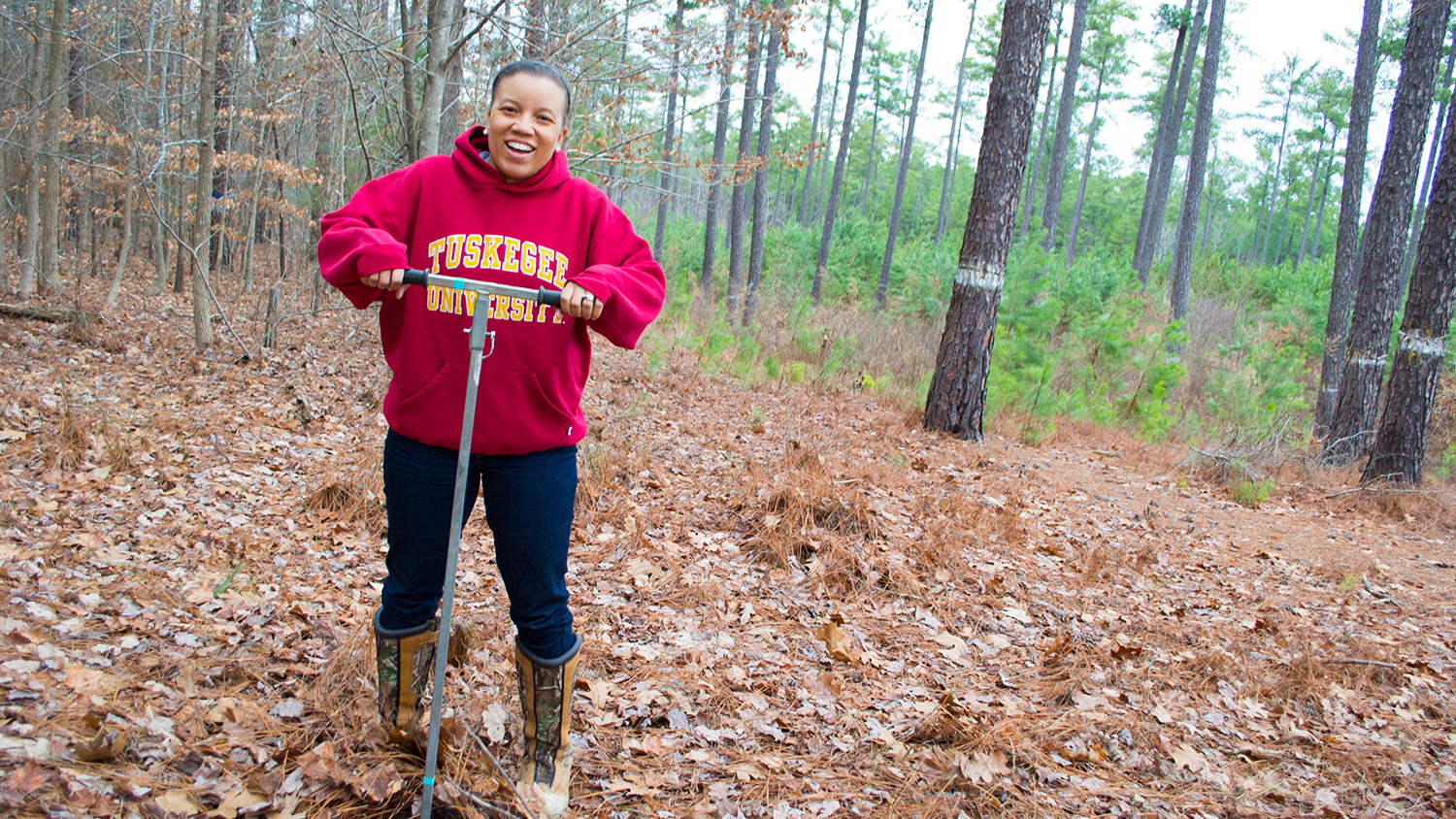 Zakiya Leggett is an assistant professor in the Department of Forestry and Environmental Resources. Leggett earned her Ph.D. in forestry from NC State and currently teaches a course about the interrelationships between human populations and the natural environment and a course about how forest soils form in the natural environment and their relation to forest management and sustainability. She is also researching soil carbon and nutrient cycling, soil carbon sequestration and stability, and more.
Throughout her career, Leggett has promoted diversity, equity and inclusion in the field of natural resources. Before joining the faculty at NC State in 2016, Leggett worked for 10 years as a sustainability scientist at the Weyerhaeuser Company, where she involved students from diverse backgrounds in her work designing and executing multidisciplinary research studies to address environmental sustainability for the global forest products company.
Today, Leggett serves as co-coordinator of an accelerated graduate degree program between NC State and Tuskegee University that aims to recruit and mentor students from underrepresented groups who are interested in pursuing forestry careers.
Leggett also manages the college's Diversity Curriculum Integration and a variety of other programs aimed at expanding educational and professional opportunities for students from underrepresented minority groups in ecology and related fields. That includes the Doris Duke Conservation Scholars Program; the Scholars for Conservation Leadership Program; and the USDA National Needs Fellowship Program.
In addition, Leggett also serves as co-PI on an NSF-RCN Undergraduate Network for Increasing Diversity of Ecology (UNIDE) and as a member of the Ecological Society of America's Diversity, Equity, Inclusion and Justice (DEIJ) Task Force.
We recently spoke to Leggett about her experiences as a Black scientist in the field of natural resources. The following Q&A is a part of a Black History Month series highlighting the outstanding contributions Black faculty, staff and students have made to the College of Natural Resources.
Tell us about some of your earliest memories of being outside.
Some of my earliest memories stem from my family going camping. I really enjoyed the outdoors and even more, I really enjoyed the uninterrupted family time. My mom also started a club for kids called Watoto Club that would meet monthly at the local library, and we always ended the year with a big camping trip.
What has it been like as a Black, Indigenous, Person of Color (BIPOC) to pursue your career?
It started out really challenging being an African-American woman in forestry. My first summer experience was not the best and if I didn't love the field, I likely would have decided to change my major and career goals. Things have improved over time but we still have a ways to go.
What challenges have you faced in pursuing your career?
The main challenge I faced early on working in forestry in small rural towns was the lack of diversity and/or interest in diversity. There were times it felt quite isolating being the only African-American and/or female in the field. However, as mentioned previously, things have improved.
Do any specific memories of experiences in your career stick with you?
Some of my greatest memories stem from my experience with the SEEDS program within the Ecological Society of America. I was in the first cohort of SEEDS students, and it was one of the first times I was surrounded by students that looked like me that were also passionate about ecology. We developed a really nice cohort/family and each year we have a mini-reunion at the ESA meeting. I have been able to serve on the SEEDS Advisory Board and as a SEEDS mentor over the years and have enjoyed connecting with the new SEEDS students.
Tell us about someone who supported and encouraged you to pursue your work.
My parents were my biggest cheerleaders as it relates to pursuing my work. My dad passed while I was in grad school at Duke University but while he was always hesitant to drop me off in the middle of nowhere for my summer internships, he was also supportive and encouraging. While my mom was a school teacher — elementary special education and science — she was definitely the first ecologist I ever knew and I learned so much from shadowing her lifestyle. I was raised vegan and we were eating tofu, recycling and composting before it was popular and trendy to do so.
Why are you passionate about your field or work?
I am passionate about my work because I know the impact it can and will have on future generations. I enjoy young people and always have, which is why I enjoy volunteering and speaking at K-12 schools. Additionally, I learn so much from the students I work with and they really help ignite my energy and interest in the work that I do. Many of my professors from Tuskegee University were and continue to be instrumental in who I have become, and I try to model my mentoring and advising after them in hopes that I can inspire and impact students in similar ways.
What advice would you give to young BIPOC professionals entering your field?
I would encourage them to reach out and mentor other young people that are entering the field "behind them". In the process of "reaching back" they will continue to discover why they are passionate about their work while simultaneously building the community of future professionals.