Student Success
Black Excellence: Field Researcher Roslynn Powell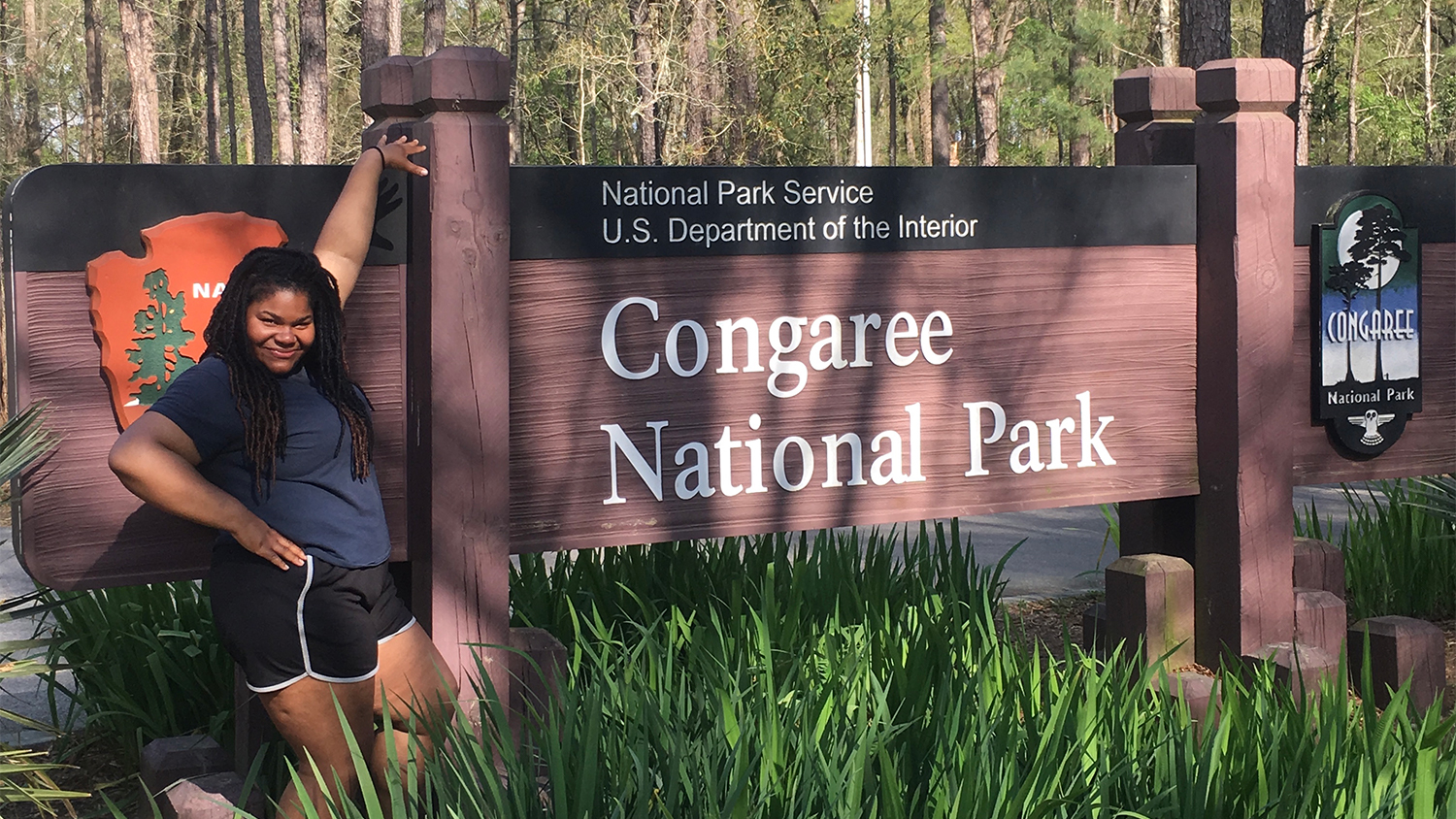 Roslynn Powell is a Ph.D. student in the Department of Parks, Recreation and Tourism Management at NC State's College of Natural Resources. Her research focuses on the emotional labor of interpreting enslavement at heritage sites.
Through her research, Powell plans to gain a better understanding of what interpreters are going through in this process and what can be done to offer them more support. After she completes her degree, Powell would like to pursue a career in academia, where she can teach and continue doing research in parks and recreation.
We recently spoke with Powell about her experience as a Black scientist in the field of natural resources. The following Q&A is a part of a Black History Month series highlighting the outstanding contributions Black faculty, staff and students have made to the College of Natural Resources.
Can you recall some of your earliest memories of being outside?
I always laugh when I get asked this question because I don't feel like I had the traditional outdoor experience. I grew up in a very urban part of Maryland, so my earliest experience of being outside was just playing on playgrounds and hanging out with friends. Then, as I got older, I worked at a nature center, and I got to enjoy things like hiking. But it definitely wasn't a part of my family's tradition.
What has it been like as a Black, Indigenous, Person of Color (BIPOC) to study within your field and pursue your career?
It's been interesting. Throughout my academic career and even jobs that I've had, I'm used to being the only one. At one point in time when I was younger, I wore that as a badge of honor, like "Oh, I'm special, that's why I'm the only one." But, as I got older and I started to do this work and learn more about this field and my profession, I got a better understanding of why I was the only one, and then it became a point of "What can I do to disrupt these systems so that I'm not the only one?" So, it's been kind of isolating, but I'm glad that I've been lucky enough to find support at every part of this adventure.
What challenges have you faced in pursuing your degrees and career?
One of the biggest ones has been this notion that you have to prove yourself. I think a lot of times I came into this process thinking that I had to work twice as hard to get half as far as other people. But it's about really fighting against that because if we are working toward being more inclusive and equitable, that can't be the mindset you're having. I've really been trying to break down some of those traditional stigmas of what it means to be a person of color in this kind of space.
Do you have any specific memories of experiences in your career that stick with you?
The first vivid memory I had where I was like, "I'm a field researcher" was during my master's where I researched social media's impact on people's experiences in Northern Wisconsin in the Chequamegon-Nicolet National Forest, which is a very remote forest. That was my first time camping, in the middle of nowhere, in Northern Wisconsin. So, it's me putting up my tent with my undergraduate assistant and people coming by and checking our site out and me having to explain what we were doing there and the process of collecting data at these sites.
Tell us about someone who supported and encouraged you to pursue your work.
I am a first-generation college student, and my mom is not outdoorsy at all but she has supported me and encouraged me throughout the whole process. Even if she didn't necessarily understand what my research was on or what I was getting my degree in, she was just so proud and very encouraging. Whenever something became challenging, she was still a point of contact where I knew she had my back.
Why are you passionate about your field or work?
One of the reasons why I'm so passionate about bringing to spotlight Black history and how Black history is told is, especially in natural resources, I feel like I have grown up and just moved into places where I hear a lot of "Black people don't do this" or "Black people don't do that." A lot of times, we kind of erase both the spiritual and physical connection that African Americans have with the natural world. When I'm doing this work or working in the field, I feel like that's my way of tapping into that and connecting with my ancestors in a way.
I grew up, like I think a lot of people in the 90s grew up, watching things like "Zoboomafoo" and "The Crocodile Hunter" and "Going Wild with Jeff Corwin," which feature these white men who are doing such amazing environmental education and getting people engaged. Although they are very effective (most of my childhood, that's what I wanted to do with my life), I never saw anyone like me, so I feel like one of the big things that drives me is I want to be that someone for someone else.
What advice would you give to young BIPOC professionals entering your field?
Don't lose your sparkle. I think it's very easy to conform and want to fit in, but you're in this space that has a diverse student body and you have a diverse perspective and lived history that is more than valuable. Don't feel like you need to cover that up to be successful.