Student Success
First-Year Students Grow to Become Dedicated, Engaging Leaders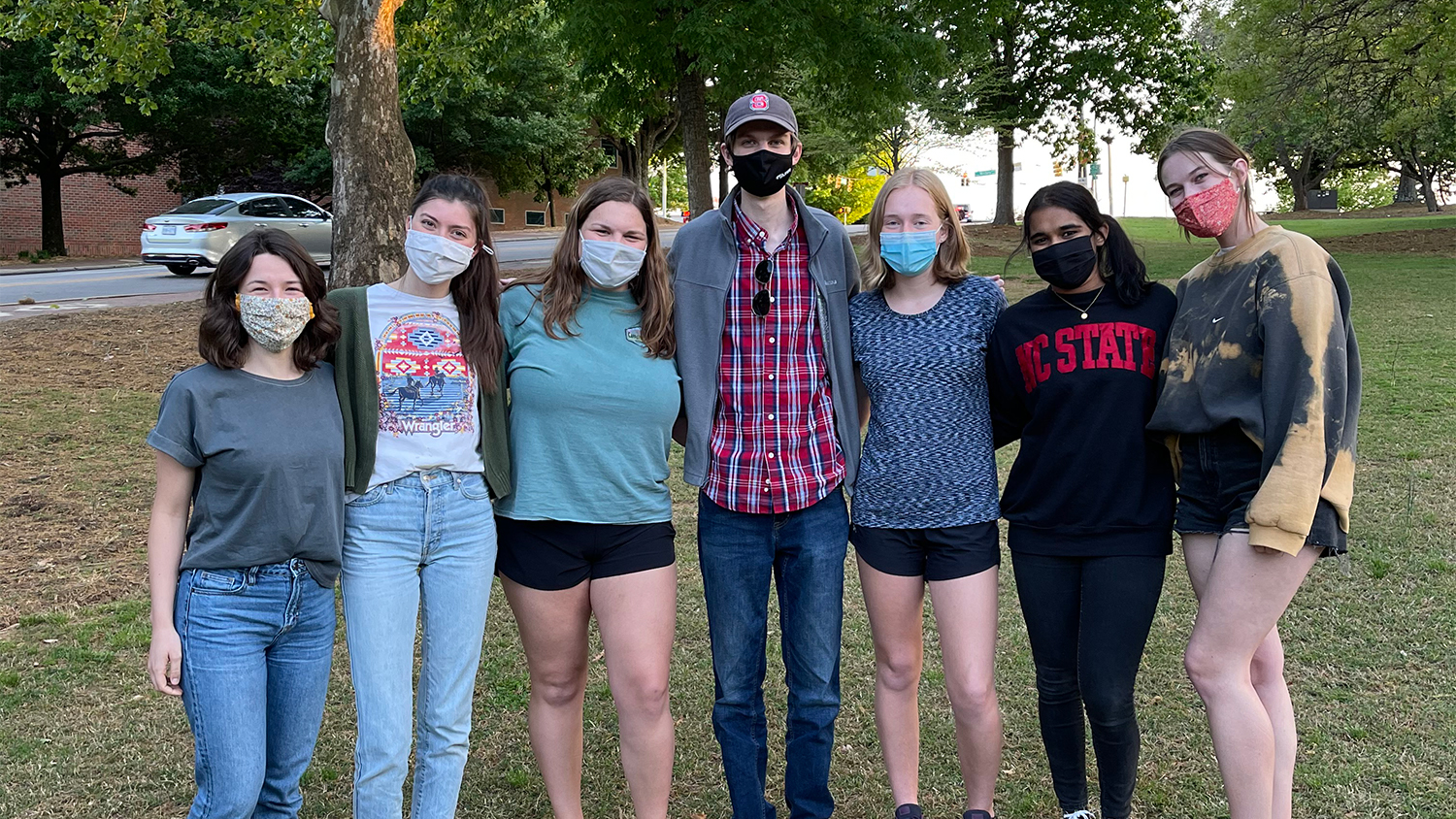 In every generation, there are great leaders who dedicate themselves to improving the lives of members in their communities and beyond. At the College of Natural Resources, we help some of these leaders blossom through the Engaging Leaders Program.
Each year, up to 25 first-year students from across the college are selected to participate in this program, allowing them to grow personally and professionally. Students participate in several leadership seminars that focus on a variety of topics such as group work and communication, public speaking, professional presentations, resume building, interview skills, professional attire and diversity and cultural competence.
A key component of this year's program were group projects that addressed a current challenge provided by the NC State Sustainability Office and the North Carolina Museum of Natural Sciences. Some of the members of this year's cohort worked in to help prolong NC State Sustainability Fund projects, while others worked on assisting with a new program to bring in low-income, underrepresented students to the North Carolina Museum of Natural Sciences.
Meet some of the 2020-21 Engaging Leaders below and read about their favorite memories and biggest takeaways from this year's group projects.
Lena Miller – Environmental Sciences
Lena chose to join the Engaging Leaders program because she wanted to get involved with the College of Natural Resources and become a better leader.
Her favorite memory during her time in the program: "For our last Engaging Leaders meeting, we all met together in person for the first time, which was really nice after having a semester of only seeing each other through Zoom. We had a socially distanced pizza party, which was a great way to celebrate finishing our projects."
Lena's biggest takeaway from this year's group project: "The main thing I learned from my group project is how important it is to be patient while coming up with ideas. My group went through so many different ideas for our proposal which was frustrating at the time, but looking back I now realize how necessary it was. We couldn't have gotten to our final idea without any patience or everyone in our team working together."
Paige Collins – Environmental Technology and Management
Paige saw the Engaging Leaders program as a great opportunity to work in a close-knit group of her peers on an impactful project.
Her favorite memory: "Having an open discussion about culture and travel with the students enrolled in the SKEMA [Business School]. The conversations we had were very eye-opening and made me feel so connected with these people that I had just met."
Page's biggest takeaway: "I learned how exciting and rewarding it is to work with a group of people that are all passionate about working toward a shared goal. I had never been a part of such a hardworking and communicative group, and it was a great experience. My biggest takeaway was learning the importance of connecting with each member of my group personally before proceeding with our project in order for everything to flow smoothly during our meetings."
Emily Workman – Environmental Sciences
After hearing about the importance of professional and leadership development in her Environmental First Year classes, Emily felt inspired to join the Engaging Leaders program.
Her favorite memory: "One of our meetings was a cultural training session with students from SKEMA. During the training, I had an honest, in-depth exchange with a French student. By the end of the conversation, I had a significantly greater understanding of her experience and of the worldly perspective of Americans. I also experienced new awareness of my own behaviors and tendencies as an American, and, also, of the assumptions I make about other cultures. The conversation inspired me to explore other cultures and gather the experiences of people with different backgrounds than my own."
Emily's biggest takeaway: "Leadership is a dynamic practice. To be a strong leader, one has to be receptive to feedback, direct with communication and driven to succeed. A part of this receptiveness to feedback happens in real-time, as we adapt to our peers and become flexible in various group dynamics."
Hannah Getsee – Paper Science Engineering and Chemical Engineering
Hannah joined the engaging leaders program to build her professional development skills.
Her favorite memory: "When we got to call with SKEMA students and discuss diversity and the differences in French/American culture."
Hannah's biggest takeaway: "Communication is essential to being successful as a team. Effective communication and planning with each other was essential."
Christina Conrad – Environmental Sciences
Christina saw the Engaging Leaders Program as a great way for her to develop the leadership and professional skills she will need in her academic life and her future career.
Her favorite memory: "My favorite memories probably all come from my weekly meetings with my project group. During a semester where collaboration and communication with fellow students was significantly lacking, it was such a great opportunity to have time set aside each week to get to work with others on a shared project. I really enjoyed getting to know my team members and figuring out how to solve the problem that we were presented with."
Christina's biggest takeaway: "The further understanding and ability to tackle a complex problem. The Sustainability Fund has many different moving parts and aspects to consider, especially when looking at how to prolong on-campus projects. It was certainly a challenge to come up with solutions for such a large issue and working on it forced me to break the problem down. I will take that knowledge and experience into every challenge I am presented with in the future."
Mary Gillon – Fisheries, Wildlife and Conservation Biology
Mary saw the program as a great opportunity to build her resume and gain the essential skills for life during and after college.
Her favorite memory: "Finally getting to meet everyone in person at our end-of-year picnic. For four months we only ever communicated and saw each other on Zoom, so it was fun to actually interact with each other."
Mary's biggest takeaway: "To be empathetic and stay motivated. The challenge my group tackled doesn't directly affect me, so I had a hard time placing it at my forefront, but it was so rewarding to finish and present it. It felt good to give a meaningful and helpful idea to the Sustainability Fund, and hopefully, we made a lasting impact on campus because of it."
To learn more about the Engaging Leaders Program, contact program director Tremaine Brittian at tlbritti@ncsu.edu.