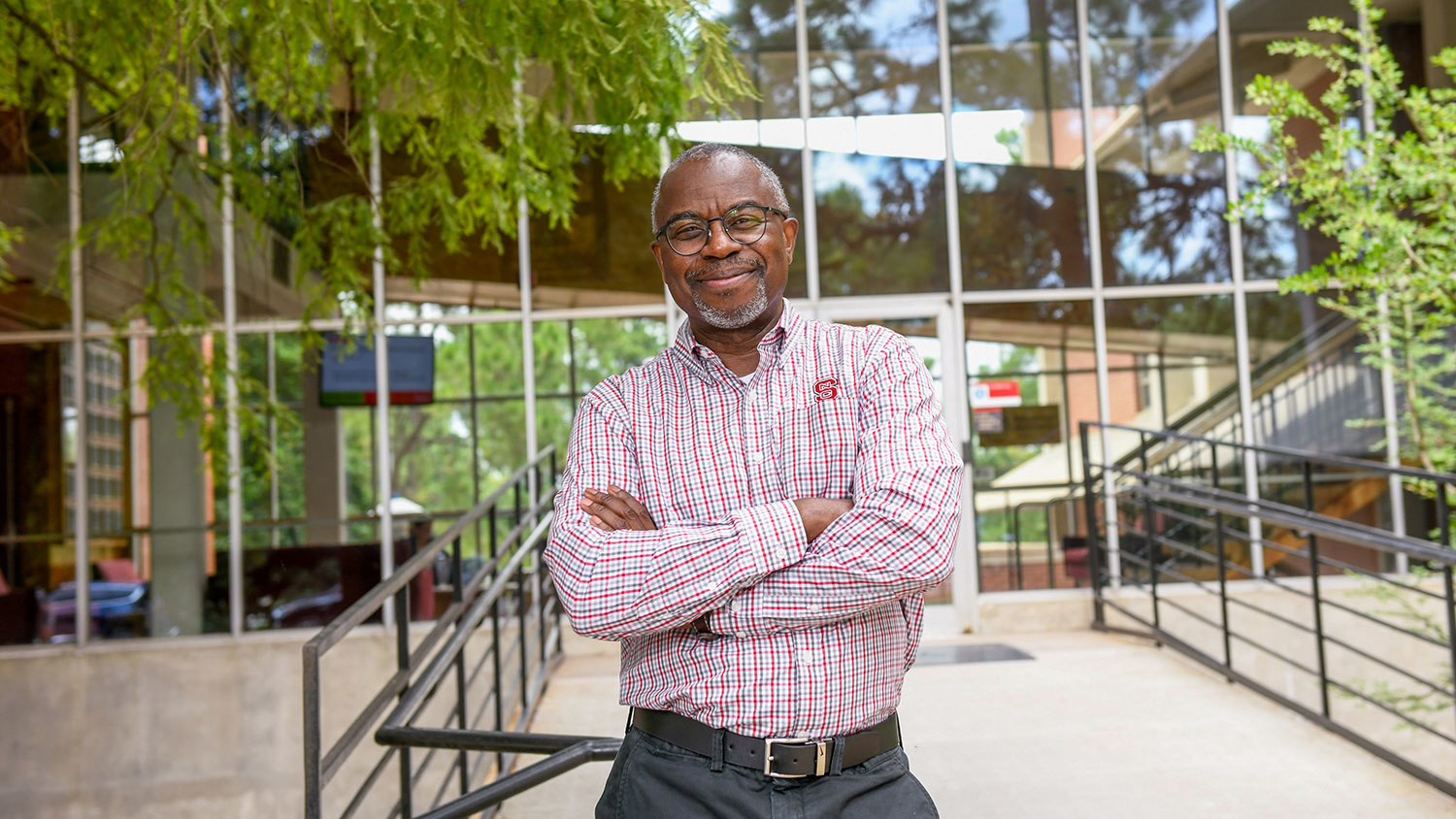 Honors and Awards
Dean Myron Floyd Named to The North Face Explore Fund Council
Floyd and nine other individuals are leading the company's effort to connect diverse communities to the outdoors.
Myron Floyd, dean of the NC State College of Natural Resources, has been appointed to The North Face Explore Fund Council, an initiative aimed at promoting and improving diversity, equity and inclusion in the outdoors.
The North Face launched the Explore Fund in 2010 to provide financial assistance to organizations that are addressing representation and access in the outdoors, especially those led by or serving Black, Indigenous and people of color communities.
Recently, the California-based outdoor apparel and gear company announced that it will bolster the fund with a $7 million investment. It also announced the 10-member council, which will collaborate with The North Face to direct that investment, in the form of grants ranging from $5,000 to $25,000, to organizations throughout the United States.
Floyd joins a council of creatives, scholars, community leaders and athletes, including Lena Waithe, an Emmy Award-winning screenwriter, producer, and actor; Jimmy Chin, a professional climber, photographer, and Academy Award-winning director; Rae Wynn-Grant, a wildlife ecologist and National Geographic fellow; and others.
"It's a tremendous honor to be appointed to the Explore Fund Council and an incredible opportunity to contribute to the continued elevation of diversity, equity and inclusion in the outdoors," Floyd said. "I'm looking forward to working with my fellow council members as we develop ideas, plans and recommendations to improve opportunities for people in underrepresented communities to get outside and explore."
An elected Fellow of the Academy of Leisure Sciences and the American Academy of Park and Recreation Administration, Floyd is widely recognized as a leading scholar on understanding race and ethnic patterns in outdoor recreation behavior. His most recent research examines how public parks and greenspaces and other features of the built environment contribute to physical activity in low-income communities of color.
Floyd is co-author of Race, Ethnicity, and Leisure: Perspectives on Research, Theory and Practice from Human Kinetics, as well as, 95 peer-reviewed journal articles, 22 peer reviewed monographs and proceedings papers, 18 book chapters and more than 100 presentation papers and abstracts. In 2008, he was awarded the Theodore and Franklin Roosevelt Award, the highest award for research excellence from the National Recreation and Park Association.
In an article published last year, Floyd and KangJae "Jerry" Lee, an assistant professor in the Department of Parks, Recreation and Tourism Management, analyzed the lack of diversity, equity and inclusion in outdoor spaces, explaining that people of color are far less likely to engage in nature-based outdoor recreation activities due to socioeconomic status, cultural differences and various other factors.
"Black people and other people of color have to think really hard about being in outdoor spaces and being seen as out of place because the white majority can perceive people of color to be out of place in outdoor spaces," Floyd said, citing the history of racism and discrimination within the U.S. park system and other outdoor spaces.
Through the Explore Fund Council, Floyd and other members will collaborate with The North Face to reimagine approaches for increasing diversity and inclusion by focusing on the experiences of people of color and their connections to the outdoors.
Floyd and the Council aim to ultimately expand the definition of what it means to explore and experience the outdoors to create a more inclusive and welcoming environment for those who have historically been excluded. The Council's members recently identified and recommended organizations that can bring these ideals to life, according to Floyd.
"Our aim is to 'center' people of color as opposed to marginalizing them or describing their experiences in relation to white mainstream narratives," Floyd said. "It's a different approach compared to past efforts. It's not 'come and experience the outdoors just like us'; it's more like 'here's the outdoors, feel free to experience it in your own way, it's yours, you belong — especially on public lands.'"
Once the Council's work concludes, Floyd said "there is a desire to maintain the network to continue to work with The North Face and other brands."