Alumni and Friends
New Endowment Established to Honor Forestry Alumnus Bob Jordan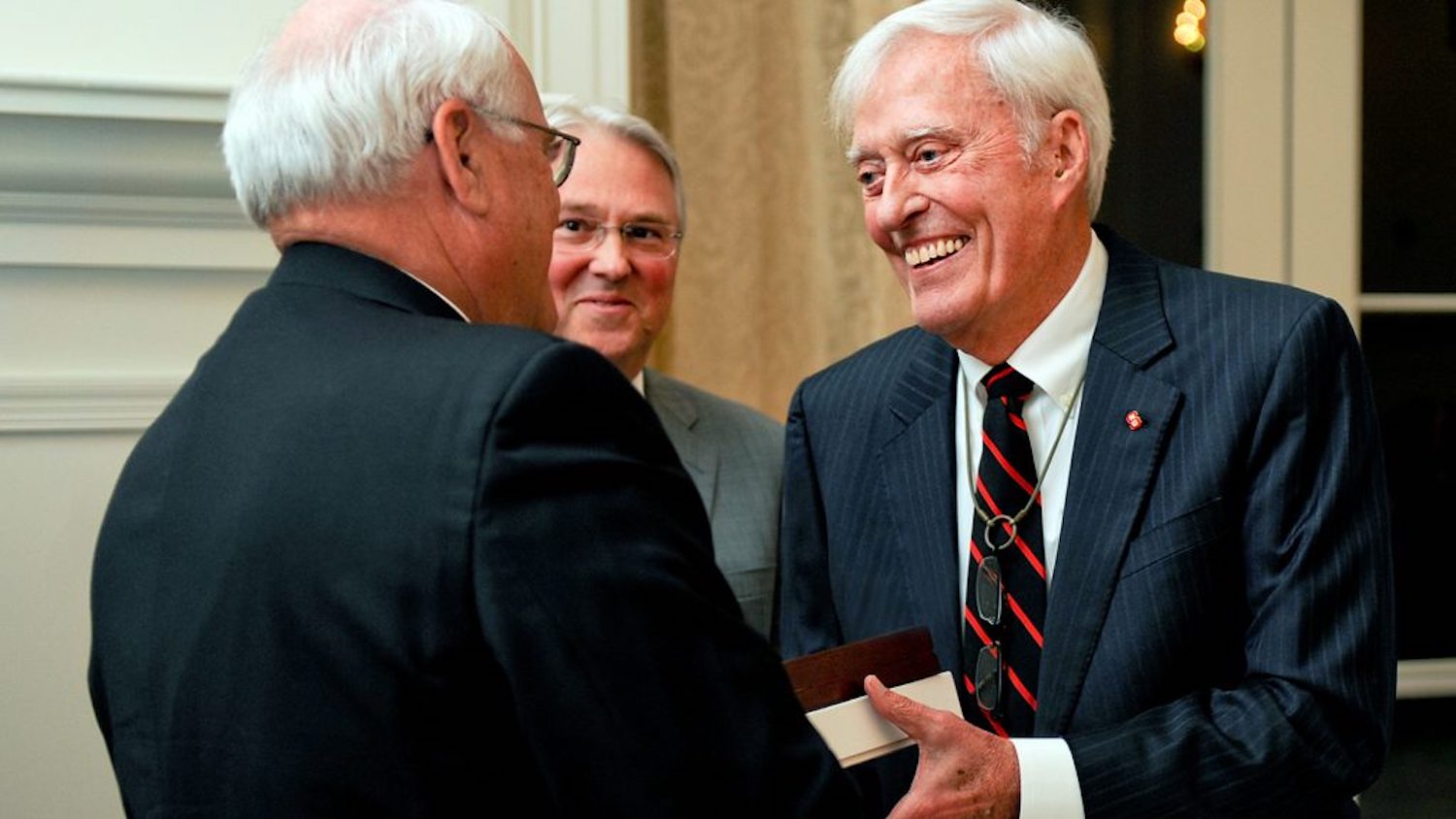 NC State alumnus Bob Jordan would have told you that helping others isn't just something you do. It's something you should want to do.
For the 1954 forestry graduate who went on to serve as a state senator, lieutenant governor, chairman of NC State's Board of Trustees, and head of his beloved family's lumber business, helping others is what it was all about.
His wife, Sarah Jordan, has honored his memory and his call to make a difference by establishing the Robert B. Jordan III Extraordinary Opportunity Scholarship Endowment for the College of Natural Resources, aided with gifts from immediate family members and Jordan Lumber.
The college this year will award two full, renewable scholarships to undergraduate students who show academic excellence and financial need. The goal of the Extraordinary Opportunity Scholarship Initiative is to help students attend NC State without the burden of financial debt and with the freedom to follow their dreams.
It's fitting that Bob Jordan be remembered for service, his brother Jack said. "When he was at [NC] State, he was active in everything, a natural leader. He was president of his fraternity, president of the student body and very involved in athletics … I was eight years younger than Bob. I saw all he did and I wanted to do that, too. He's the one who started my love for State."
And he's the reason their sister, Genie Jordan Ussery, attended NC State as well. At 12 years younger than Jack, she watched her brothers excel and knew NC State was for her. "I never doubted for even a minute I would go there," she said. "I never knew anything else."
In addition to public service, Bob Jordan was known for his leadership in business and in the forestry industry. From the late 1950s, he led Jordan Lumber & Supply Inc. — built by his grandfather and father — and its affiliates until 2020, when his son, Robert, succeeded him as Chief Executive Officer and President.
Under Bob's leadership, Jordan Lumber won national awards for innovation and for protecting natural resources. Jordan Lumber is one of the largest privately owned lumber companies in the nation.
Bob Jordan was also a staunch supporter of NC State and the UNC system. Over the years, he served as a trustee for NC State and UNC-Charlotte and participated in creating the UNC System Board of Governors.
The NC State College of Natural Resources honored Jordan as a distinguished alumnus in 1979, and its Jordan Hall honors the family and their philanthropy.
Jordan received NC State's highest non-academic honor, the Watauga Medal, and its highest award for philanthropy, the Menscer Cup. He was also awarded honorary doctoral degrees from NC State and UNC-Charlotte.
Both Jack and Genie agree that Bob would be delighted — and humbled — by the scholarship.
"It would bring him to tears," Genie said. "He has this unbelievable ability to put his hands on so many lives. When he would talk to somebody, he always ended by asking if there was anything he could do for them.
She added, "It was his purpose in life to do whatever he could for people."
Story written by Beth Grace for the College of Natural Resources