Alumni and Friends
New Scholarship Endowment Honors Legacy of Forestry Alumnus Dick Brake
Dick Brake spent his life helping others, so it made perfect sense to his family that they should continue doing so in his name long after he was gone, in part by establishing the Robert F. "Dick" and Louise Butts Brake Extraordinary Opportunity Scholarship Endowment. The endowment provides need-based funds for undergraduate students at NC State.
"He was always doing things for other people," said Louise Brake, his wife of 52 years. "Everybody knew him. He was always busy and energetic. He was a real people person. He was very selfless."
Dick Brake entered NC State fresh off a two-year tour in Germany as a service member with the U.S. Army. He enlisted to earn enough money to go to college. At the end of this tour, he enrolled at NC State as soon as he returned home.
Louise, his high school sweetheart, made him promise to get a degree before he proposed. Dick made good on that promise. He graduated with a degree in forest management from the College of Natural Resources in 1960. The two were married soon after.
Following graduation, Dick landed a job at Chesapeake Corporation, a pulp and paper mill company in West Point, Virginia. The couple moved to West Point to build their life and raised two children, one of whom graduated from NC State with a degree in horticulture. Dick worked for the company for 30 years before retiring.
After retiring from Chesapeake, Dick became president of DelMarVa, a Chesapeake subsidiary. Eventually branching out on his own, he formed his own forestry and environmental consulting firm, Brake & Associates in West Point, Virginia.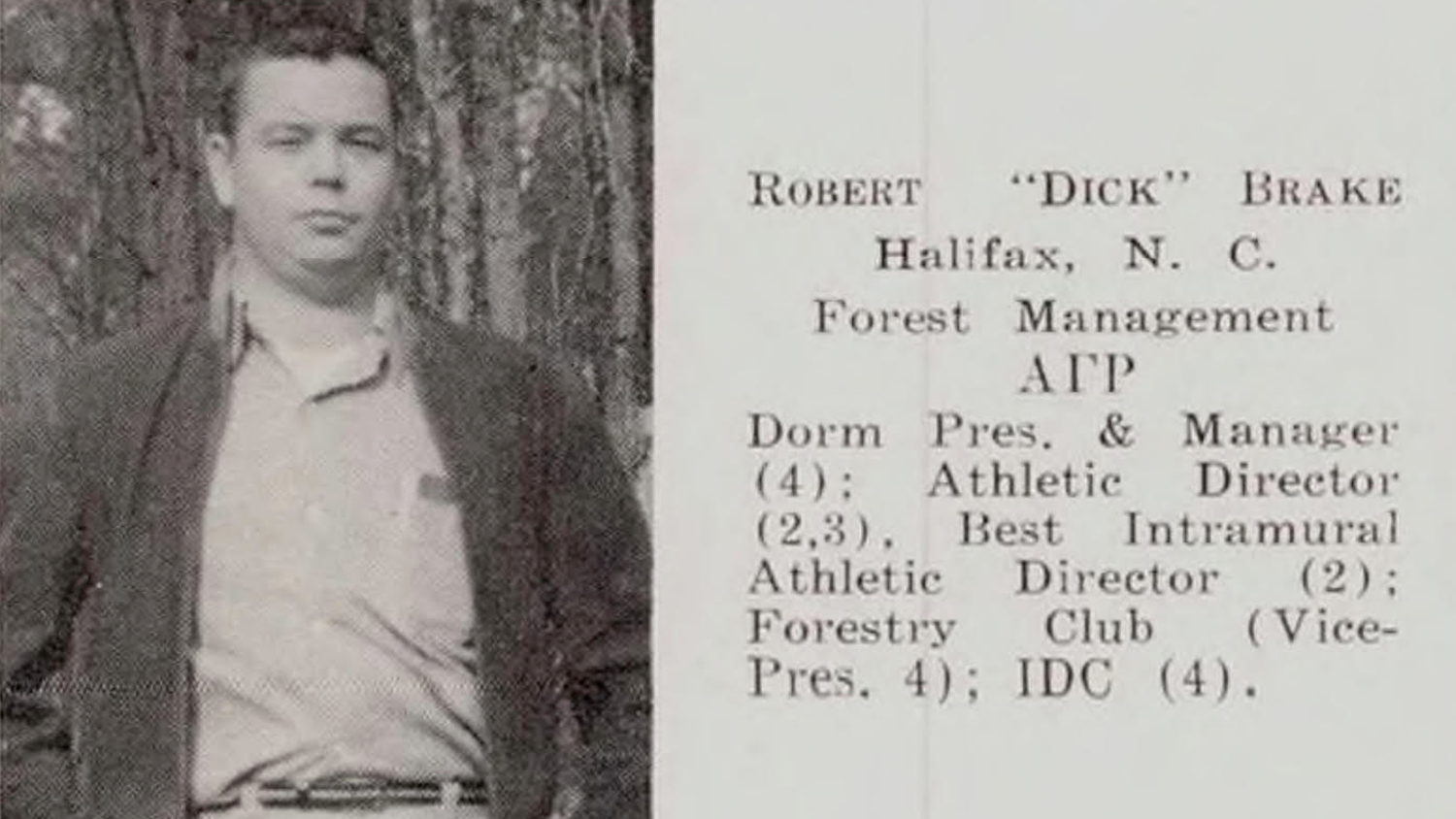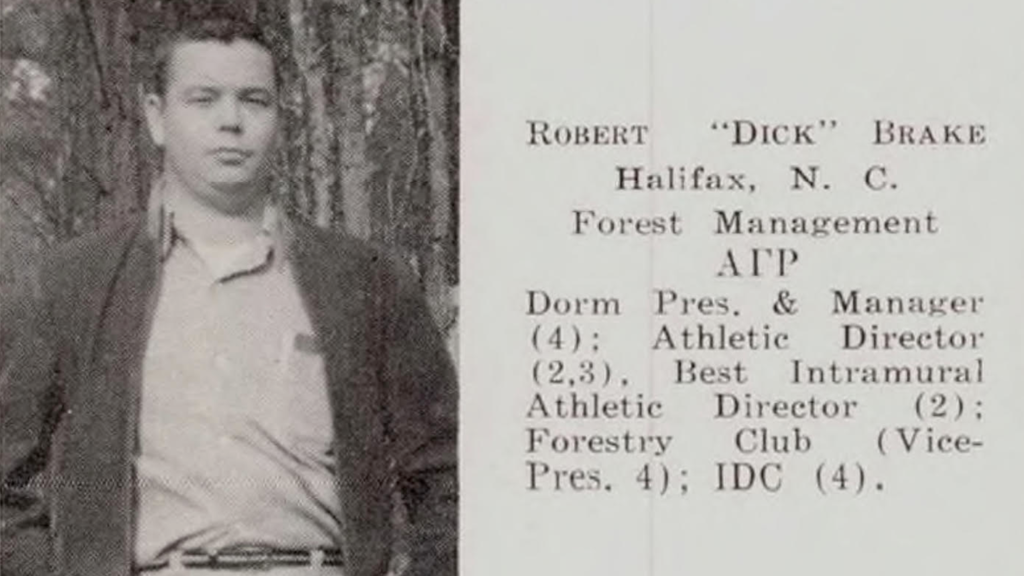 A Life of Service
All through his life, Dick exhibited a passion for public service and was very active in the West Point community. Dick was a member of the West Point Volunteer Fire and Rescue Squad for 24 years, serving as president for 12 years. During this time, he became an EMT and cardiovascular technician, sharing his expertise with local firefighters.
By training firefighters with the West Point Volunteer Fire Department, Dick helped the department become the only one of its kind within a 45-mile radius to achieve the advanced medical credentials. This training in advanced lifesaving skills allowed the department to administer advanced care to rural areas much faster, prior to hospital arrival.
Dick was also active in the local government and his local Methodist church. In addition to serving on the West Point Town Council for many terms, he served as a consultant for the King William County Economic Development; a member of the Middle Peninsula Planning District Commission for 30 years; and a member of the board of directors of Riverside Walter Reed Hospital for 22 years. Dick was also a member of the West Point United Methodist Church, serving as chairman of the board of trustees for many years.
Dick was a prominent figure in the community, but he was all about family when he got home. To his family, Dick was a bright light with an affinity for the simple things in life: family, nature and community. He always spent time in the woods but he never once got lost, according to his daughter Georgia Brake Jaitly. He also loved his home in West Point, where his yard filled every spring with countless daffodils and tulips. The Brakes had the best-looking yard in town.
Besides his love for nature, Dick was also revered for his humor. He could always crack a joke and he was never above pulling a prank every now and again. Every time his granddaughter Krishna visited, he would hide her stuffed animals in the house. "He was very funny, and sometimes very silly," Georgia recalled. He always enjoyed being a kid with the kids.
Dick always prioritized his children and grandchildren, no matter the circumstances. He always tried to be a part of his grandson Drew's world and always found ways to have fun with him. Dick enjoyed watching Drew in the ocean spouting water and collecting his beads around the house.
Dick knew the importance of education. He ensured his children received higher education and he exemplified continued self-education by staying current on the news and technology until he died in 2012.
Louise decided to create the scholarship in Dick's honor because it was important to him to help students, according to Georgia. "He recognized the funding of education could be a huge stress for kids. He wanted to help them with that."
If you would like to learn more about the Extraordinary Opportunity Scholarship and how you can give to support students, please reach out to jlviets@ncsu.edu or (919) 513-7734.
This article was written by Beth Grace for the College of Natural Resources.