Forestry and Environmental Resources Research
New Student-Led Study Supports Single Hunting Season for NC's Wild Turkeys
As Thanksgiving nears, we yet again put turkeys — and one College of Natural Resources student — in the spotlight.
Chase Carey, a senior majoring in fisheries, wildlife and conservation biology in the Department of Forestry and Environmental Resources, recently published a study highlighting the use of camera traps to examine wild turkey breeding patterns in the journal Southeast Naturalist. 
Carey and his co-authors, including NC State research professor Roland Kays, used data from camera traps to analyze exactly when turkeys breed and how this compared with North Carolina's wild turkey hunting season from 2017 to 2019.
The researchers examined more than 2,000 photo sequences from 527 camera traps across North Carolina in order to identify four types of reproductive behavior: strutting, brood rearing, female submissions and mating. The cameras were set by citizen scientists and Wildlife Resources Commission staff as part of the North Carolina Candid Critters statewide wildlife survey.
"When turkeys are mating you can tell from the pictures because the males are strutting around. When we got pictures of the poults [juvenile turkeys] we could age them and then back-calculate when they must have hatched," Carey said.
Carey and his co-authors found a peak of male strutting in early April. This varied from year-to-year but not across the state, supporting one consistent turkey season across the state. North Carolina currently allows sportsmen to hunt wild turkeys for five weeks every spring.
They also found that the present season opens just after peak strutting, placing it somewhere between liberal and moderate. So if turkey populations were to decline in the future, managers could become more conservative by delaying the opening of hunting season to allow more males to mate and protect nesting females.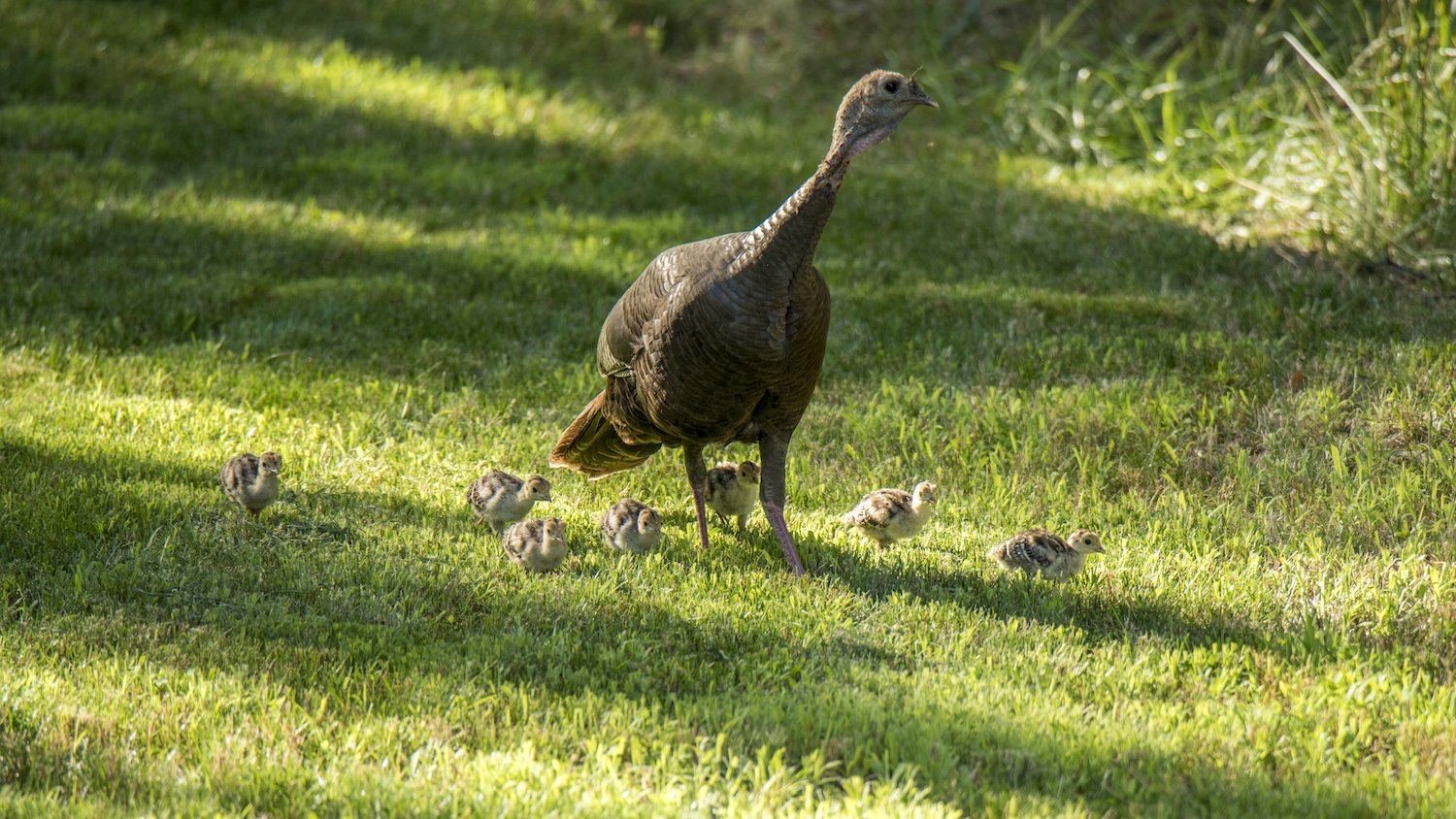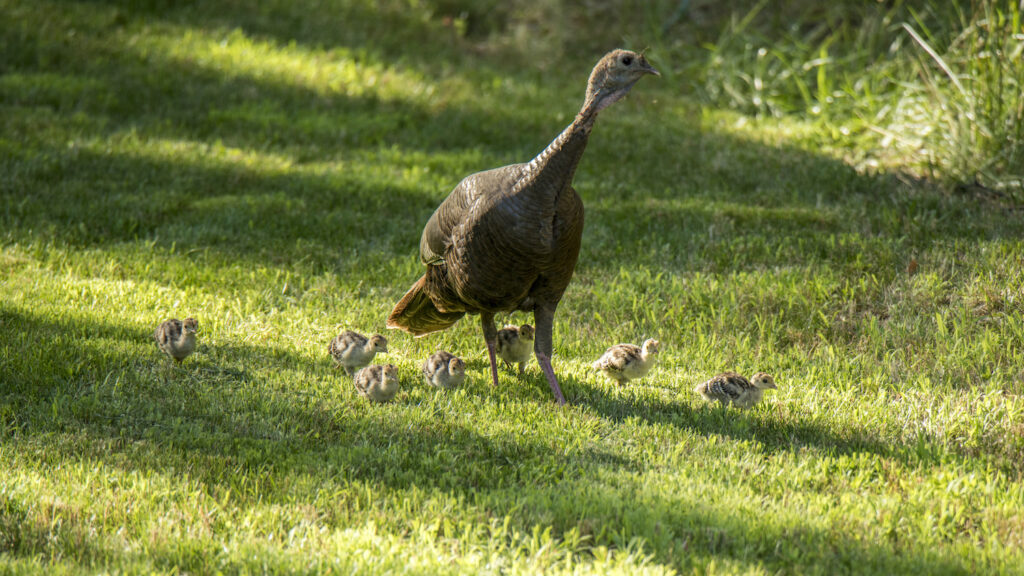 Wild turkey populations in North Carolina dramatically declined during the late 19th and early 20th centuries due to unregulated market hunting and deforestation. But following an aggressive reintroduction program, the species now exists across all 100 counties.
North Carolina primarily manages its wild turkey population by adjusting the timing and length of the hunting season. When determining the exact timing of the season, the state aims to balance hunter satisfaction with the health of the breeding population.
Research shows that one of the factors involved in hunter satisfaction is gobbling. And since peak gobbling typically occurs slightly before, and during the breeding season, hunters often encourage wildlife agencies to open the season early.
However, if hunting is allowed before wild turkeys begin gobbling and exhibiting other reproductive behaviors, sportsmen may inadvertently harvest too many female and male birds before breeding can occur, negatively affecting the population.
"If turkey populations are struggling, wildlife managers can delay the hunting season until after the peak of nesting to protect more birds. But how do you know exactly when turkeys nest, and does this vary across the state or from year to year? This is where the cameras came in," Kays explained.
Ultimately, the results of the study by Carey and his co-authors could help to inform the North Carolina Wildlife Resources Commission in determining the timing and duration of the wild turkey hunting season, depending on the agency's management objectives.
"The results of our study show that the timing of these behaviors does not vary significantly across the state, meaning that wildlife managers don't need to manage wild turkey populations for the individual regions," Carey said. However, there was significant annual variation, meaning there exists a need for more research into how this timing may be changing."
Carey added, "Our results also give a better understanding of when our North Carolina wild turkey population is strutting and brood-rearing, providing managers with valuable information that can be used to set hunting season."
The Road to Success
In publishing his study in the Southeast Naturalist journal, Carey has already reached a professional milestone that most students don't achieve until they've begun their graduate studies or accepted a research position.
"Chase did a fantastic job on this project, from looking through thousands of photographs, to analyzing data, to writing it up, he was always on the ball and already starting to think about the next step," Kays said.
Growing up, Carey cultivated a lifelong passion for the outdoors, hiking in the mountains and spotting wildlife along the way. It was this passion that motivated him to pursue a bachelor's degree in fisheries, wildlife and conservation biology at NC State.
Throughout his time at NC State so far, Carey said he's benefited from the vast number of research opportunities available to him. "Our wildlife biology department and our major is very focused on getting hands-on experience."
Carey met Kays through his work at the North Carolina Museum of Natural Sciences, and was instantly fascinated by his research.
"Dr. Kays does a lot of work internationally, especially in South America with camera traps and wildlife movement data. His research is very cutting edge," Carey said.
Carey also credits his advisor, Lara Pacifici, for motivating him throughout his academic journey. Pacifici is a teaching associate professor of fisheries, wildlife and conservation biology in the Department of Forestry and Environmental Resources.
Looking forward, Carey plans to pursue a Doctorate of Veterinary Medicine at NC State as he aspires to pursue a career as a wildlife veterinarian with the U.S. Fish and Wildlife Service, working in the fields of disease and population management.
"The College of Natural Resources has prepared me for vet school because it has connected me with diverse wildlife field experiences and allowed me to build a solid resume in only four short years," Carey said. "More than any other college I have seen, it encourages students to seek out direct, practical experiences that connect them to their passions and prepare them for the future."