Honors and Awards
Nathalie Lavoine Selected for 2022 TAPPI NanoDivision Mid-Career Award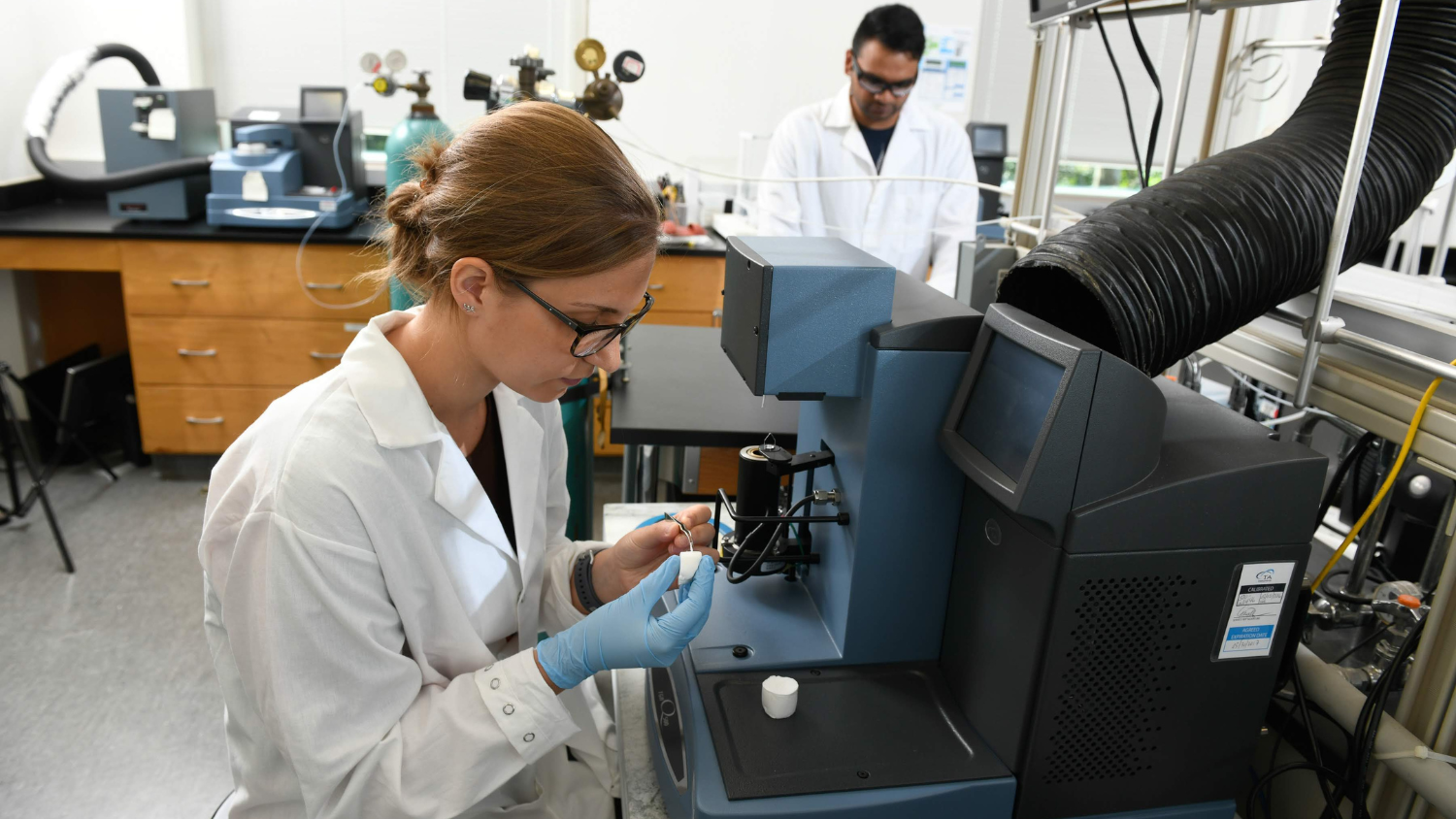 Nathalie Lavoine, an assistant professor of forest biomaterials at NC State, has been awarded the Technical Association of the Pulp and Paper Industry (TAPPI)'s NanoDivision Mid-Career Award. The award recognizes individuals for their outstanding mid-career accomplishments or contributions that have helped advance research and development in renewable nanomaterials.
Lavoine, whose research focuses on the use of biomass-derived nanoparticles for sustainable product design, processing and engineering, said she's honored to be recognized for her contributions and thankful for the support she's received from TAPPI colleagues throughout her career.
"I have been a part of the TAPPI professional society since 2016," Lavoine said. "I have been supported by great mentors within the division of nanotechnology, and I have found a family within this division. I have developed my network and got the chance to have my research accepted as part of the contributors in the field."
Born and raised in France, Lavoine pursued her passion for paper science and engineering at the International Engineering School of Paper, Print Media and Biomaterials (Grenoble-INP Pagora), where she earned both her bachelor and master of science degrees, the latter of which was in paper science and engineering with a strong focus on packaging engineering.
In 2013, Lavoine earned her Ph.D. in materials science from the Laboratory of Pulp and Paper Science and Graphic Arts (LGP2) in France. It was at this time that she began to work with nanomaterials derived from wood. After completing a number of postdoctoral research fellowships, including at Stockholm University in Sweden and the University of Tokyo in Japan, Lavoine joined the College of Natural Resources in 2018.
Lavoine has been heavily involved with TAPPI during her time at NC State. She served as co-chair of the TAPPI Nano Research Committee from 2016-2021, and today, she serves as the secretary of one of the TAPPI subcommittees on the application of nanomaterials. Also, in 2019, Lavoine helped organize the TAPPI Nano Conference that was held in Chiba, Japan.
A Pathway to Sustainable Design
At NC State, Lavoine's research focuses on the sustainable design and development of high-performance tailored materials from renewable resources as an alternative to petroleum-based products. Her main research applications include fiber-based packaging for food, foams and aerogels, coatings, and controlled release systems, such as drug delivery.
Lavoine recently partnered with researchers from the NC State Wilson College of Textiles to develop a process that allows them to use nanocellulose, or cellulose nanomaterials, to produce clothing items with iridescent features that resemble the shimmer seen on fish scales, bird feathers and insect bodies. She and her colleagues provided a first look of several items at the ACCelerate Festival in Washington, D.C in 2022.
Nanocellulose is a naturally occurring substance that is extracted from cellulose — the main substance of plants' cell walls. It is divided into two types: nanocrystals and nanofibrils, both of which are biodegradable and non-toxic. During the production process, Lavoine and her colleagues extract cellulose from wood chips and the pulp used in papermaking.
"The versatility of this material to create new concepts and new products is fascinating, and there's this curiosity, unlimited challenge and degree of creation that I wanted to access, too, and I wanted to be able to dream as well," Lavoine said. "I wanted to see more of those products on the market because I believe they can really better our planet and our society since they bring a strong sustainability component."
The Future of Sustainability
In the College of Natural Resources, Lavoine has started her own research group to further the study of sustainable materials — and to help students broaden their skillset through hands-on learning. The Lavoine Research Group studies the various ways renewable resources such as wood can be used to create sustainable materials design and engineering.
The core expertise of her lab focuses on sustainable packaging, essentially replacing non-degradable, non-reusable plastic-based products with sustainable alternatives that have a low environmental impact. "At the fundamental level, we try to understand how we can combine those sustainable products to create a synergy in performance and properties, and meet societal and industrial requirements and needs for new products," Lavoine said.
Currently, Lavoine has three Ph.D. students who work with her on a variety of research topics, all related to the sustainable development of products from cellulose nanomaterials. "I'm trying to build a research education-integrated platform to help advance commercialization of sustainable products on the market," Lavoine said.
Lavoine added, "It's bringing an entrepreneurial mindset and vision to the students, giving them the possibility to not only get a degree and find a career but also develop their leadership and entrepreneurial skills so they get a broader vision of how useful their research and their journey at NC State can be after graduation."