Impact and Outreach
Inclusivity Outdoors: Making Field Research Safer
Two NC State graduate students founded Field Inclusive, a nonprofit to make field research safer for all — especially researchers from marginalized communities.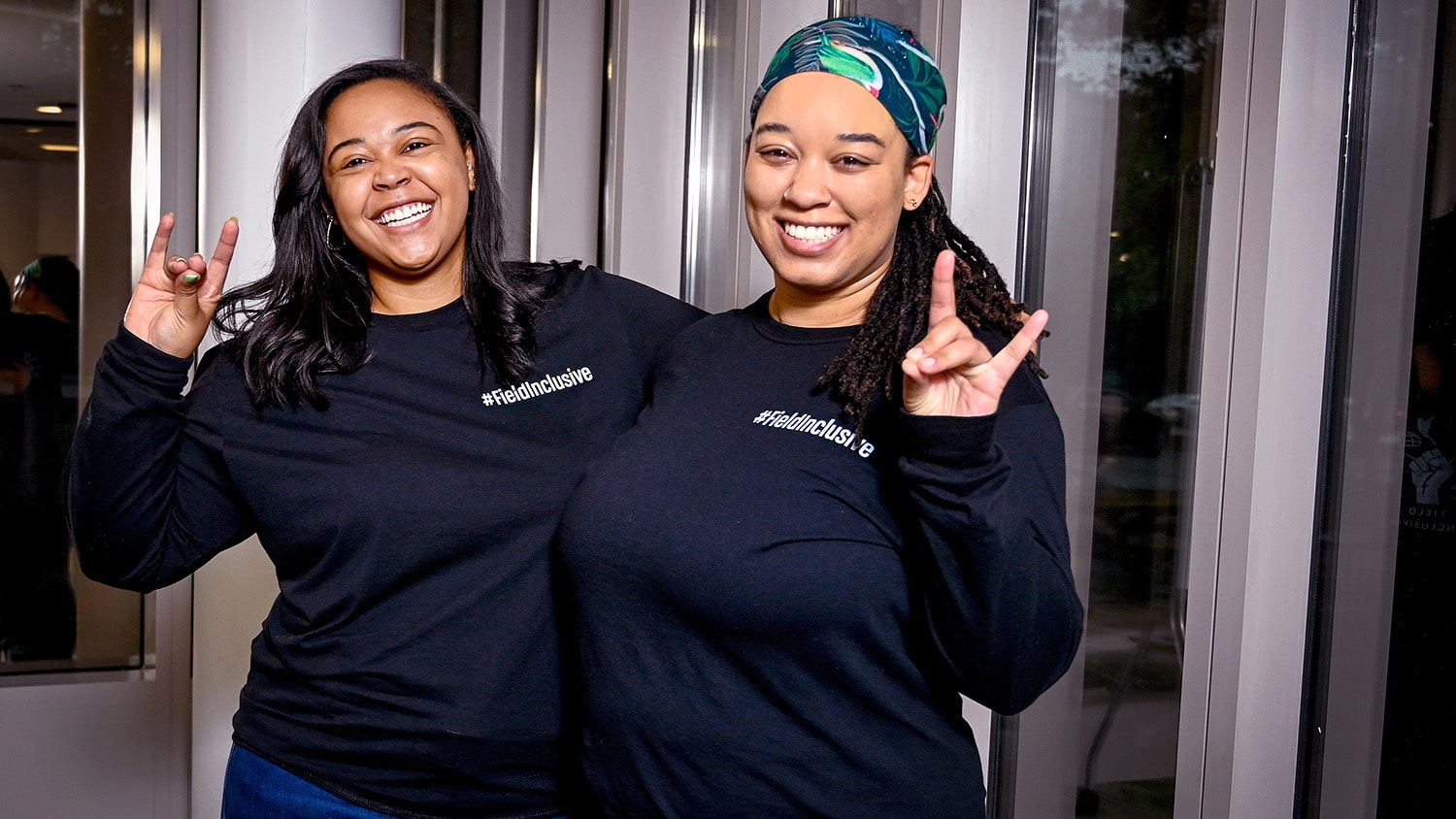 In the rural village of Snow Camp, North Carolina, NC State researcher Murry Burgess studies the impact of light pollution on songbirds. Burgess, a doctoral candidate in the Fisheries, Wildlife and Conservation Biology program in the College of Natural Resources (CNR), is an avid birder who normally finds spending entire days among the birds peaceful and rejuvenating. But she didn't exactly receive a warm welcome from the locals.
Burgess, who is Black, visited a local trailer park campground with her advisor, who is white, to ask about accommodation options; Burgess wanted to avoid making the daily, hour-long commute from Raleigh to Snow Camp. But the campground owner was cold.
"They weren't willing to talk with me," said Burgess. "The owner was only answering my advisor, angling their body away from me and not really making eye contact with me. I got the sense that I wasn't welcome there."
Ultimately, she decided to commute back and forth, spending two hours on the road each day. The experience left her apprehensive about being alone on the field site every day — because of the COVID-19 restrictions at the time, she couldn't bring any field technicians with her.
"I had that constant worry of being in this rural, predominantly white area in a time of political unrest, with the election and the killing of George Floyd," said Burgess. "It made me super nervous and uncomfortable being out there by myself, and hyperaware that there are no protocols in place for this type of situation."
To change that, Burgess teamed up with Lauren Pharr, an avian ecologist and fellow doctoral candidate in the Fisheries, Wildlife and Conservation Biology program. They founded Field Inclusive in August 2022 to support field researchers from marginalized and underrepresented communities and create social safety protocols for them.
A Need for Social Safety Training
When it comes to field research, most of the existing safety training and protocols center around wildlife and physical field safety. Researchers learn the proper way to hold birds and draw their blood; how to identify poisonous plants; and what to do if a tick bites them.
However, field researchers are largely left to come up with their own informal social safety protocols. For instance, Pharr — whose field site is in the Sandhills Gameland near Southern Pines, North Carolina — is grateful to have a site supervisor who is intentional about checking in on the researchers and letting them know about situations they might encounter.
The gameland is publicly accessible, with hunters, anglers, bike riders and horseback riders frequenting the area. Although there are several researchers working on the site, they're spread out. 
"It takes us a good bit to drive to each other," said Pharr. "My site supervisor is really good about checking in with all of us, especially if she knows that we might have to go to a different area or be onsite after hours."
She was particularly thankful her site supervisor informed them of the military training that goes on in the area. During her first field season, she was startled by a soldier popping out of the bushes as part of an orienteering exercise.
"I know the site is close to Fort Bragg, but I don't know that I would've put two and two together that first time," said Pharr. "I'm glad my site supervisor was aware this might be something important for me to know, especially with me being a newbie and not being familiar with the area."
Oftentimes, the encounters field researchers have with the public are much more unpredictable.
"It's really common for a lot of students of color or from minority groups — whether that be racial and religious minorities, or members of the LGBTQ community — to get strange looks or have people come up to them and ask what they're doing while they're in the field," said Kayla Stukes, a master's student in the Department of Forestry and Environmental Resources and an intern at Field Inclusive. "Sometimes the police are called. That's happened a couple of times to students that we've worked with." 
Although Stukes doesn't venture out into the field often for her own research, her experiences with microaggressions at previous internships inspired her to join Field Inclusive.
"At one organization, I'd get strange questions in regard to my hair. These comments made my job a lot harder and made me question whether I wanted to return even though the job itself was fun," she said. "Those little nuances and those interactions really do impact students in a way that a lot of people who don't have to think about that stuff don't realize."
Field Inclusive exists to raise awareness about these issues.
"The majority, if not all, of our colleagues are white. This issue probably isn't something they're going to think about," said Pharr. "Field Inclusive has been able to bring that issue to the forefront of people's minds — especially for advisors who may have minority students who they're sending out into the field."
Going Beyond Field Safety
Despite their grueling schedules as graduate students, Burgess and Pharr have made time to build Field Inclusive and create resources on social field safety for the science community.
They offer templates outlining field gear that departments can provide for researchers — including car magnets, personalized identification badges and branded field vests — to make their university affiliations clear. The idea came about after Burgess spoke to her advisor and other members of her department about her housing incident in Snow Camp. They gave her a CNR-branded car magnet to identify her as an NC State student on official business while she was in the field.
"That was really soothing to me, and it helped dispel some of my worries about random people approaching me," said Burgess. "At the same time, I didn't want current and future students to have to ask for one when they encountered a similar situation. It should just be available."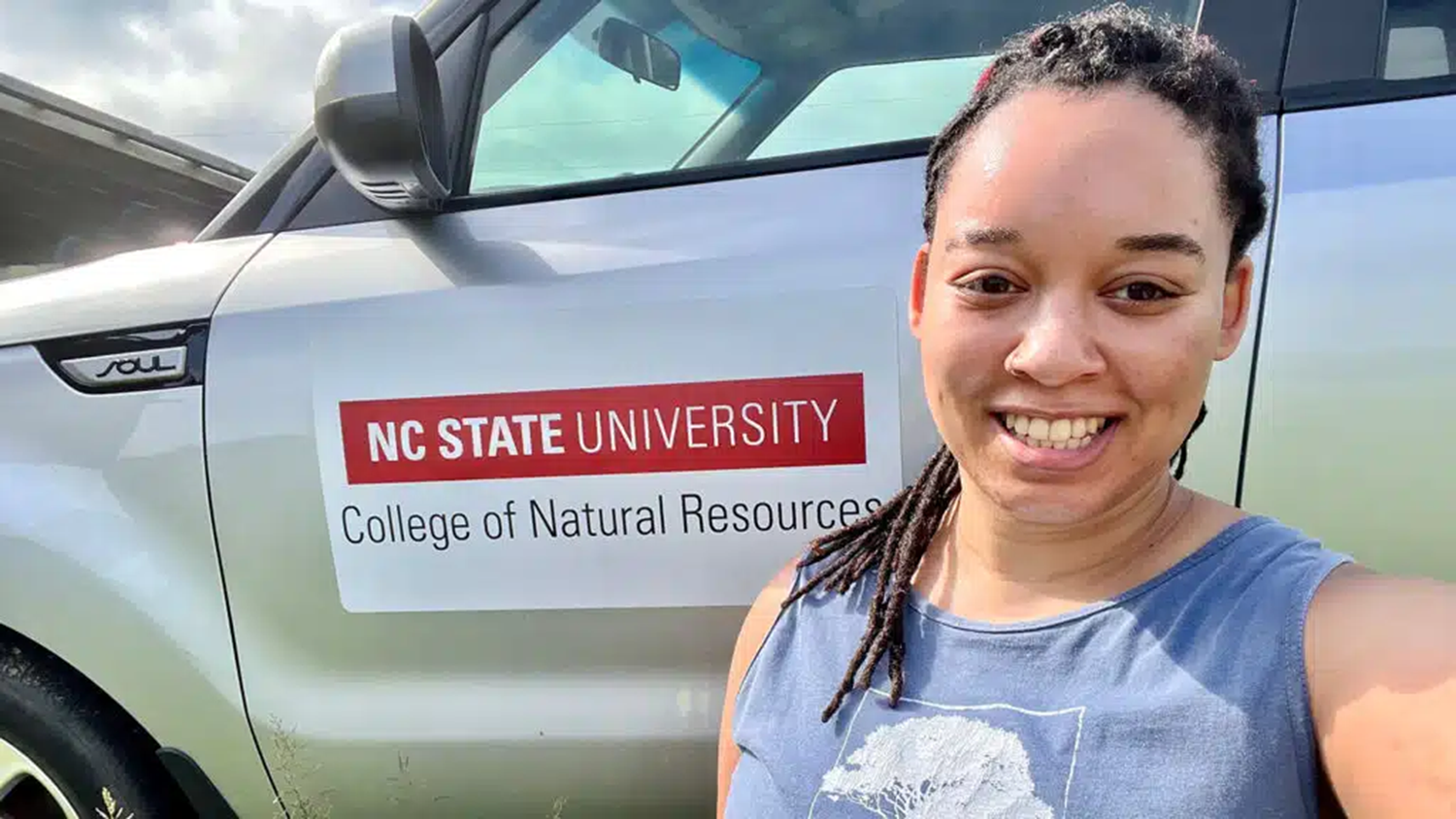 In January, Burgess and Pharr hosted Field Inclusive Week, a virtual event that featured panels about field safety and disability accommodations in the field. The recordings are available on Field Inclusive's YouTube channel for anyone to access.
Their next project involves developing safety modules to educate the science community about the challenges researchers face in the field when they have a disability, come from a marginalized community or are an international student. The modules will also touch on the history of why such communities historically haven't felt welcome in outdoor spaces. Burgess and Pharr are looking to partner with units across campus to create the modules and to make them accessible to other institutions.
Beyond making the field a safer place for researchers from marginalized communities, Field Inclusive seeks to eliminate barriers that often keep members of these communities from entering field research in the first place. Burgess and Pharr are developing a resource document to educate organizations on topics such as the language they should use to attract diverse applicants and the importance of paying their technicians a living wage.
Field Inclusive also provides grants, fellowships and scholarships for historically underrepresented field researchers. Recently, the nonprofit awarded two $500 grants for research materials. One recipient will use theirs to purchase camera traps and a freezer to carry out research on toads in Ecuador. The other will use the funds to purchase tape and safety vests for their research on tick disease in humans. 
Educating the Science Community
Field Inclusive hosts virtual events and offers resources on creating safety measures for underrepresented field researchers.
Providing Funds for Researchers
Field Inclusive provides grants, fellowships and scholarships for historically underrepresented field researchers.
The nonprofit is able to award these grants with the financial support of individuals and organizations. The Nature Conservancy, the Wilson Ornithological Society, the Cape Fear Bird Observatory and the North Carolina Sea Grant have partnered with or sponsored Field Inclusive to make financial assistance to underrepresented researchers possible.
"These organizations putting money toward Field Inclusive shows us that they're committed to the cause and that they want to see change," said Pharr. "It's been great to see that support."
Field Inclusive also partners with organizations seeking diverse applicants for their field positions.
"We help these organizations spread the word that they are looking for diverse applicants when they might not know how to find them on their own," said Burgess. "We send out calls for applications or nominate students who are a good fit to help level the playing field."
A Supportive College
The College of Natural Resources has supported Burgess and Pharr throughout their journey to build up their nonprofit. The college included Field Inclusive as one of the NC State Crowdfunding projects this winter, helping Field Inclusive exceed its goal of raising $4,000 to purchase field gear. 
Beyond financial help, CNR's overall commitment to helping their students succeed and to prioritizing diversity, equity and inclusion (DEI) has created a supportive framework for Field Inclusive.
Dean Myron Floyd; Stacy Nelson, professor and interim associate dean for diversity and inclusion; Erin Sills, Conger Professor and head of the Department of Forestry and Environmental Resources; and Caren Cooper, associate professor in the department and Burgess' and Pharr's advisor, have provided resources and guidance on the administrative side of running a nonprofit.
"Both of our backgrounds are in wildlife, so we don't know how to run a nonprofit," said Burgess. "They give us advice on that and have shown us the structure of a nonprofit, and what different boards and committees could do. That's been really helpful."
The advisors at CNR are open to accommodating their students and committed to seeing them succeed.
Pharr serves on both CNR's and the Department of Forestry and Environmental Resources' DEI committees and sees the members' commitment to inclusivity in the field and in every other area of the college.
"I would say that every single person on both of those committees is 100% committed to building not only an inclusive environment outdoors, but an inclusive work environment and program within our department," she said. "I can tell through their actions — how they're supporting different people, and promoting things and advocating."
At an individual level, Burgess and Pharr have also felt supported throughout their graduate school career.
"Both of my advisors [Cooper and Christopher Moorman] are approachable. I can talk to them about anything and I don't feel scared to say, 'hey, we need to do things differently,'" said Pharr. "It seems like the advisors at CNR are open to accommodating their students and committed to seeing them succeed. I have no doubt about that."