Alumni and Friends
5 Questions with Park Technician Eddie Sykes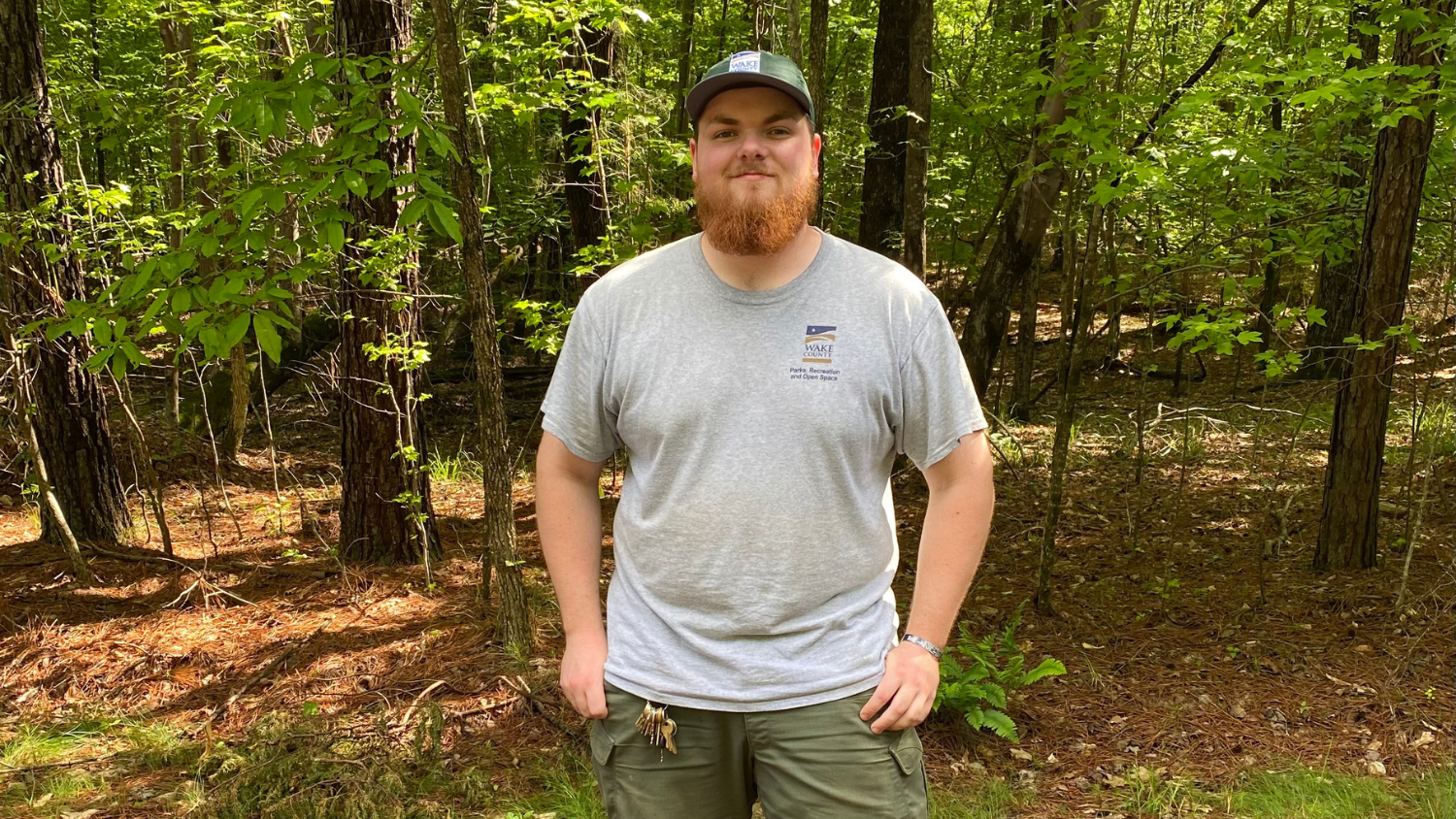 Eddie Sykes graduated in 2022 with a bachelor's degree in parks, recreation and tourism management with a concentration in recreation and park management. He now works as a park technician of operations at Blue Jay Point and Green Hills county parks.
Prior to graduation, Sykes worked as an intern for Wake County Parks, where he helped keep park trails well-maintained and open. Wake County Parks works to preserve open spaces and provide education and outdoor recreation for the county.
We recently spoke with Sykes to learn more about his passion for parks and recreation and how the College of Natural Resources prepared him for his career. Check out the Q&A below.
What is a typical day in your job like?
A typical day involves some desk and field work, with the majority of my time spent in the field. I work with the rest of the operations team here at Blue Jay to keep the park looking good and in working order. This includes opening or closing the park, landscaping work and trail maintenance. In addition to this, I also work in conjunction with the education team to help set up for events and assist wherever I can. Most days, this means communicating when programs are happening so we can avoid any loud equipment in that time.
What inspired you to study your major?
I have always enjoyed being outdoors and knew I wanted a job where I would spend more time in the field than at a desk. What really set me on the course of working in parks would have to be the AP Environmental Science class I took during my senior year of high school. That class made me realize I wanted to work in a field related to the environment. After taking the introduction to parks, recreation and tourism management class during my freshman year at NC State, I switched my major to parks, recreation and tourism management and that was that.
What impact are you making through your position?
Most of the impacts I make in my position are small in scale. Blue Jay and Green Hills are both small parks, and we directly deal with only a small portion of the county. Still, we do our best to keep the appearance of the park in the best shape we can while trying to help the education team wherever we can, in addition to directly talking to visitors and enforcing park rules so everyone can have a positive experience here.
How did the college prepare you for your current position?
There were several classes throughout my career at NC State that have helped me in my current position, but none come close to how beneficial the internship program was for me. I went into my internship with Harris Lake County Park and Wake County Parks unsure of what I wanted to do after college and was considering going back to school. After seeing the Wake County Park system and working in a park for the summer, I knew I wanted to stick around.
What advice do you have for current students?
The best advice I would give is, if you are required to take an internship, take it seriously. If you aren't, strongly consider looking for one or just seeking a part-time job in your field of interest while in school. On-the-job experience is second to none and getting a trial run at my current job helped solidify my choice of what I wanted to do after college. It also helped me get this job.