Faculty Fellows Recognized at Summer Shorts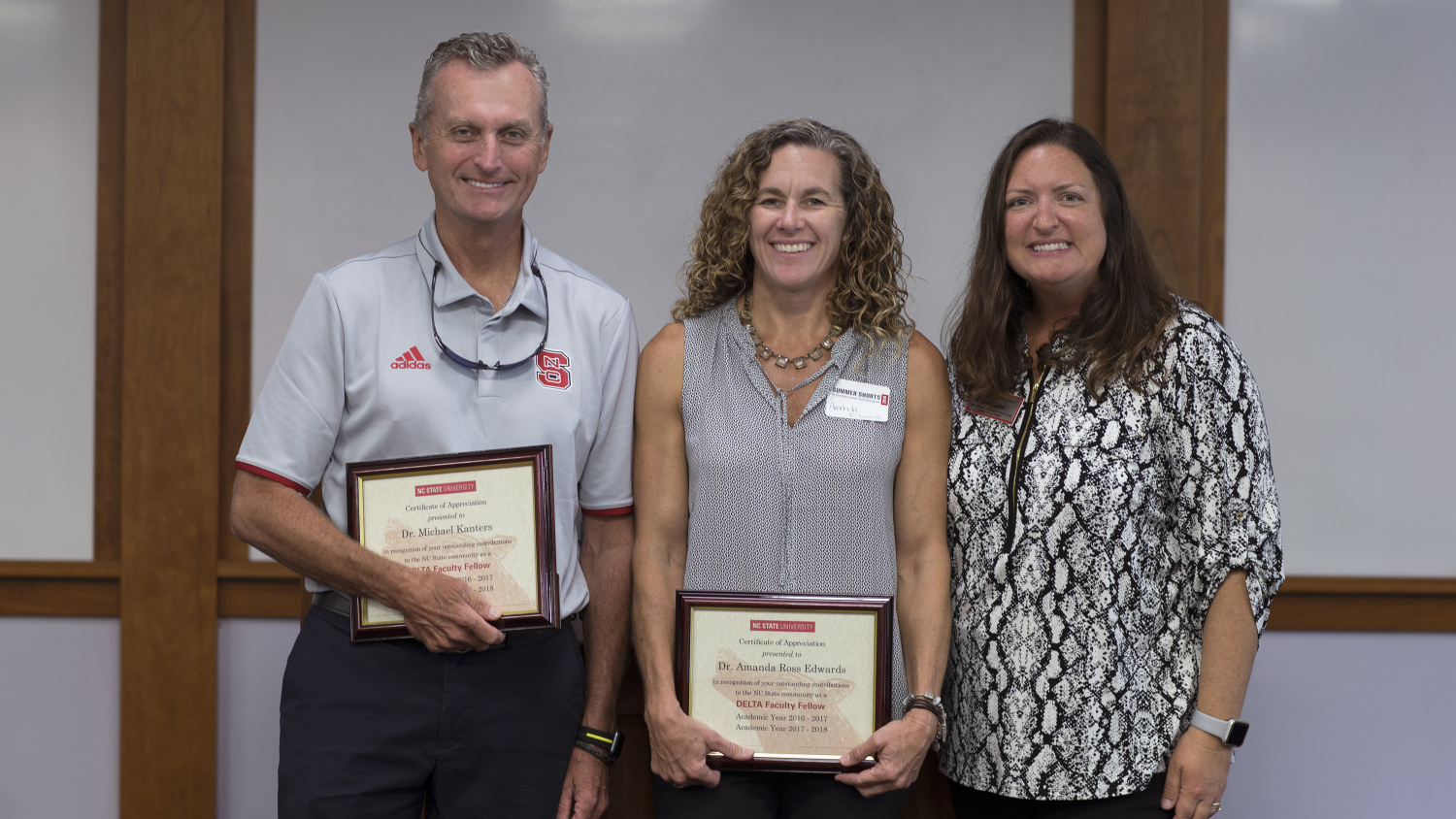 At the annual Summer Shorts program, DELTA honored its second cohort of Faculty Fellows with certificates of appreciation. Amanda Edwards and Michael Kanters completed their outstanding service as Faculty Fellows from 2016-2018.
Edwards and Kanters along with 2017-2019 Faculty Fellow Angie Smith were panelists at the opening session of Summer Shorts on what technology integration looks like both now and in the future. Topics of discussion included various best practices for teaching online such as the importance of building community, designing and structuring your course, and using quality videos.
After the panel, Director of Instructional Support Services Stacy Gant presented certificates to the two outgoing fellows.
"We started this program three years ago to recruit faculty who would be willing to serve as technology mentors, collaborating with other faculty and partnering with DELTA to share best practices through articles, workshops and conference presentations," said Gant. She thanked the fellows for their outstanding work during the last two years and listed a few of their accomplishments.
Edwards is the director of the Leadership in the Public Sector online bachelor's completion program and also is a teaching assistant professor in political science. She has taught online and distance education courses for more than 10 years and is a trusted leader in her college and department, said Gant.
In her more than 100-student online classes, Edwards has innovatively added tools like VoiceThread to enhance group discussions among her students.
Edwards served as the faculty lead for the Online Course Improvement Program (OCIP) and has one of the first online courses at NC State certified by Quality Matters.
Kanters is a professor in the Department of Parks, Recreation and Tourism Management and is also the director of the department's fully online master's program and the newly created online graduate certificate in sport and entertainment venue management. Throughout his 30-year career, Kanters has worked to support and enhance the recreation and sports industry through teaching and research.
Kanters has served as a mentor to other faculty in regards to running an entirely online program. He has also pioneered the use of virtual reality (VR) in online courses. He presented a DELTA workshop in spring 2018 where he gave advice and tips for getting started with VR.
Smith will be continuing her Faculty Fellows grant through 2019. She is a teaching associate professor in the College of Education and teaches online counseling courses. Smith has recently published a book about online learning in the helping professions with chapters from DELTA staff members. Smith also collaborates with DELTA to present at workshops and conferences.
Thank you to Edwards and Kanters for their dedication and service to the Faculty Fellows program, DELTA and NC State!
To learn more about our Faculty Fellows, visit the Meet Our Faculty Fellows page.
This post was originally published in DELTA News.