Partnerships Foster Community Outreach and Engagement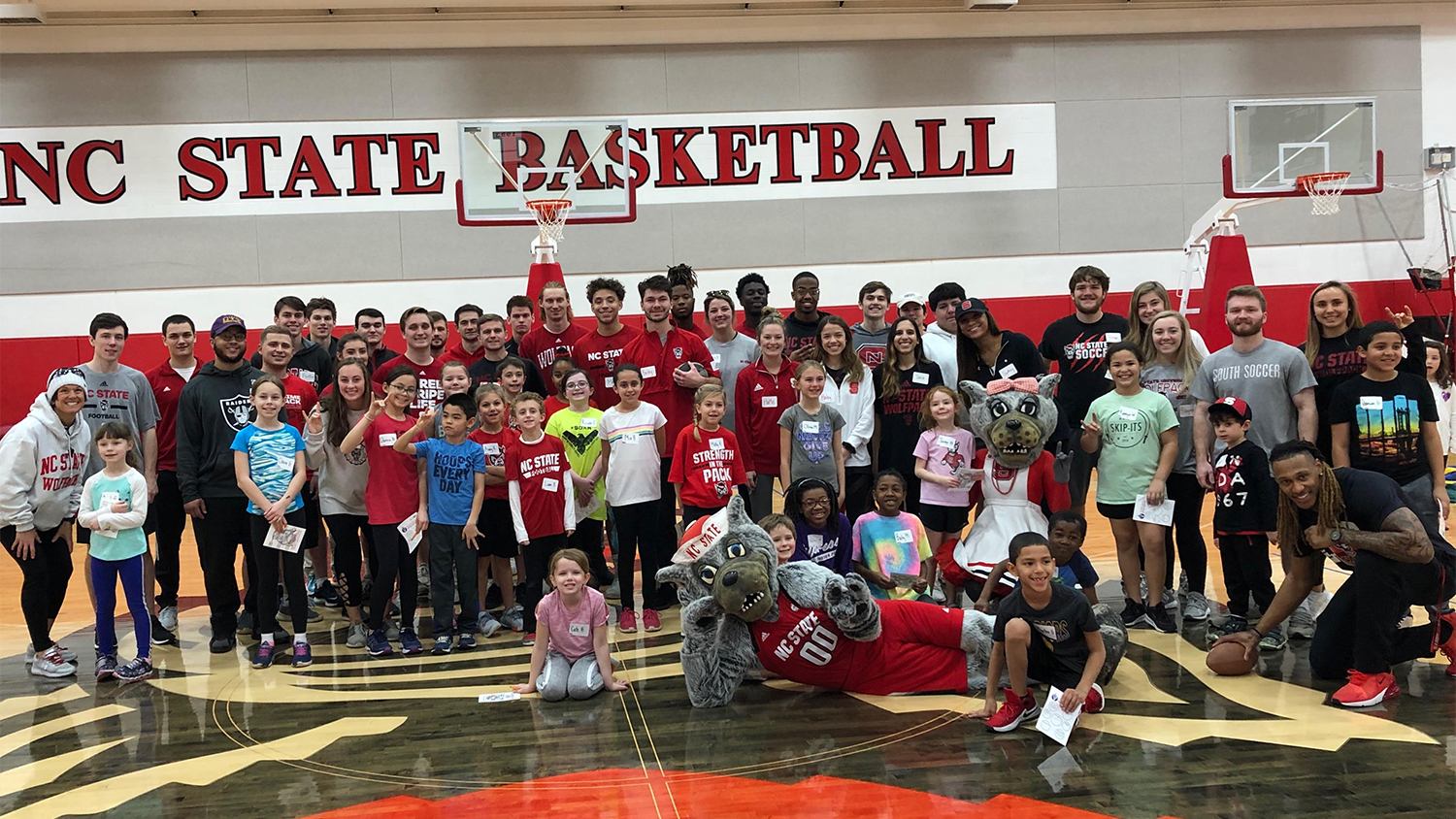 Students in Parks, Recreation and Tourism Management strive to actively engage with local communities and schools, promoting diversity and social justice throughout the field. Here are some of the department's most recent community partnerships and community engagement opportunities:
Sport and Community Partnerships
In PRT 277: Psychological and Cultural Dimensions of Sport, students study a wide range of topics, including the relationships between sport and gender, class, race and ethnicity, health, drugs, violence, education and life-long physical activity.
Each fall, students in PRT 277 work with local organizations — including diverse elementary schools. The course provides opportunities for students to connect directly with children by serving as mentors and buddies. This connection also involves the design and implementation of sport skill stations. Past partnerships include Bugg Magnet Elementary School, Washington Magnet Elementary School and A. B. Combs Leadership Magnet Elementary School.
"During my time in PRT 277, my classmates and I got to experience what it is like to work with children in a sports environment while also furthering our education," said Carson Ashley, a junior pursuing a B.S. in Sport Management. "This was extremely important to me because it helped me understand how important it is for children to have connections, role models, help and mentorship."
In Fall 2019, students in PRT 277 participated in a new partnership with children at Dillard Drive Magnet Elementary School in Cary, NC. Opened in 1998, Dillard Drive serves a diverse community of learners and families who speak more than 36 home languages. In Fall 2020, PRT 277, students signed up for a country represented by the student population at Dillard Drive. They will use this as an opportunity to research and plan a future cultural sports event.
By working with different populations at Dillard Drive, students develop a greater appreciation for the impact that sport has on young children. NC State students assist teachers, provide structured recess and create opportunities for special population classes to participate in physical activities. By partnering together to deliver academic, sport and recreation programming, students at NC State and Dillard Drive Magnet Elementary School gain lifelong experiences.
National Girls and Women in Sports Day Clinic
In February 2020, Sport Management students teamed up with NC State Athletics to host an all-sports clinic at Dail Basketball Center in celebration of National Girls and Women in Sports Day. Students planned and implemented various activities designed for girls and boys in grades K-5 to learn about sports and participate in athletic skill development drills.
At the clinic's conclusion, attendees were encouraged to purchase a ticket to the women's basketball game. Before the game's start, a Girls and Women in Sports Day Chalk Talk was held in the Reynolds Coliseum, where female leaders and coaches from NC State spoke about the importance of inspiring girls and women to be active, play and use their confidence to become strong leaders. The sports clinic provided a unique opportunity to recognize girls' and women's progress in sports and the benefits that athletic and fitness activities can bring to everyone.
Partnerships in Recreation Program Planning
Recreation program planning skills are essential for providing services in the parks, recreation and tourism field.
In PRT 358: Recreation Program Planning, students learn how to plan programs through coursework and practical, hands-on experience. PRT 358 is a full-immersion service-learning course where students partner with community agencies. Agency staff guide students through the process of designing and delivering recreation programs for their clients. Partnering agencies serve various audiences, from children and teens to older adults, and the local community. Settings include local community centers, parks and nature centers, senior centers and events hosted by NC State's ThriveWell program.
Student-created programs provide undergraduate students with valuable experience and supply the local community with meaningful recreation programs. Even during the COVID-19 pandemic, students have continued their service-learning experiences by designing virtual programs for their community partners.
Environmental Education Partnerships
Several courses in the Environmental Education minor provide NC State students with community engagement opportunities.
In PRT 385: Environmental Education in Practice, students are placed with a community partner for a three-week mini-internship experience focused on environmental education and outreach. Community partners have included K-12 classrooms; The Kinder Garden Preschool in Raleigh; the North Carolina Museum of Natural Sciences; Raleigh Parks, Recreation and Cultural Resources; Wake County Parks, Recreation and Open Space; North Carolina State Parks and the North Carolina Wildlife Resources Commission.
In PRT 442: Recreation & Park Interpretive Services, NC State students engage with community partners in interpretive settings. Through the course, students have developed live interpretive programs such as Songbird Celebration at Blue Jay Point County Park, online tours of Raleigh's historical attractions and signage for points of interest around the NC State campus.
The Environmental Education Lab, led by Dr. Kathryn Stevenson, engages both graduate and undergraduate students in various community-based research projects. The lab studies how time in nature benefits children and how children can be change agents in their communities to address environmental problems. NC State students help develop and lead professional development programs for teachers, support K-12 students in delivering community events like beach clean-ups and work to be a resource for educators looking to get children outdoors and involved in their communities.