Kimberly Bush Receives 2020-2021 Faculty Advising Award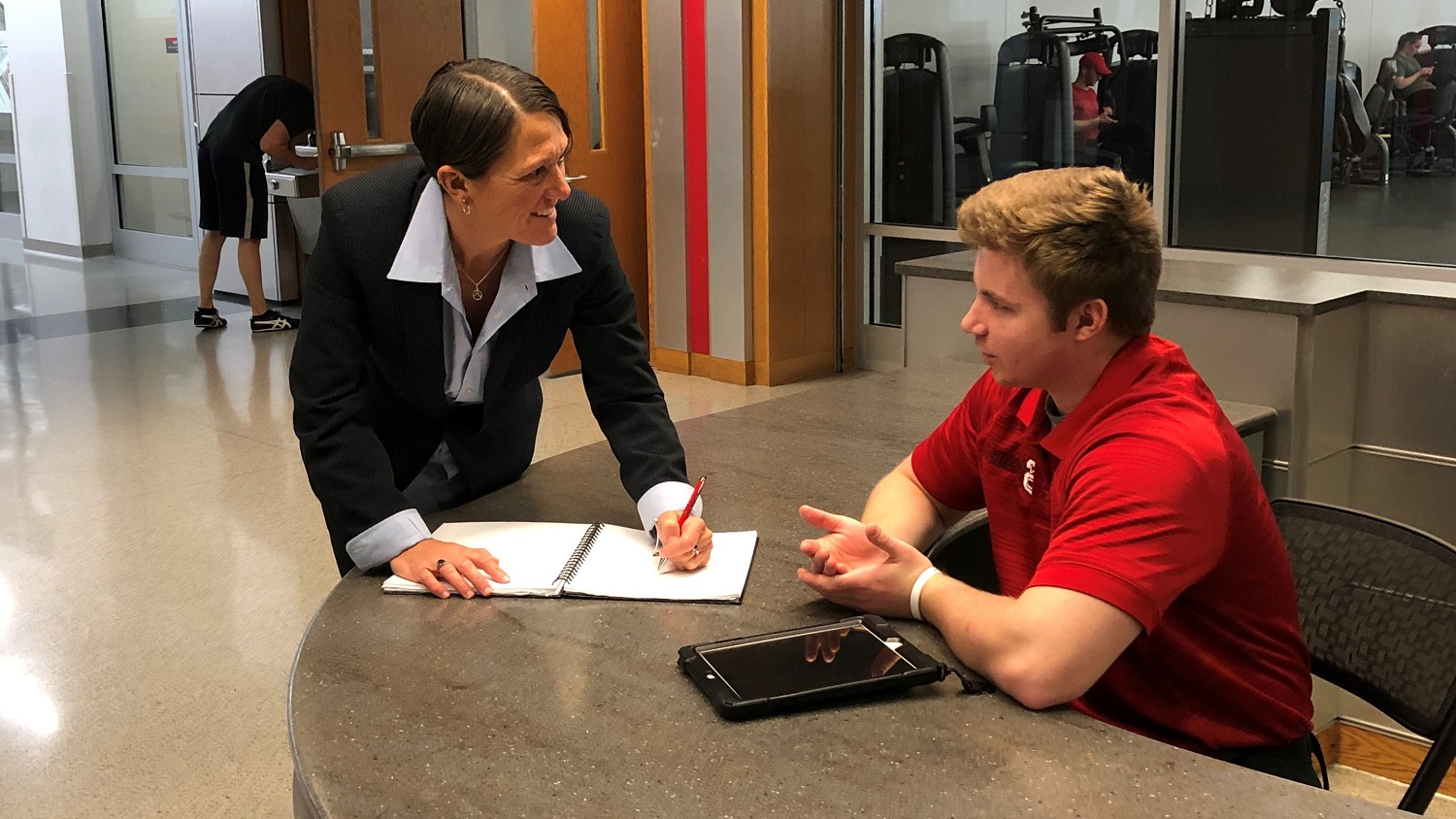 NC State recently honored five exceptionally deserving advisors from across the university at the 2020-2021 NC state University Undergraduate Academic Advising Awards Ceremony. Kimberly Bush, Associate Teaching Professor and Director of Undergraduate Programs in Parks, Recreation and Tourism Management at the College of Natural Resources, received the Faculty Advisor Award recognizing an outstanding individual whose primary responsibility is in teaching and research.
Bush has been teaching and advising undergraduate students at NC State for 11 years and has proven to be an innovative, dedicated and inspiring professor and mentor to her students. She serves as co-chair of the University Academic Advising Committee and has received numerous awards including NC State Alumni Association Outstanding Teacher and CNR Outstanding Teacher.
"Dr. Bush is one of the most engaging and compassionate educators I have had the pleasure of working with," raved Tim Freligh, a junior studying Sport Management in the Department of Parks, Recreation and Tourism Management (PRTM). "Every day I spend in class or talking with her is an experience in personal and academic growth. She is a reassuring supporter in the pursuit of my passion."
Kaylee Jones agrees. A junior in PRTM's Sport Management program, Jones says "Dr. Bush is a great professor and mentor. She has helped get me in network with former students and other professionals and she is very determined to help students succeed."
PRTM students are encouraged to actively engage with local communities and schools, promoting diversity and social justice throughout the field. Bush is instrumental in promoting K-12 outreach projects and opportunities for students to work directly with local organizations. This includes events and programs such as College Bound, Fall Sports Festivals and National Girls and Women in Sports Day in partnership with NC State Athletics.
"As a high school student, Dr. Bush's mock class during Admitted Student Visitation Day inspired me to attend NC State University," said Miranda Janis, also a student in Sport Management. "The lecture she gave was incredibly compelling and important. She has played a large role in student experience and her door is always open to everyone!"
She's That Woman: Personable and Professional
Bush earned her Ph.D. in sport and exercise education/pedagogy; her master of arts in education with physical education teaching certificate, K-12; a master of science in physical education; and a bachelor of arts degree in psychology from The Ohio State University. Today, she teaches PRT 277 and PRT 376 and is an advisor for approximately 60 students. She is also Director of Undergraduate Programs for the department.
"I love being able to truly get to know students and the intersectionality of what makes them an individual," says Bush. "Each student I meet impacts me and I hope I am able to have a positive impact on those I advise. I believe advising and teaching is like coaching and I try to lift students up when they need it and also be there to celebrate their successes. Mostly, I let them know me and I learn a great deal from all of them."
Continuing a Culture of Collaboration
Known for both her generosity and humility, Bush credits the culture created in the PRTM department as being unique. "We have incredible advisors in our department," she explains. "I deeply appreciate the climate created by former Associate Department Head and Director of Undergraduate Programming, Dr. Candace Vick. "She created a safe space for each of us to learn from each other and collaborate in our efforts to help a student matriculate on time and provide any support they need. I have tried to maintain the collaborative culture created by Dr. Vick in which we support our students and advisors with passion and care."
"I was not surprised when I learned Dr. Bush received the Faculty Advising Award," said Dr. Vick, Associate Professor Emeritus. "Dr. Bush's student centered approach to advising and undergraduate education is recognized in the department and across campus. She is an advocate and mentor to not only her advisees but to all the undergraduates in our department."
"The NC State Undergraduate Faculty Advisor Award could not have been bestowed upon a more deserving recipient," says Erin Seekamp, Professor and University Faculty Scholar in the department. "I am continually inspired by the dedication to student success demonstrated by Dr. Kim Bush. She always puts students first and is an incredible champion of our students. PRTM is incredibly fortunate to have her leadership as the Director of Undergraduate Programs."
Dedicated to Making a Difference
A tireless advocate for inclusivity and civility, Bush worked with colleagues KangJae Lee, Assistant Professor and Lincoln Larson, Associate Professor, aloing with professors from around the country to solicit recommendations for instructors to improve students' experiences and learning outcomes with respect to diversity. Findings were published in SCHOLE: A Journal of Leisure Studies and Recreation Education. "Deepening Diversity: A Collection of Teaching Perspectives and Strategies from Social Justice Advocates." The paper also highlighted specific activities that may help other instructors facilitate students' connections with broader issues of social justice, a practice that is in keeping with Dr. Bush's advising philosophy.
"All PRTM faculty members are well aware of Kim's dedication in education. Moreover, I have witnessed her professionalism and integrity in her everyday work as the Director of Undergraduate Programs in the department," said Lee. "I feel very fortunate to work with her."
Larson agrees. "Kim is incredible. She pours her heart and soul into everything she does, helping to ensure that students from all backgrounds have an opportunity to successfully achieve their goals. With her dedication, compassion, can-do attitude, and problem solving prowess, she inspires all of – both students and faculty – every day..