Student Spotlight: Jonathan Bentley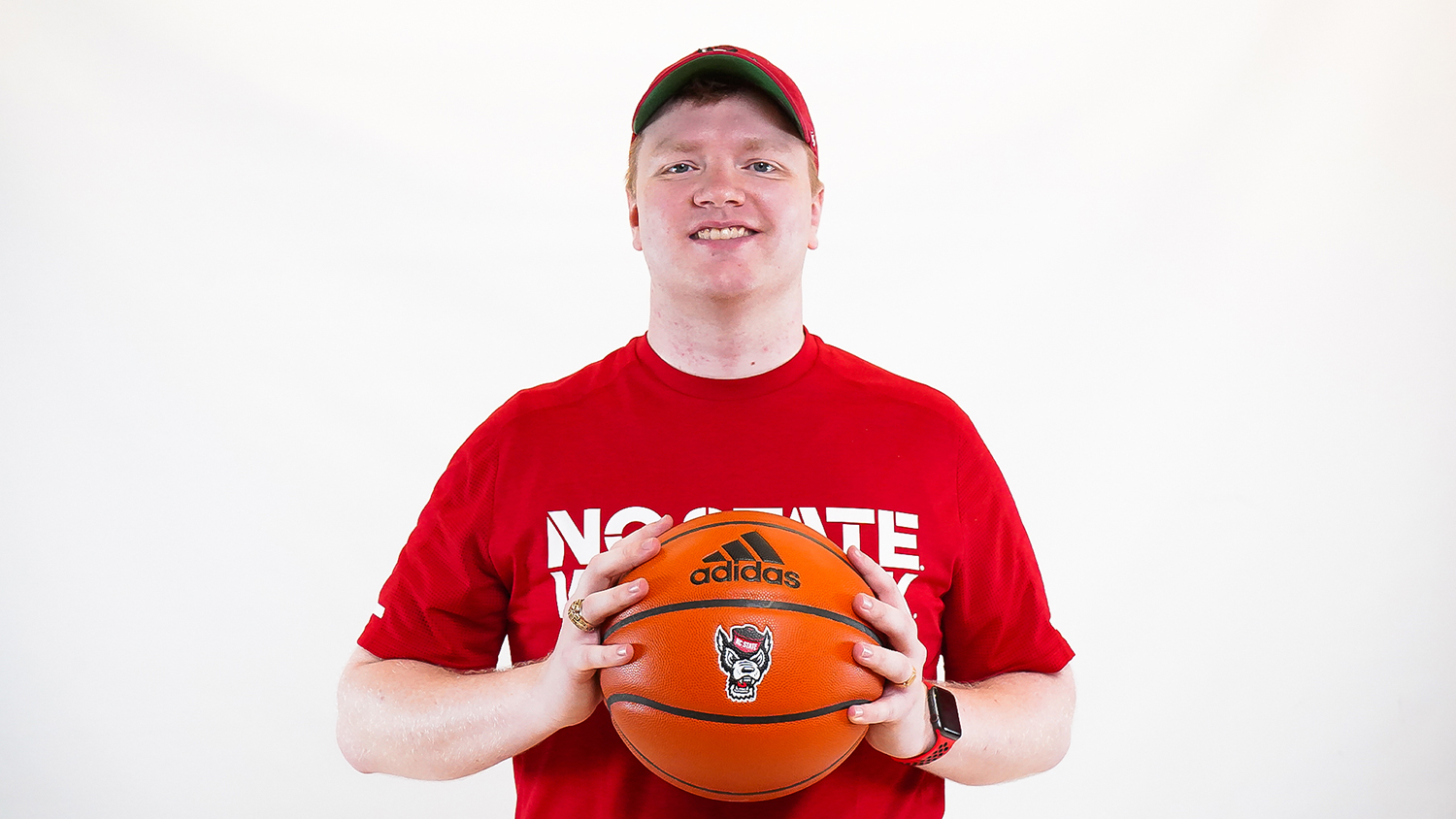 Jonathan Bentley watched through his camera lens as Raina Perez drained a basket with five seconds left in the 2021 ACC Tournament Championship game to clinch the title for the NC State Wolfpack women's basketball team.
"Getting to watch the team win their first conference tournament in almost 30 years and capture it was amazing — but getting to capture it again a year later against one of the top teams in the country was even more special," says Bentley. "Getting the reaction of this amazing team two years in a row is something I never thought I would experience."
Completing an Online Master's Degree in Parks, Recreation and Sport Management
Bentley is the director of creative media for the team and is currently finishing up his Master of Parks, Recreation, Tourism and Sport Management (MPRTSM) online.
Within his role, Bentley is responsible for creating a variety of graphics and other collateral for the women's basketball team's recruiting efforts. Prior to COVID, he also oversaw photoshoots with recruits and their families while on official and unofficial visits.
"I've learned to fully embrace challenge, listen with patience and openness to others, and, I will never get tired of saying this, never give up."
Bentley completed his bachelor's degree in electronic media from Harding University and discovered a passion for telling stories and graphic design. He landed a full-time role with the Tennessee Smokies, the Chicago Cubs Double-A affiliate. "Through that experience, I found that I wanted to further push my skills and work my way into a leadership role with a creative team in Division I athletics and eventually the NHL," Bentley adds.
"I pursued this degree wanting to learn how to become a better leader — how to oversee a team and lead them in a way that won't cause me to compromise my personal values," Bentley says.
He also adds a large factor in choosing NC State's program over others is that he was able to use his previous work experience to his advantage. With two years of work experience, applicants do not have to take the GRE as part of their application to the MPRTSM online program.
"My experience in the program has been incredible. The fact that I was able to take two classes each semester, one at a time, allowed me to keep my mind at ease more, all while being able to really dive deep into the subjects at hand," he says.
Expanding His Mindset with Geospatial Analysis and Advanced Fiscal Management
At times, Bentley doubted his ability with some of the unfamiliar subject matter but learned to overcome and expand his mindset in ways he never thought possible.
"The subject matter was very diverse, and I learned about subjects I had never given much thought to before. From geospatial analysis to advanced fiscal management, I was able to take things from each of these courses and apply them to my career now. Such a wide array of subjects has caused me to take anything new and step back and really analyze it before digging in."
Bentley appreciates the small class sizes which allow him to really connect with professors and classmates even in the online environment.
"One of the biggest ways this program has impacted my current work is that it has highlighted the importance of communication, which in the world of graphic design is one of the biggest keys to success," he adds. "When a coach asks me for any sort of graphic, I've got to make sure that I know everything that needs to be on it, even if I have to ask multiple times."
Bentley adds, "This program has made me want to be a better communicator and leader, and those are the things I will strive for in every workplace I am a part of throughout my career."
Bentley has been a fan of NC State his whole life and as a soon-to-be alum, his passion runs deeper than ever.
Red and White Forever: Proud Member of the Pack
"I never thought I would one day get to be a part of such a storied and deep alumni network, get my first and only class ring through such a deep tradition with a staple of the campus, work in the building where one of my all-time favorite inspirational icons taught myself and many others to never give up, and forever be a part of the Wolfpack."
"The last two years have been some of the most exciting, memorable, stressful, tiring, and incredible years of my life. I'd be lying if I didn't say that at least once a day in my head, I sing '…the Red and White from NC State. GO STATE!' I'm proud to have received my master's degree from the best university in the great state of North Carolina. I've learned to fully embrace challenge, listen with patience and openness to others, and, I will never get tired of saying this, NEVER GIVE UP."
Are you interested in earning a Master of Parks, Recreation, Tourism and Sport Management online from NC State? Visit the program page for more information. Apply by May 1 for the fall 2021 semester.
This story was written by Cassidy Colson in Distance Education and Learning Technology Applications (DELTA).