Graduation to Vocation: Connecting Youth to Agriculture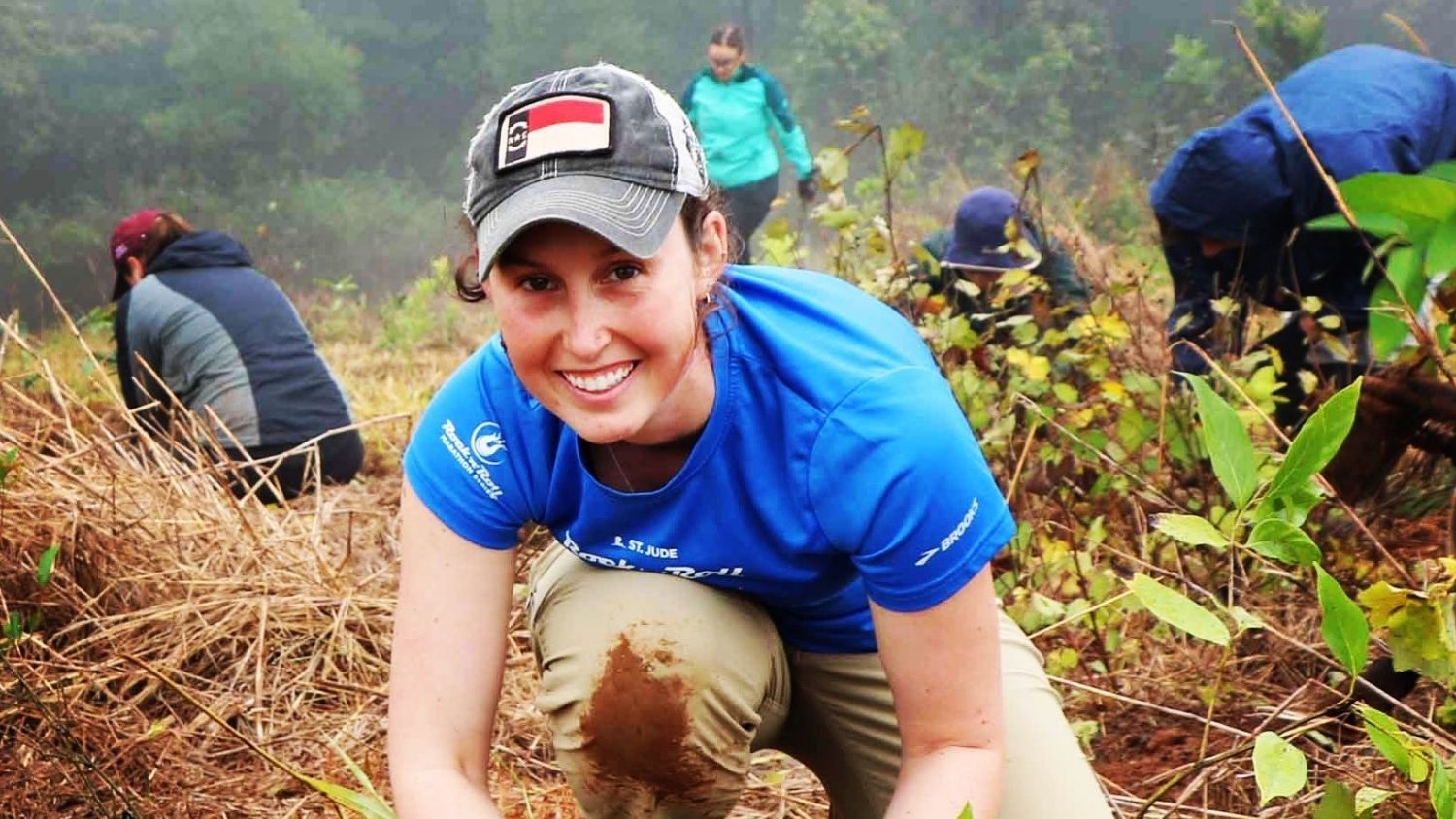 Caitlin Reilly will graduate in May 2021 with a master's degree in parks, recreation and tourism management and a minor in human dimensions of natural resources. After graduation, Reilly will serve as assistant director of the outdoor education program at Davidson College.
Reilly worked in environmental education for a several years after earning her undergraduate degree in environmental studies from Davidson College. Her interest in research led her to meet Kathryn Stevenson, a professor in the Department of Parks, Recreation and Tourism Management, and study at NC State's Environmental Education Lab.
Reilly is also a Hartsoe Fellow, an opportunity she says helped her stay involved with the community and make research more available to outdoor and environmental education organizations. We reached out to Reilly to learn more about her time at NC State and plans for the future.
How has the College of Natural Resources impacted you and prepared you for your future?
I've learned a lot in my time in the College of Natural Resources, both in and out of the classroom. My research experience has emphasized the importance of interdisciplinary collaboration and building strong connections with community partners. My experience with the Graduate Student Association has taught me about the power of community care and support. My experience in courses has allowed me to consider new perspectives and deepen my knowledge of history and theory.
Overall, I think the main thing I will carry forward with me are relationships with people I met here – my advisor; the parks, recreation and tourism management staff, my lab mates; and my fellow graduate students. People make a community what it is, and I know I'll stay connected with so many people here who will continue to support me, even as I graduate and leave the College of Natural Resources. 
What's your favorite memory or class from your time at the College of Natural Resources?
My favorite class was Dr. Louie Rivers' environmental justice class. I learned so much from our discussions and readings, and I think it's the class that has most influenced not just what I know but how I think. Dr. Rivers did a great job of creating space for us, the students, to shape and direct class discussions and share expertise and perspectives from our various research disciplines. Environmental justice is such a key component of understanding and addressing natural resource issues so I would definitely recommend that class to College of Natural Resources graduate students regardless of their department.
What is unique about you or your work?
My research focuses on youth agricultural literacy, which falls at a really interesting intersection of agricultural, environmental, and STEM education with implications for everyone from farmers to teachers to natural resource managers to parents. My past experience working in agriculture, experiential education and environmental science positions me really well to be able to navigate the intersection of all these fields. I love that my research has direct and immediate benefits for the folks I partner with – farmers, teachers and students – and it's been great to develop real relationships with those partners over the past two years.
What motivated you to pursue your work?
Two of the things I love most in the world are eating good food and spending time outside, which I think are the origins of my interest in agricultural and environmental education. Food and outdoor spaces are such great ways to connect with other people.
I also feel strongly that all kids have a right to forms of education that prepare them to be informed decision-makers. Managing food systems and environmental resources is becoming increasingly important as we navigate crises like climate change, so the next generation should have the tools they need to have agency in shaping their well-being and the well-being of their communities. Knowing that my work was broadening access to agricultural and environmental education experiences for kids in North Carolina helped keep me motivated throughout my research process.
What advice would you give students entering your major or field?
My advice to any incoming graduate students is to invest in your student community. Graduate school can be really challenging at times so having a strong support network of other folks who understand your experience can be so helpful. Don't be afraid to reach out, get to know your peers, and to ask for help when you need it.
The graduate student community in parks, recreation and tourism management has been a highlight of my experience in the College of Natural Resources. I can't say enough about how grateful I am for the work my fellow graduate students do to support one another and make NC State a better place.
This post was originally published in College of Natural Resources News.