Homegrown 2022 Brings PRTM Community Together for Awards and Celebrations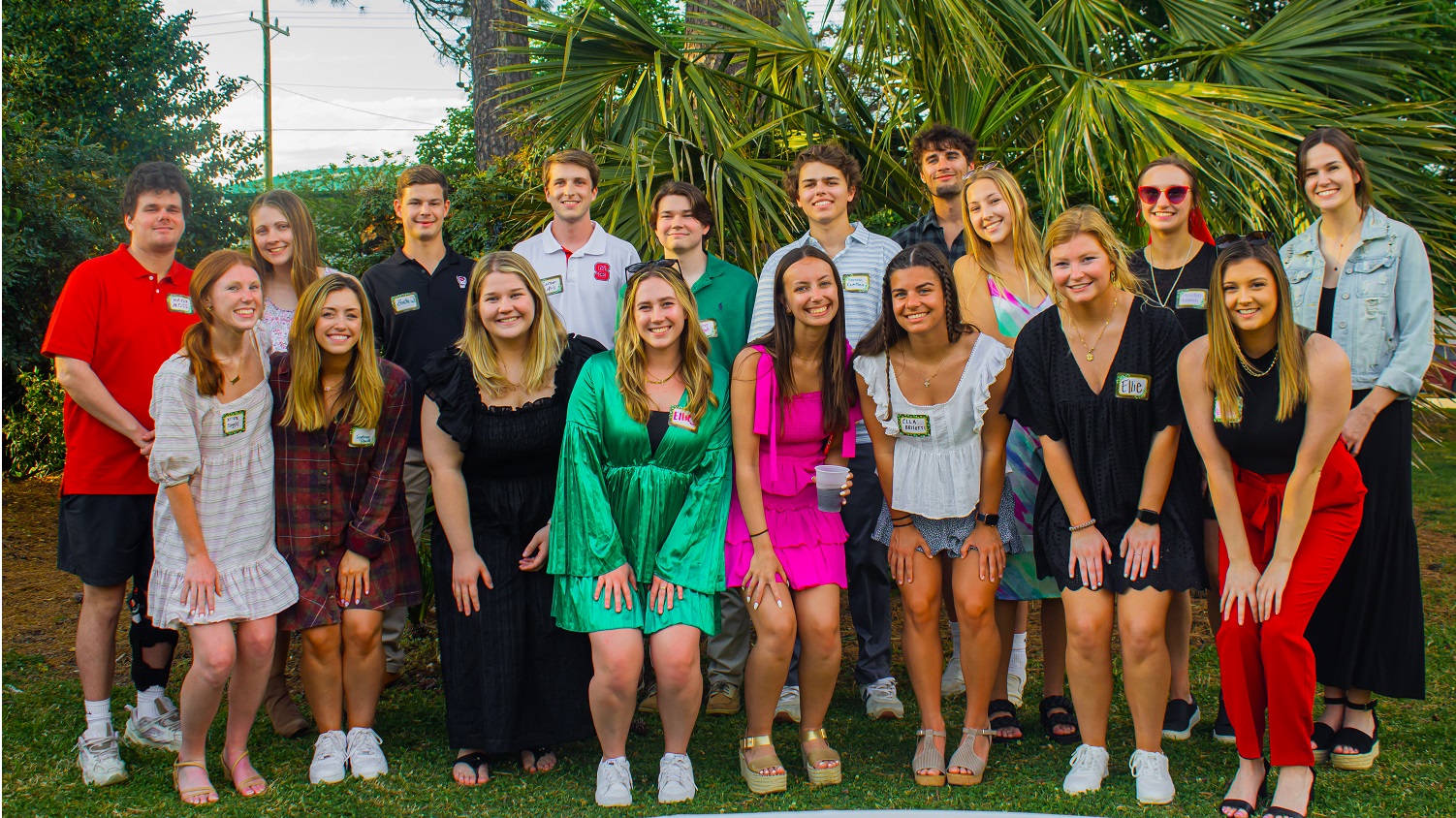 A cherished annual tradition, the Alumni & Friends Celebration for the Department of Parks, Recreation and Tourism Management (PRTM) was put on hold during the pandemic, so last week's gathering of alumni, faculty, students, and community partners at JC Raulston Arboretum was a true celebration.
Department head, Rasul Mowatt, welcomed more than 100 attendees at a spring celebration devoted to honoring the achievements of students, alumni, and retirees.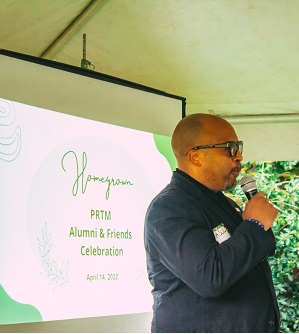 "This was a hallmark event for our department as we cautiously resume public gatherings in the midst of an ongoing pandemic and continue to make our way through our COVID realities, re-entering social spaces and interactions, and making new acquaintances," said Mowatt. "I am especially appreciative of the time, effort and care put into making it happen."
Outstanding Undergraduate Student Awards
Students were nominated and chosen by faculty and staff based on their class contributions, leadership abilities, extra curricular activities, and general involvement in the department.
Sarah Grace Patton received the Thomas Hines Outstanding Senior in Sport Management.
Sofia Lappas received the Candice Vick Outstanding Senior in Parks, Recreation and Tourism Management.
Sydney Jordan was named Outstanding Sport Management student and Anna-Grace Agnini was named Outstanding Parks, Recreation, Tourism Management student. And Diana Lee was named Outstanding PGA Golf Management student.
The following students were recognized as award winners in 2020: Scott Payne as Outstanding Alumni and Sally Webb Barry for Lifetime Achievement.
Scholarship winners for 2022-2023
The following department wide scholarships were awarded:
Site Solutions Scholarship: DeShawn Smith
Legends in Giving Scholarship: Diana Marcheschi, Abby Brooks, Jack Ryan and Connell Burnside
Phillip S. Rea Endowment for Parks and Recreation: Chancelor Puckett
The J. Harold and Hazel Moses Endowed Scholarship: Riley Pittman
The Wayne Williamson and Bette Rose Scholarship in Parks, Recreation and Tourism Management: Emma Hogge, Nathan Reston and Andy Casados
Steve and Laura White Endowed Scholarship: Andrew "Drew" Ross
The Saleeby Family Scholarship Endowment: Aaron Paulus
Scholarships in Park Management were awarded:
Dr. M. Roger Warren Endowed in Park Management Scholarship: Kaitlyn Hall
Winslow, Frauson, Rea Endowed Scholarship: Taylor Bowman
The Lena Anne Gordon Endowed Scholarship: Lilly Airington
The Lewis and Susan Ledford Scholarship: Edy Caleta
Worthington Family Scholarship: DeShawn Smith
Scholarships in Sport Management were awarded:
Francis Family Endowed Scholarship: David (Tripp) Lily
Jack "Swede" Frauson Sport Management Scholarship: Tylene Powell
Scholarships in Internship / Experiential Learning were awarded:
Shelby Westbrook received the Donna Martin Bhatnagar Scholarship in Internship / Experiential Learning. Lauralynn Ellis was awarded The Phillip E. Fleming Endowed Scholarship in Tourism. And Ashley Alston received the Walston Fellowship for Graduate Students.
Mowatt particularly praised the work of students in PRT 458: Special Event Planning, noting the leadership of Claudia Arroyo, who recently completed a dissertation on The Contributions of Craft Beverage Tourism to Sustainable Development and Destination Image Formation.
"As a stellar student, Claudia exuded a passion for research and community development," said Mowatt, "and we are extremely proud of this teaching accomplishment."
Assistant professor, Whitney Knollenberg also praised Arroyo and students in PRT 458. "Their attention to detail and hospitality was unmatched," said Knollenberg. "Not only did they give our honorees a true celebration, they gave the attendees a great opportunity to catch up with old friends and make new ones."
The department also celebrated the retirement of Candace Vick, Annette Moore , Gene Brothers and Debbie Hurst.