Research and Innovation
The Importance of Black Birders Week and Its Lasting Impact
Launched as a social media campaign, Black Birders Week celebrated Black naturalists and broke down stereotypes of Black people in the outdoors and STEM.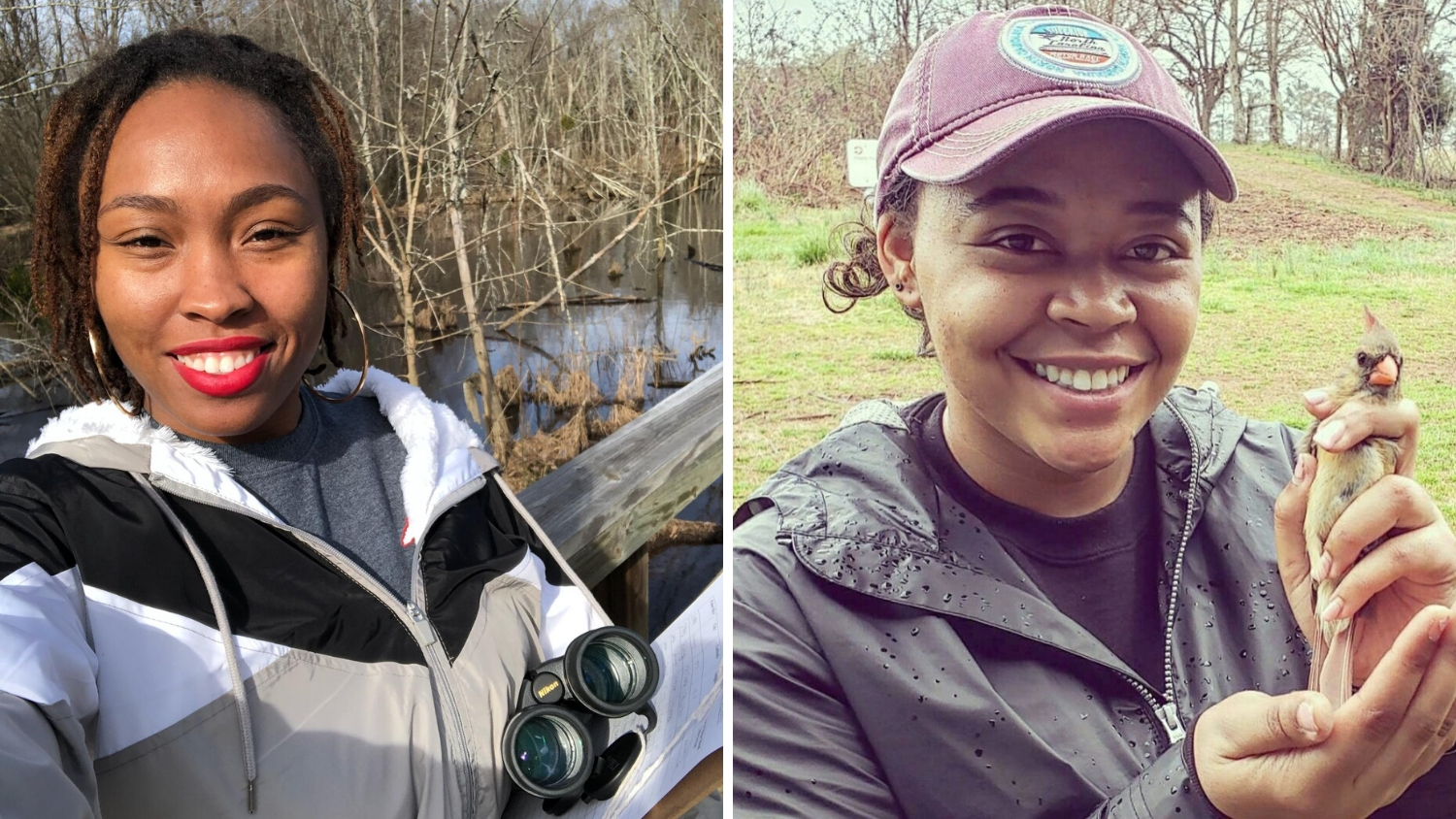 Editor's note: This is a guest piece written by Deja Perkins and Lauren Pharr, master's students in Fisheries, Wildlife and Conservation Biology in NC State's College of Natural Resources.
The Global Impact
Deja Perkins: Black Birders Week was instrumental in highlighting not only Black birders but also Black outdoor enthusiasts, naturalists and conservationists. I was a part of a group of 20 young STEM professionals who decided enough was enough. We chose to use the incident that occurred to Christian Cooper to highlight the fact that racism is also present within science and the environmental field.
Many of us realized that what happened to Christian could have happened to any of us, whether we are working in rural or urban areas. It was important to the group that we not only highlight the fact that Black people exist in outdoor spaces, but also highlight our experiences in the outdoors and create discussion around the incident and how to move forward into the future to make the outdoors less hostile and more inviting space for people of color, specifically Black, Indigenous, People of Color (BIPOC).
I have been extremely excited about the amount of people who participated in Black Birders Week and the change that it has sparked in many organizations.
#BecauseofBlackBirdersWeek, Black people have seen themselves represented in the outdoors, many individuals were able to connect and now have a broader network for support, the Cornell Lab of Ornithology posted 2 beginner birder courses for FREE, the National Wildlife Federation created internships/fellowships specifically for Black biologists, and many other wonderful opportunities and partnerships have been blossoming after the Black Birders Week social media event.
The Personal Impact
Perkins: I am happy to be a part of the team that helped spark change in the outdoor community and to have cultivated the livestream event which had over 104k views in each session. The amount of positive feedback from the week's events was heartwarming, and I think it really brought people together.
It not only highlighted the struggle of Black people in outdoor settings and our struggle with racism in America, but also shined some positivity in an otherwise dark time. Due to this event, I was able to find a network of individuals who look like me and enjoy the outdoors. I was shocked to find out how many Black people were also birders, since prior to this event I only knew six other Black birders and only two were in my same state. It's encouraging to know that I am not alone, and reaffirms that I do belong in this field.
More importantly, this week provided visibility for those already in the space and representation for those considering joining the environmental field.
The visibility provided the larger organizations and institutions the opportunity to see that racism exists everywhere, even in science, academia, and the outdoors. It challenged those with power to not only speak up and support their employees or consumers who are Black, but also take an active role in being anti-racist and make changes within their institutions to support BIPOC and make the workplace and outdoors less hostile.
Lauren Pharr: Being a participant in the daily challenges and events, for me, Black Birders Week has hit one of two things: 1) bringing attention and awareness to Black birders about their experiences outdoors and in recreational areas while 2) showcasing not only Black people in the fields of wildlife biology, ecology, natural resources, etc., but other minorities in these fields as well.
Until this week when I heard the numerous stories and testimonies from the co-organizers of Black Birders Week and BlackAFInStem about conducting their fieldwork or "birding while Black," I was oblivious to what could happen to people of color in recreational areas or how we may be perceived.
Right now, you may be wondering, "But Lauren, you are a person of color?" Growing up I have always been around a diverse race of people and friends, from elementary school straight through undergrad. I was aware of the issues about white supremacy and Blacks being underrepresented all my life, however, I was never really truly exposed to the real and countless issues of Black in STEM or minorities in STEM until I came to NC State University. Again, I sincerely thank Black Birders Week for truly opening my eyes. When you hear about others' experiences, that's when it all becomes a reality. Now, I am more aware.
About Us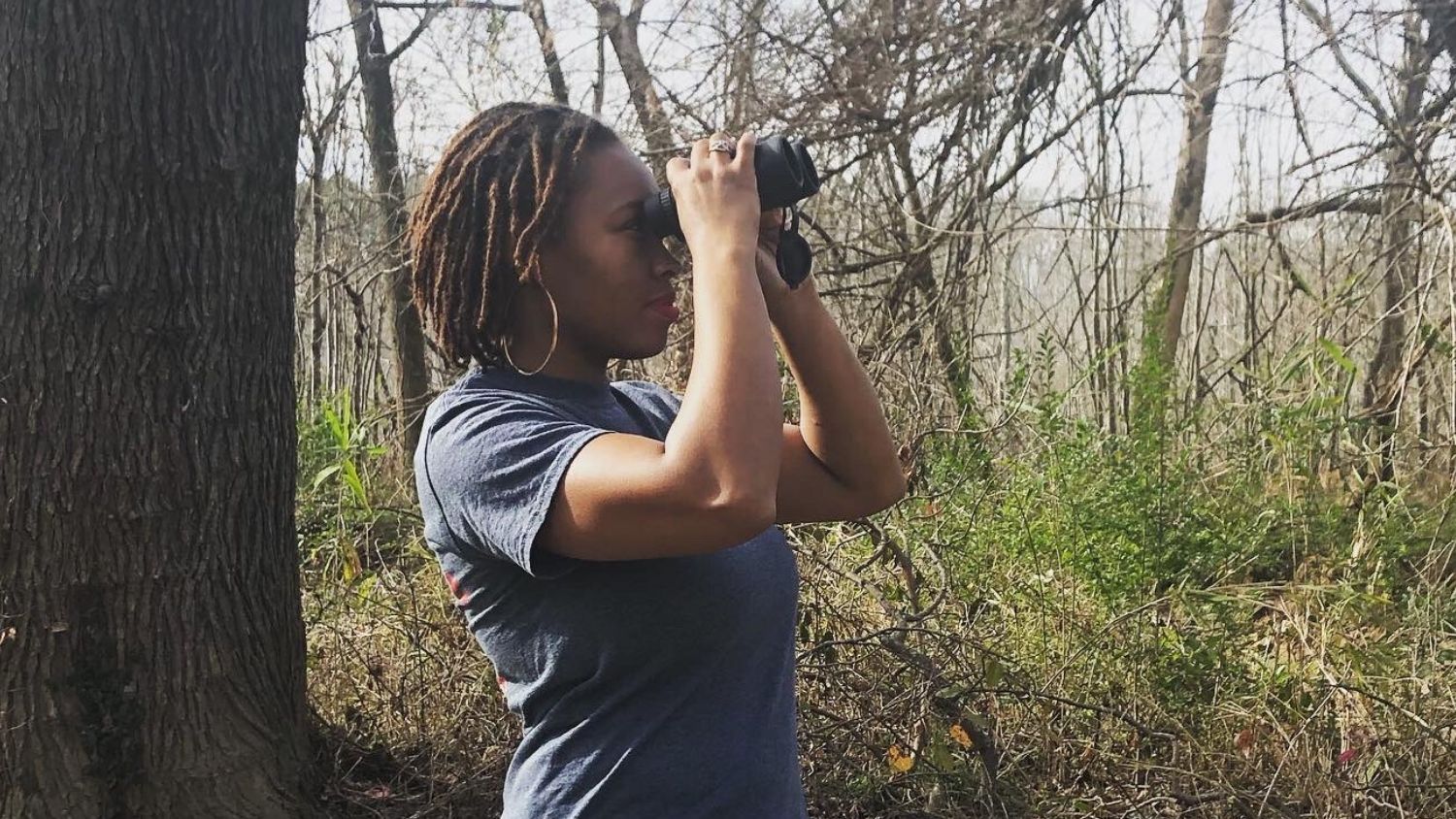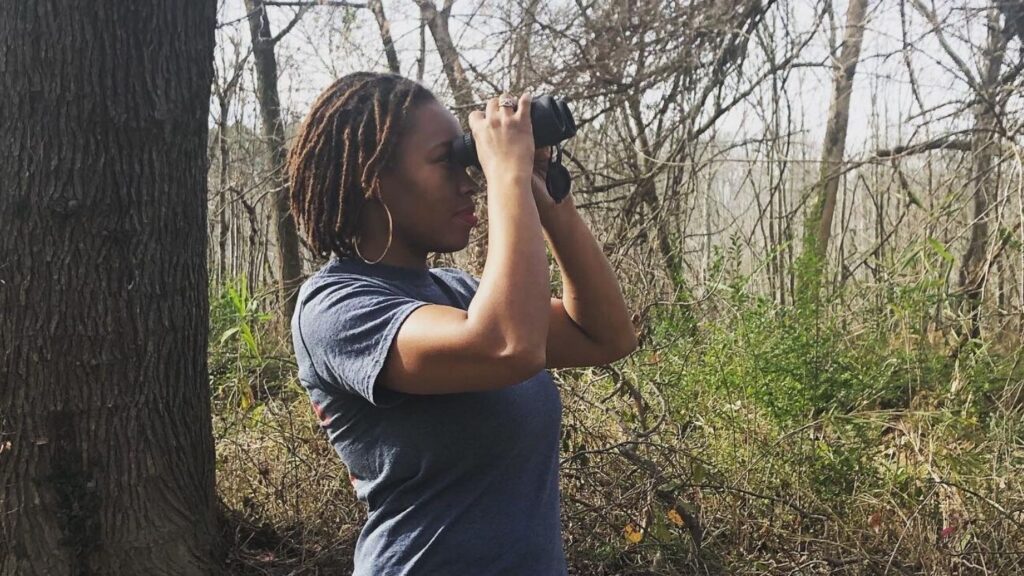 Perkins: I first got into natural resources as a part of a program called Fishin Buddies as a teen in Chicago. I always loved animals, but I had no idea that there were agencies that managed wildlife and their habitat or that I could have a career doing just that.
I originally went to Tuskegee University to start on the path to become a veterinarian, which is often the only animal-related career introduced to POC, but I shortly realized that natural resources was the path for me. I realized I was much more interested in how people impact the environment and the many issues arising from the intersection of natural resources and race.
After interning at a wildlife refuge in Minnesota and experiencing a small taste of spring migration, my eyes were opened to the world of birds. I decided to try to pursue every opportunity to make birds my focal species. Now I am studying how birds are impacted by human culture in cities (socio-ecological systems).
In the spring I conduct 10-minute surveys recording all birds I can ID by sight and sound. In the fall/winter I use GIS to map where birds are reported with eBird and systematic surveys to see if there are gaps in where birds are being reported in the city due to volunteer bias.
Aside from bird watching for my project, birding is also a way for me to de-stress from academia. I find joy in following a bird with my binoculars and observing its behavior. Birds are present in cities year-round. It's interesting to observe the changes in bird diversity not only through the seasons but also as cities change.
I hope to continue studying how human behavior impacts birds in cities as well as how to make nature in cities more sustainable, and equitable, in a way that benefits both people and wildlife.
Pharr: My uncle was your average birder. Just the enjoyment of birding in his own backyard brought him joy and peace. In my younger days, I would call him on the phone while I pulled out my field guide and would flip through it; whatever page I decided to stop at I would ask him if he had seen that particular bird in his yard that day. This was a joy for me as it was for him, and I would have never thought in a million years that today I would be such a bird fanatic.
Growing up, my goal was to become a vet. Sure I would see TV Shows like Animal Planet or the Crocodile Hunter, but I never thought that those types of experiences with wild animals could ever be a reality. It wasn't until I attended Wingate University in Undergrad that I would find my true passion for research, wildlife, and birds.
I have to credit my two undergraduate research advisors: Dr. Alison Brown, who taught me the true passion and joy in conducting research, and Dr. Edward Mills, who introduced me to ornithology as well as many other aspects of wildlife biology through the courses that he taught. I gained research experience and the opportunity to work with various species of animals including Sheep and Chinese Blue-breasted Quail. I also got the experience of presenting my work publicly at professional science conferences.
After undergrad, I made it a goal of mine to pursue my master's in the wildlife biology field. Now I am here at NC State University pursuing my Master's in Fisheries, Wildlife, and Conservation Biology. I made it my objective to continue my passion for ornithological research in order to broaden and strengthen my knowledge in the field.
Under my research advisor Dr. Caren Cooper and partnering with Neighborhood Nestwatch out of the Smithsonian National Museum of Natural History in Washington, DC, I am currently researching the effects of urbanization on avian morphology to see whether urbanization has led to specific changes across an urbanization gradient, over years, or throughout species in the Washington-Maryland area.
From my time so far at NC State, I have gained tons of new research experiences and passions: learning how to mist net and band songbirds as well as diving deep into science communication. Upon completing my master's, I plan on pursuing my Ph.D. in Fisheries, Wildlife, and Conservation Biology. My long-term goal is to one day obtain a position with either the US Fish and Wildlife Service or the North Carolina Wildlife Resource Commission.