Twiddy Intern Micaela Nardino is Promoting Outer Banks Tourism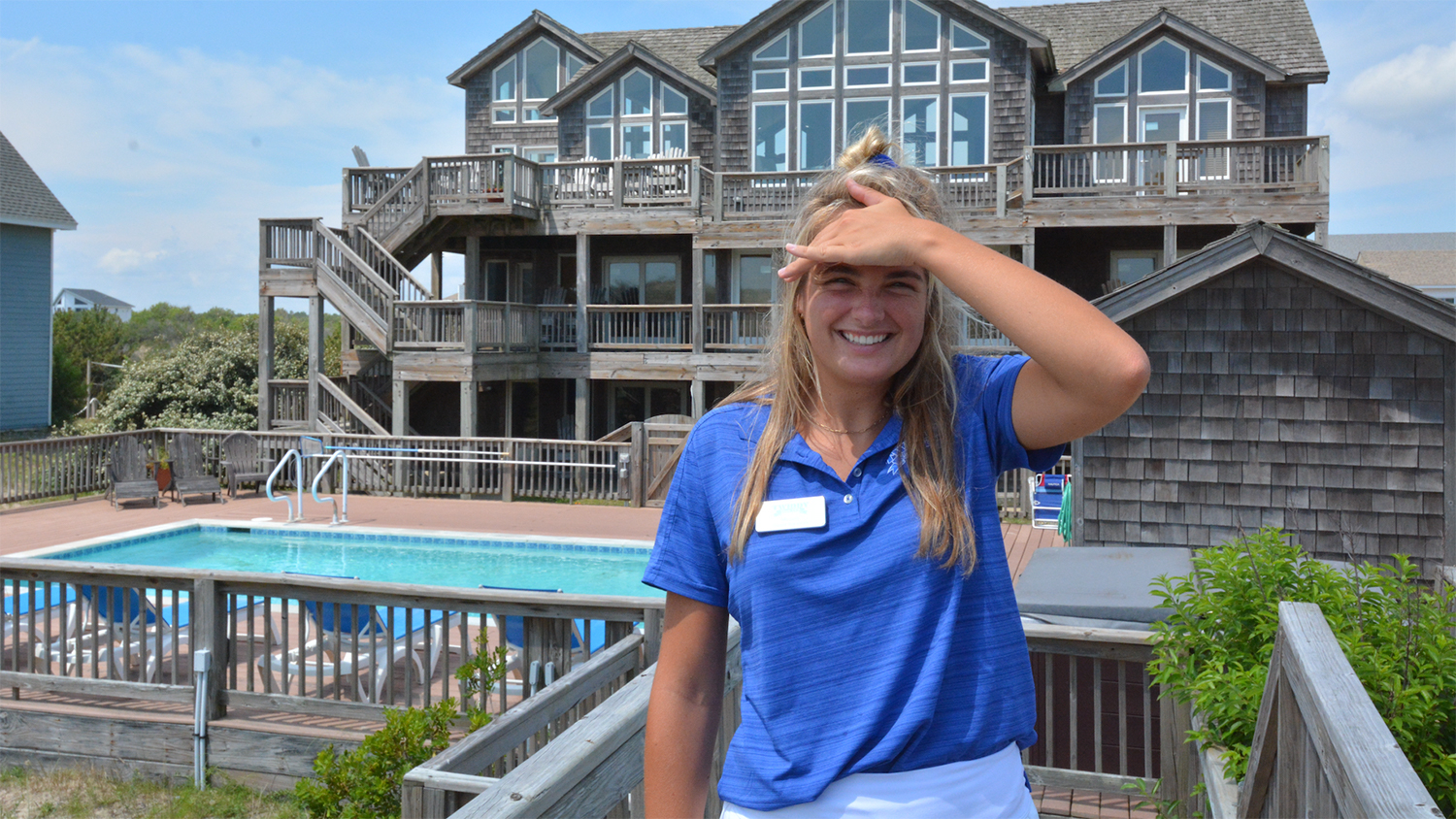 This article is part of the Not Your Average Summer series highlighting the internship experiences of both undergraduate and graduate students from the NC State College of Natural Resources.
Micaela Nardino is a rising senior studying sustainable tourism and environmental sciences in the Department of Parks, Recreation and Tourism Management. This summer, Nardino is interning with Twiddy & Company in Corolla, North Carolina.
Founded in 1978, Twiddy & Company is a hospitality firm that manages more than 1,100 vacation homes on the Outer Banks. The company partnered with the college last year to launch the Lighthouse Fund for Sustainable Tourism.
Check out the Q&A below to learn more about Nardino's experience with Twiddy & Company and the role of the College of Natural Resources in preparing her for the internship.
What kinds of things are you doing during your internship?
My role this summer was a Vacation Specialist Intern in the Guest Service department at Twiddy and Company. I worked a nine-to-five job for five days a week. Three days a week I worked in our call center, talking with guests about future reservations, resolving issues with current stays, discussing available amenities, and more. Two days a week I worked as a home inspector, where I would visit between ten to fifteen homes a day to ensure they are safe and clean upon the next guest's arrival.
How did you find out about this internship and why were you interested in it?
I found this internship through my professors Dr. Whitney Knollenberg and Dr Jason Boccaro. In my Leadership and Supervision course (PRT358) I had to interview a manager for my final project, and I actually had the chance to speak with Hannah Sloate, my current manager at Twiddy. As soon as I heard about an internship opportunity in hospitality management where I could live in the Outer Banks, I knew I had to be a part of it.
In what ways did the College of Natural Resources prepare you for this internship?
Studying at the College of Natural Resources actually gave me a really unique perspective going into this internship. Rather than approaching this job with a business or hospitality mindset, my studies have led me to analyze the work Twiddy does in terms of how it affects the community, the environment, and the resources in the Outer Banks community. In addition to the college giving me this special vantage point, it has also greatly developed my professional and communication skills. Courses like Supervision and Leadership in PRT and Professional Development have best prepared me for how to approach interviews, conflict in the workplace, and more.
What are your long-term goals and how does this internship factor in?
After graduating, I would like to focus on the protection and preservation of coastal communities that primarily rely on tourism for their economic stability. This internship has given me the chance to live and work in a place that heavily relies on tourism, but also has a fragile ecosystem. Especially when working on the 4×4 beach, it was amazing to experience the respectful relationship between a population of 100 wild horses and the influx of weekly tourists. My dream job would be working for a company like Ocean Conservancy and Coral Reef Alliance, or developing the sustainability efforts of a large corporation like Four Seasons Resorts.
What's the most important thing you've learned while at NC State?
The most important thing I have learned while at NC State is how valuable listening is. Wherever you travel, be open to different perspectives and narratives. College taught me that you learn the most about yourself and the world when you listen intently and ask questions.
This post was originally published in College of Natural Resources News.