New STEM Program to Connect High Schoolers with Geospatial Tech and Careers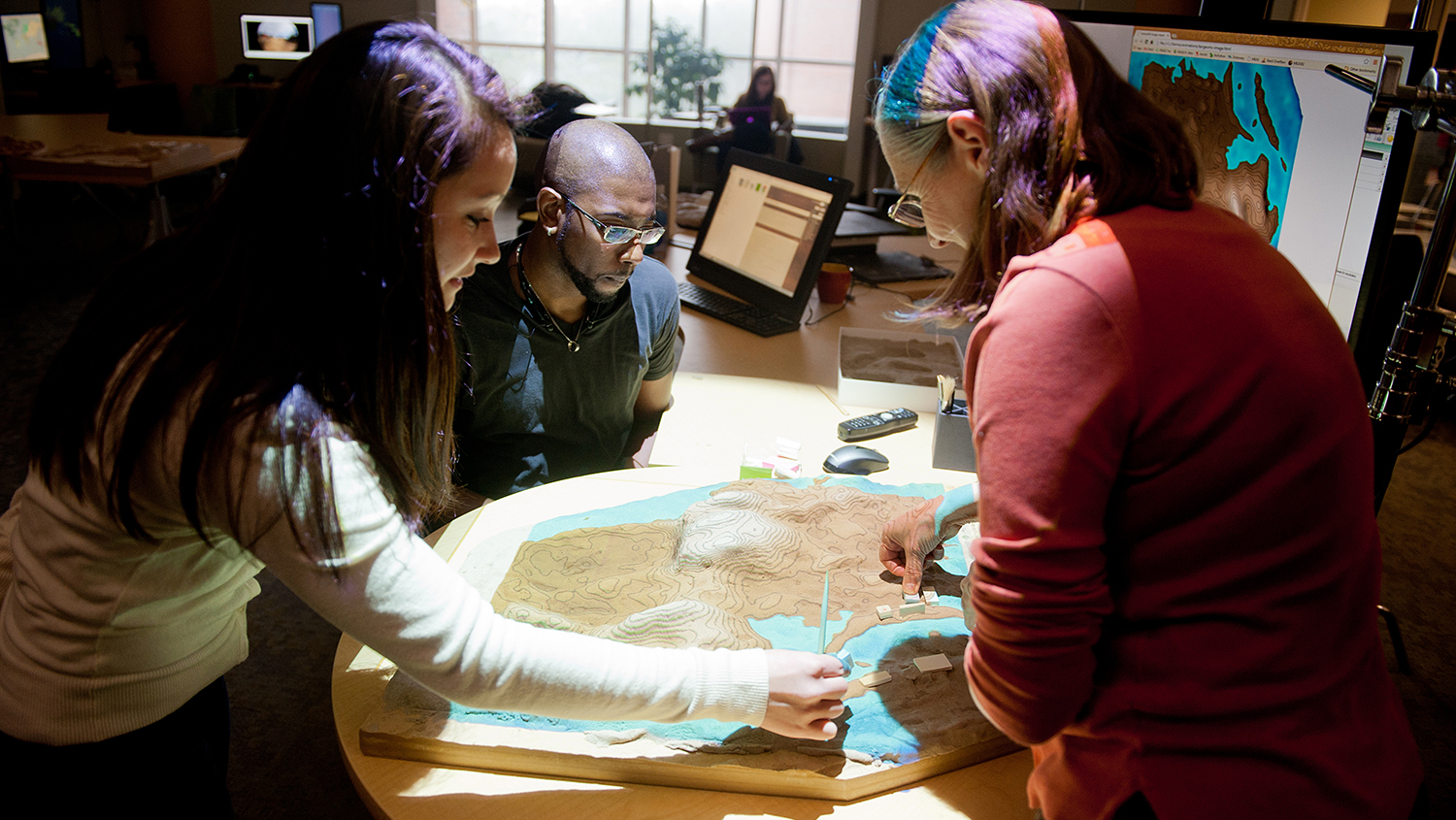 The Center for Geospatial Analytics at NC State University and its partners are excited to announce the launch of a new, free Saturday program for high school students interested in using the latest cutting-edge technologies in the geospatial sciences to solve real-world problems, and in learning about all the exciting benefits of a career in the geospatial sciences. The program will be offered in both Fall and Spring semesters, with an additional one-week summer program focused solely on geospatial careers and college prep.
The program, called GAPS––Geospatial Applications for Problem Solving––is now accepting applications through February 25 from curious eighth- through twelfth-graders in Wake County via the program website, gaps.cnr.ncsu.edu. Students who join the program will meet on Saturday mornings for eight weeks of action-packed sessions covering everything from web-mapping and virtual reality to tangible modeling and citizen science. The Spring 2018 GAPS program launches on Saturday, March 10 and ends May 12, 2018.
"Students will start by learning map basics and leave with having completed their very own geospatial project using some of the latest technologies in the field," says Eric Money, associate director of professional education at the Center for Geospatial Analytics and director of GAPS. "They'll also hear from geospatial scientists and other professionals about their own careers and will be mentored by undergraduate and graduate students at NC State to learn more about possible educational paths."
The program is offered at no cost to students and their families, thanks to a generous grant from the Burroughs Wellcome Fund, which supports STEM research and education across North Carolina. Ensuring that the program be free was a top priority for Dr. Money. "Our goal is to provide unique opportunities for high school students from all backgrounds, particularly from groups that have been historically underrepresented in STEM, and open their eyes to exciting new possibilities––to experience mapping, spatial analysis and visualization, and gain fundamental skills that can lead to a variety of careers in the geospatial sciences," he says. "Geospatial analysis can help communities solve many challenges, but not many high school students have ever even heard of GIS or geospatial science, even though it is something they likely encounter in some way almost every day. This program hopes to change that!"
Students will meet for three hours on Saturday mornings at the Wade Edwards Learning Lab in Raleigh, as well as take a field trip to the cutting-edge Geovisualization Laboratory at the Center for Geospatial Analytics to experience virtual reality, Tangible Landscape, and other advanced tools. During the program, students can also drop into the Wade Edwards Learning Lab for free help with their science and math schoolwork and enjoy open lab hours with NC State undergraduates to spend time on their mapping project. The eight-week program will end with a Mapping Competition Science Fair, at which participants will present their mapping projects to parents, friends and mentors and vie for prizes. Each GAPS student will also receive a $100 participation award for completing the program.
GAPS is the result of collaborations between the Center for Geospatial Analytics and the Friday Institute for Educational Innovation at NC State University, Wade Edwards Foundation and Learning Lab, and RTI International.
To learn more about the program or apply to participate, visit the program website: gaps.cnr.ncsu.edu