Three Named Professorships Awarded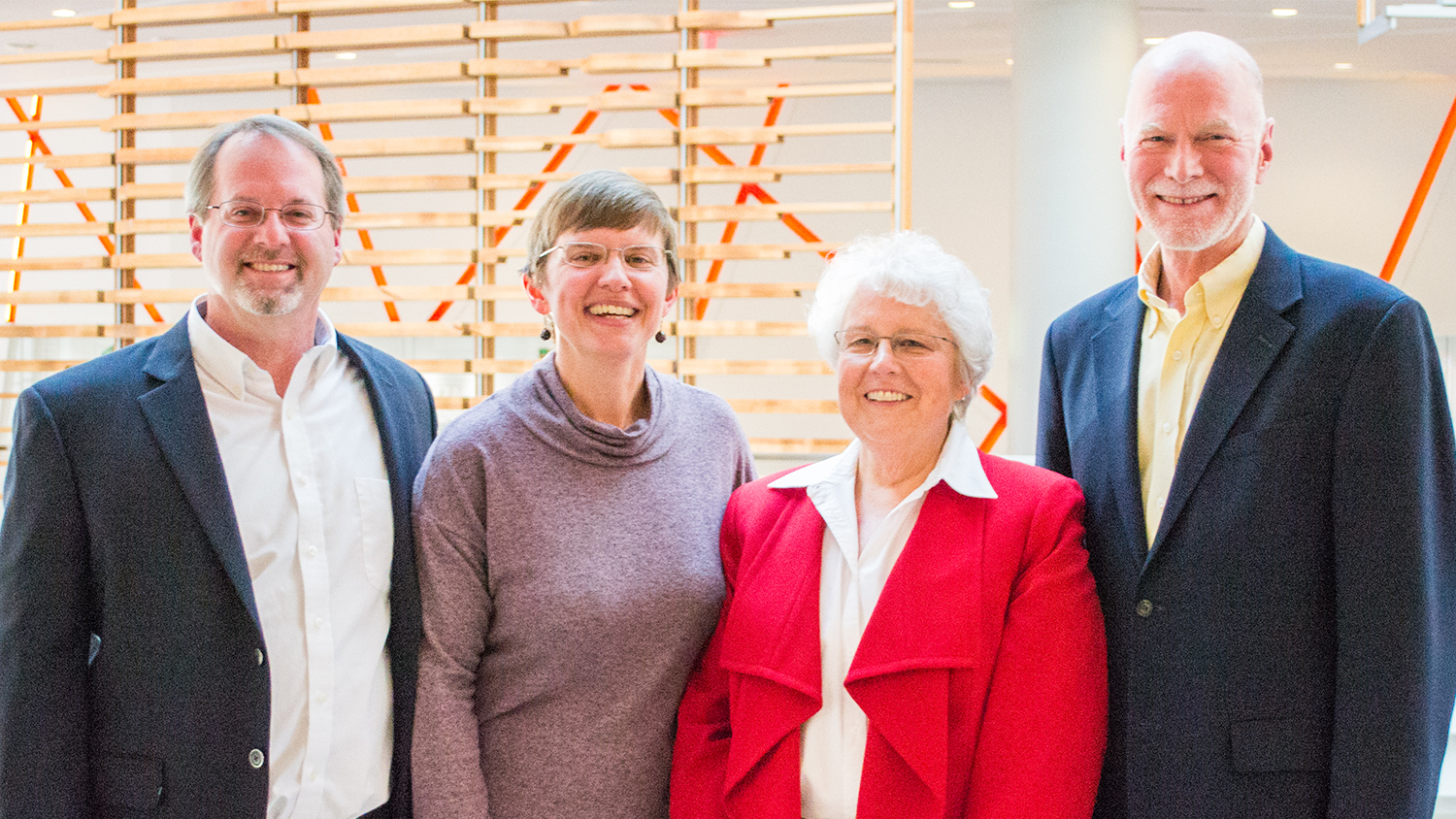 The College of Natural Resources is excited to recognize the appointments of Dr. Erin Sills to the Edwin F. Conger Professorship, Dr. Richard Venditti to the Elis and Signe Olsson Professorship and Dr. Stephen Kelley to the Reuben Robertson Professorship. To be considered for a prestigious University Named Professorship, candidates must be an outstanding current or potential tenured faculty member who meets the criteria of the privately funded professorship and have achieved, or the potential to achieve, significant national and international recognition during the course of their careers.  Appointments can be at all faculty ranks, as determined by the donor.
"With the help of professorships like these," said Dean Mary c. Watzin, "we will continue to be the go-to place for solutions to natural resource challenges. I also want to thank our faculty, staff and students who participated in the nomination process. Without you, our college could not be the success it is today."
Edwin F. Conger Professorship
The Edwin F. Conger Professorship was established in 1962. The endowment resided in the Ag Foundation until it was transferred to the Forestry Foundation 1981. This fund was established to provide salary supplements for the named professorship.
Dr. Erin Sills came to the College of Natural Resources in 1997 and has come up through the ranks. She is currently a Professor and Director of International Programs in the Department of Forestry and Environmental Resources. Sills is a forest economist, with a broad portfolio focused on ecosystem services valuation and community forestry.  She is world-renowned for her teaching, research and outreach related to markets and payments for
non-timber forest benefits;
forest-based livelihoods and economic development;
deforestation and land use in the tropics;
and impact evaluation of conservation policies.
She is perhaps best known for her outstanding research on REDD+, or Reducing Emissions from Deforestation and Forest Degradation in developing countries, and has done much to support conservation and sustainable management of these forests. She published numerous papers and is often an invited speaker on the subject both locally and globally.
In 2001, she received the Outstanding Global Engagement Award for her international efforts, and in 2017, she received the Alumni Association Outstanding Research Award and was appointed to NC State's Research Academy.
As written in her letter of nomination, "Dr. Sills has demonstrated sustained excellence in international scholarship, teaching and mentoring of graduate students, and outreach. She has dedicated her professional career to developing and delivering natural resource policy research, instruction and outreach programs that have benefitted countless undergraduate and graduate students, and citizens of numerous countries around the world. She has taught several global forestry courses and led numerous international forestry field courses."
Former recipients of the Conger Professorship include Dr. Ron Sederoff, who recently received the Marcus Wallenberg Foundation Prize.
Elis and Signe Olsson Professorship
Sture G. Olsson established the Elis and Signe Olsson Professorship in 1971 in honor of his parents, Elis and Signe Olsson. The purpose of the professorship is to strengthen the pulp and paper science and technology program at NC State, which serves the entire southeast under a Southern Regional Education Board compact. The professorship is awarded to someone with an established reputation in the pulp and paper community. Funding for the professorship may be used for teaching and research, salary supplement, student support and appropriate operating expenses.
 Dr. Richard Venditti came to the College of Natural Resources in 1993 and is a professor in the Department of Forest Biomaterials. His focus is on: (1) the processing and utilization of natural polymers in new products and fuels, (2) the fundamentals of separation science in fiber processing and (3) environmental life cycle analysis of products. His approach includes using fundamentals in chemical engineering and polymer science to understand mechanisms that control critical operations in the production of products and fuels.
Venditti is also a TAPPI Fellow and has received numerous awards for his research and teaching. He also serves in a variety of international roles including Honorary Faculty of the University of Kwazulu Natal, South Africa, and Visiting Faculty Member at the University Jean Monet, France. He has published around 140 referenced journal articles, holds two patents and has presented many talks in his areas of expertise. Most recently, he is leading a large interdisciplinary project to train teachers and support economic development associated with the growing bioeconomy in rural North Carolina.
To quote his department head, Dr. Marko Hakovirta, "Dr. Venditti's work on cellulose, lignin and starch to produce advanced biomaterials is world leading and he is a large contributor for the advancement of Life Cycle Analysis techniques and their use in pulp and paper industry. He is also a major contributor to the field of paper recycling and related processes, and developed the sensors for automated paper sorting in industrial practice today."
Former recipients of the Elis and Signe Olsson Professorship include Dr. Hasan Jameel.
Reuben B. Robertson Professorship
The Reuben B. Robertson Professorship was established in 1953 from shares of Champion Paper stock given to the former Pulp and Paper Foundation, which has merged into the Natural Resources Foundation. The stock was given to honor Reuben B. Robertson, an industry leader and former chairman of the Board of Champion, who was instrumental in providing support for the beginning pulp and paper program at NC State.
Criteria for the professorship include:
Being an outstanding scholar in his or her assigned department
Being worthy of the respect and admiration of the general faculty of NC State
Being favorably known to scholars beyond the university, state and region
Dr. Stephen Kelley is a professor in the Department of Forest Biomaterials. He came to NC State in 2005 and served as the department head from 2005-2016.
His research interests include the sustainable production of energy and materials from biomass and the application of novel analytical tools to biomass. He teaches classes in Wood Chemistry and Wood Adhesives and Composites. He has also helped develop international partnerships for the department.
Kelley is a member of the National Academy of Science Board on Agriculture and Natural Resources, a fellow of the International Academy of Wood Science, and received the American Chemical Society's Cellulose and Renewable Materials Divisional Fellow Award. His has numerous publications and has been a PI or Co-PI for more than $16 million in funded research proposals. He also holds 15 patents.
In the words of his Department Head Marko Hakovirta, "Dr. Kelley is an exceedingly active advocate and thought leader in the field of wood products and the bioeconomy."
Former recipients of the Rueben B. Robertson Professorship include Dr. Hou-Min Chang.