Student Spotlight: Matt Kollman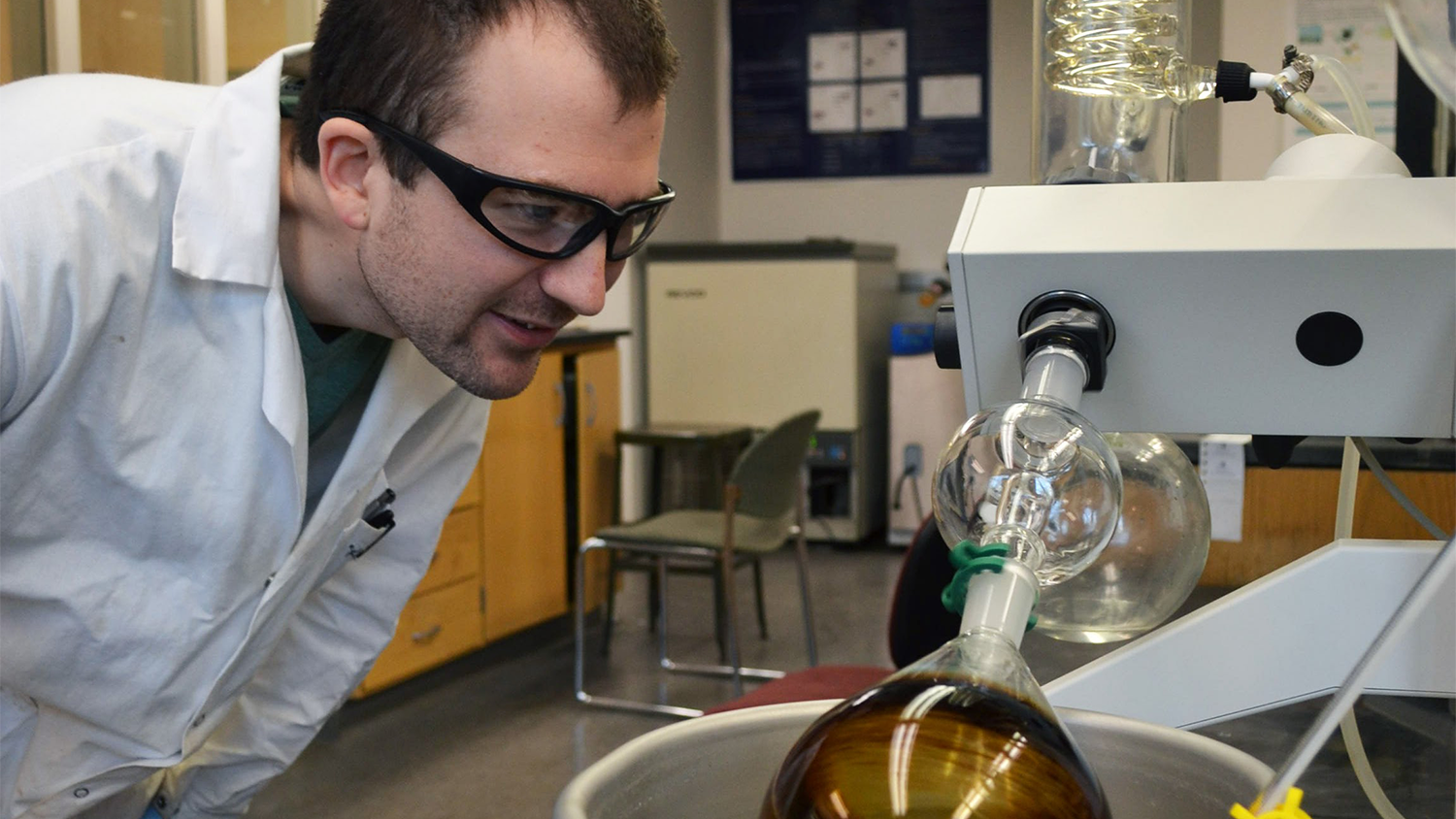 Matt Kollman, a Forest Biomaterials doctoral student, is researching biomass-derived chemicals and materials. To help broaden his perspective of research careers available post-graduation, he recently interned with RTI International. In his spare time, Kollman is also an active member of the College of Natural Resources Graduate Lab Safety Committee and President of the Forest Biomaterials Graduate Student Association.
Tell us about your hands-on experience. (Where did you go, what did you do, etc.)
This past summer, I interned at RTI International in their Environmental Technology Division. I helped initiate a new area of research for the group I was working with and performed preliminary experiments that resulted in a more detailed study I am continuing at NC State.
How did this experience impact you?
The internship gave me the opportunity to see how a non-profit research institution operates and a preview of what roles I might have should I work at one in the future. The experience confirmed that I would like to work in that type of research environment, somewhere between academia and industry, fundamental and applied.
What did you learn about yourself during your experience?
With everybody on the team having a very unique background and set of skills, all of my expertise was unique and this allowed me to have a lot of responsibility starting on the first day. The internship pushed me out of the individual research comfort zone into making significant contributions as part of a team, resulting in growing confidence in my own abilities.
How did this opportunity enhance your experience as a College of Natural Resources student?
Being placed in a different environment for a limited period of time forced me to become efficient at using time and resources, lessons that I have tried to keep with me as I continued work back at NC State.
Why was participating in this experience important to you?
I wanted to get experience in the research and development sector (other than academia) at some point before I finished my PhD.
What did you enjoy most about your experience?
I enjoyed working as part of a team of professionals who were experts in their respective area, bringing all of that together to make a good project.
What did you find most challenging about your experience?
The most challenging aspect of my internship was setting up my lab space to conduct experiments in this new area of research, to think of all the supplies I would need and making connections with all the personnel I would need to complete my project. Although every person I met at RTI was more than willing to help me in any way they could, which made my time very rewarding, it gave me an appreciation for the amount of work professors perform when starting a new lab.
Why would you recommend this experience to other students?
Internships allow you to shake things up a bit and go outside your comfort zone to do something different. Plus, it gives you invaluable experience to see what you do and don't like when thinking about what direction you want to go in your career.
Have you completed any other internships, undergraduate research, study abroad or other hands-on experiences?
I worked as a process engineer before returning to school as a Ph.D. student. As an undergraduate student, I completed the co-op program at NC State, working at a pulp and paper mill. I would highly recommend this type of experience to anyone considering it. Taking an extra year to graduate because you got 12 months of working experience is well worth it.
What do you enjoy most about being a College of Natural Resources student?
The environment here is very supportive and the smaller size of the graduate program lends itself to collaboration and flexibility not feasible in larger programs.