Alumni Spotlight: Summer Higdon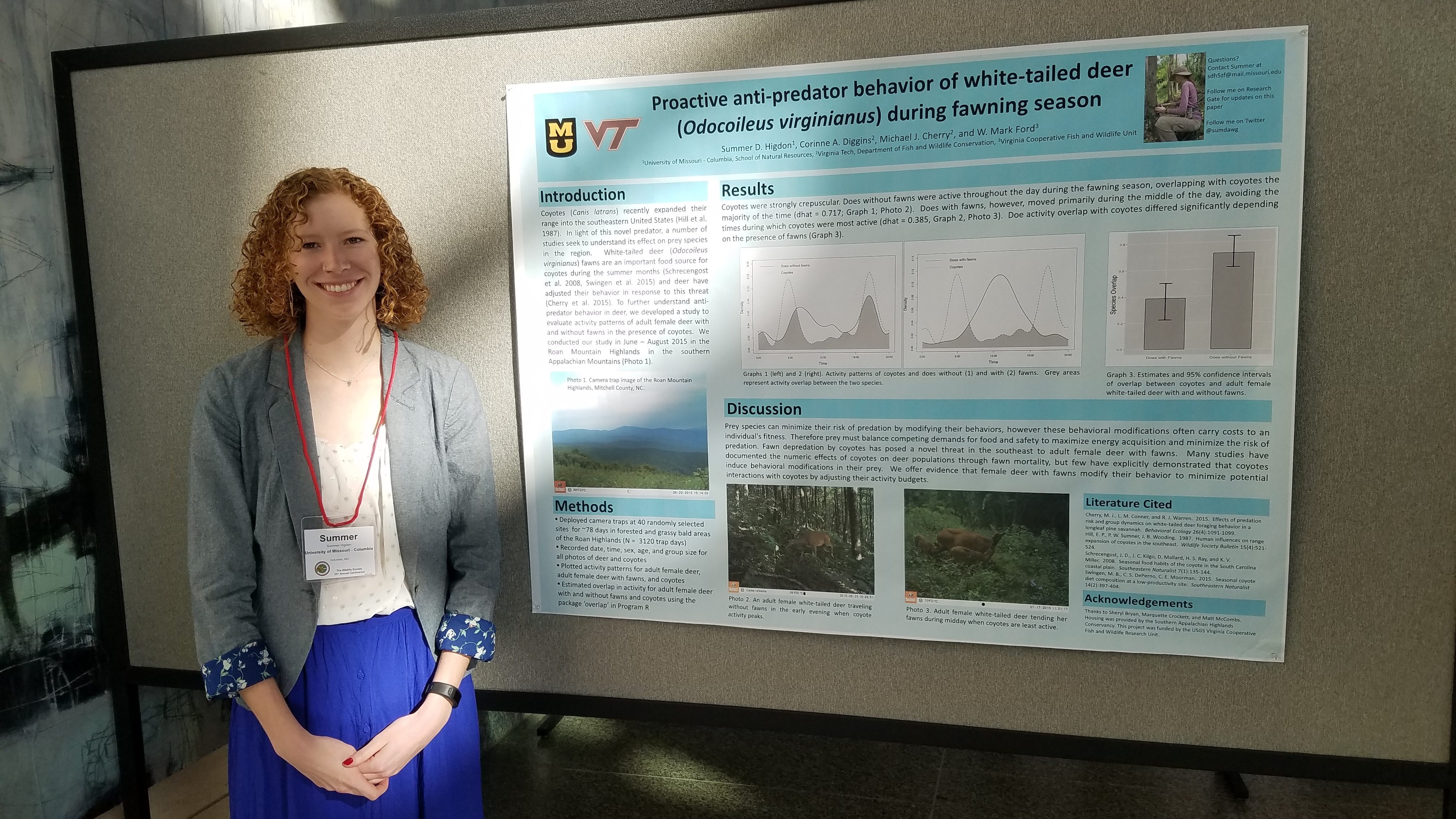 For the past year, Summer Higdon '14, has been evaluating habitat selection and home range dynamics of the eastern spotted skunk in the Ozarks as a Graduate Research Assistant at the University of Missouri, where she also received her Graduate Certificate in Agroforestry. During her studies in the College of Natural Resources as a Fisheries, Wildlife and Conservation Biology and International Studies major, she received numerous awards, including the Caldwell Fellowship, Sam Hughes Scholarship, RB and Irene Jordan Scholarship, Felton F Coley Scholarship, Donald and Jean Steenson Scholarship, Camp Younts Foundation Fisheries and Wildlife Scholarship and Hofmann Forest Academic Scholarship.
What is a typical day like for you?
When I am working in the office, I spend a lot of time reading papers and writing for research projects, grant applications and coursework. When I am in the field, I spend my time collecting and deploying camera traps and checking live traps, all in search of eastern spotted skunks. When we trap skunks, we will deploy radio collars and track the skunk locations.
What do you enjoy most about your current position?
I enjoy the flexibility of being a graduate student. I have the responsibility to lead my thesis project, but I can also pursue other research opportunities. So, I am still connected with past employers who have kept me involved in research and I can apply for additional opportunities as they arise. I'm also able to work from home or the road if necessary, allowing plenty of time for conference and other travel.
What do you find most challenging about your current position?
While the flexibility to pursue multiple opportunities is exciting, keeping track of time, projects and coursework can be overwhelming. It can be challenging to keep up with everything at the office while balancing fieldwork and personal hobbies.
What was your favorite CNR class?
During my last spring semester, I took a special topics in natural resources course wherein we traveled to the Galapagos. That migration is truly a wildlifer's dream and it is a wonderful memory.
What did you enjoy most about being a CNR student?
I enjoyed getting outside and taking courses that seemed out of the ordinary for other majors. I remember non-CNR friends telling me they thought it was weird they saw me on campus with a group of people staring at a tree – that's dendrology class!
Did you complete any hands-on experiences like internships, study abroad, co-ops or undergraduate research? If so, what did do you and how did it impact you?
I studied abroad during the summer between my freshman and sophomore years for one month in Sweden, Finland, and Estonia. I also took a semester abroad (spring of sophomore year) in Karlsruhe, Germany, where I took biology courses in German. Finally, I took a special topics course that traveled to the Galapagos. International travel was a pivotal component in my undergraduate career. As I was learning about wildlife and natural resources, I was also learning about other cultures, languages, and ways of thinking. College is all about expanding your mind and finding yourself and for me, international travel was a huge part of that growth. Now, it is especially useful as I work toward incorporating an international component to my research; I will travel to Brazil in summer 2018 to conduct a research project alongside a lab located there.
I had an internship at the North Carolina Museum of Natural Sciences in the Biodiversity Lab. In that position, I became familiar with using scat to study carnivore diet and camera traps to study animal behavior and activity. I went on after NC State to use both of those methods in jobs and currently for my master's research. I also interned in the Research and Education Assistant Program with Lisa Mills (now at University of Montana). We worked on a variety of projects, but most importantly, I capitalized on the professional relationship with Lisa to travel to the University of Montana and work on projects with her during summer 2017, namely the Elephant Friendly Tea Program. Now, I will expand my professional portfolio through establishing a tea distribution business in Missouri, gaining valuable entrepreneurship and business skills.
Were you involved in any clubs, hobbies or on-campus activities? Any stories you would like to share about your experiences?
Campus involvement was one of the most important things I did at NC State. I was involved heavily in the Inter-Residence Council, where I found a family away from home. It was a great way to gain leadership skills and get my mind off schoolwork. I also participated in the Caldwell Fellows Program, which gave me the opportunity to learn who I am as a person and how that applies to my interactions with others and my career.
Any advice for incoming CNR students?
Dive in head first. College is all about finding yourself and figuring out where you want to go. NC State has more resources than you can imagine; tap into them!
What was the most important thing that you learned as a CNR student?
The combination of my wildlife major and international studies major was really important for me. My CNR advisor was highly supportive of the non-CNR things I was doing, and to me, that is indicative of how interdisciplinary we must become moving forward if we are going to answer real-world questions and solve real-world problems.
How do you feel CNR prepared you for your current career?
The knowledge base you gain from taking CNR courses is incredible. To be able to walk into a natural area and not only identify the plants and animals you see there, but also get a feel for the history and management of the land is really special. That's not a skill you just learn how to do; it takes years of studying and time spent in and out of the classroom to be at a point where you understand relationships in the environment. Now I am learning how to ask questions about wildlife and design studies to answer them. I could not do what I do now without having studied in CNR.
Do you have any career accomplishments you are particularly proud of?
I am proud to be published in two peer-reviewed journals with more publications on the way. I was able to take part in and lead publications (outside of my thesis) because I sought out those opportunities both at NC State and as a research technician. In expressing interest and putting in the work to gain authorship, I've solidified my professional relationship with several co-authors. Additionally, I will be well positioned to apply for PhD positions in the near future.
Have you held any other positions you would like for us to know about?
I worked as a research technician on three different projects before starting my master's research. I also worked at the University of Montana during summer 2017 (during my master's).
How did you choose your major and what attracted you to the program at NC State?
I loved animals and knew I wanted to work outside. Combined with knowing I wanted to go to a big university and growing up a State fan, the decision was easy.