Alumni Profile: Lauren Maynard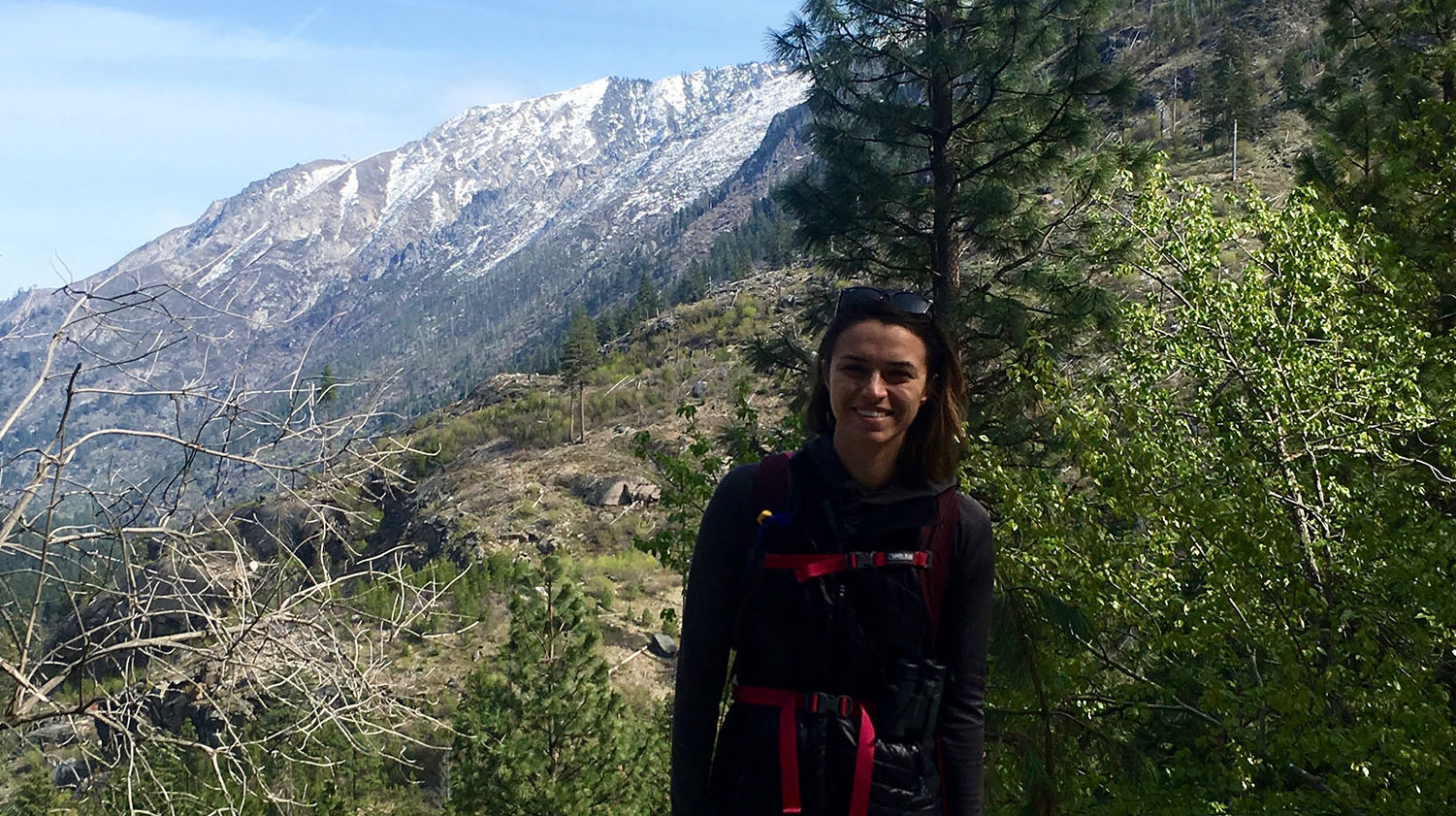 Lauren Maynard '15 is a Graduate Research Assistant at Virginia Polytechnic Institute and State University, where she works in the Biological Sciences Department studying Ecology and Evolutionary Biology. Expanding on her Fisheries, Wildlife and Conservation Biology major, she is studying the chemical ecology of seed dispersal in a Neotropical system as an Environmental Education graduate student.
What is a typical day like for you?
My work day may start at 6pm, when I strap on my snake-proof boots and venture into the Costa Rican jungle to mist-net bats. If I'm capturing birds, my schedule is flipped, and I'm out before the sun rises. I am a graduate student working in chemical ecology and species interactions, and my job has many facets. My lab group has discovered a group of compounds that have not been previously described, and we want to know the ecological significance of them in seed dispersal. But before I get to the field portion of my work, I am in the lab, where we are constantly learning and creating new ways to study our compounds. On a given day, I could be grinding plant samples, performing extractions, or applying analytical methods.
What do you enjoy most about your current position?
I really enjoy the opportunities for creativity and flexibility—every day is a new adventure. Sometimes I'm a chemist; other times I'm a writer. And some days I'm an animal keeper, tending to my captive bats or birds.
What was your favorite CNR class?
Dendrology—hands down! It was a very challenging semester, but the skills I learned in Dr. Braham's class are some that I use daily as an ecologist.
What did you enjoy most about being a CNR student?
I enjoyed the camaraderie that came with being a CNR student. NCSU is the largest university in North Carolina, but CNR is an intimate and encouraging community. As a student, you're able to enjoy the resources of a large land-grant university while experiencing the benefits of a smaller college, including smaller class sizes and personalized advising.
Did you complete any hands-on experiences like internships, study abroad, co-ops or undergraduate research? If so, what did do you and how did it impact you?
I completed two summers with the National Science Foundation's Research Experience for Undergraduates (REU). I participated in my first REU at the University of Costa Rica and the second with the Smithsonian Institution. For my third research project, I applied for grants within CNR and NCSU. With these funds, I worked with faculty to develop a project along the Capital Area Greenway. Undergraduate independent projects are designed to let the student plan and implement his or her own experiments under supervision of a Principle Investigator. These are great experiences for anyone considering graduate school. I also volunteered at the NC Museum of Natural Sciences and assisted graduate students with field work. Learning in the classroom is imperative, but having hands-on experience is invaluable. I believe this is particularly important for students in CNR because our jobs are rarely behind a desk, so getting the field experience should be a top priority to any young professional. It's also incredibly fun!
Were you involved in any clubs, hobbies or on-campus activities? Any stories you would like to share about your experiences?
I served as a CNR Student Ambassador and as Treasurer for the Leopold Wildlife Club. One of the most memorable experiences of my time at NCSU was competing in the annual Southeastern Wildlife Conclave. The Wildlife Club traveled to Virginia to meet with hundreds of other wildlife students from across the southeastern US. For that week, we participated in quiz bowls, field competitions, technical workshops, and general merriment with our fellow wildlifers.
Any advice for incoming CNR students?
Keep your interests broad! And stay engaged with the CNR community because they can be a great support system.
Is there any personal information you would like to share with students?
I was able to travel through internships as an undergraduate student. After graduation, I took time off from academia and worked technician jobs. In those two years, I worked 5 different jobs that took me around the United States and abroad. If you have the opportunity to travel, I would highly encourage it—seeing the world is never a waste of time.
Did you receive any scholarships? If so, which ones?
I received the Chancellor's Leadership Scholarship and the UNC Campus Scholarship.