Alumni and Friends
New Plaque Honors Dean Eric Ellwood's Contributions to the College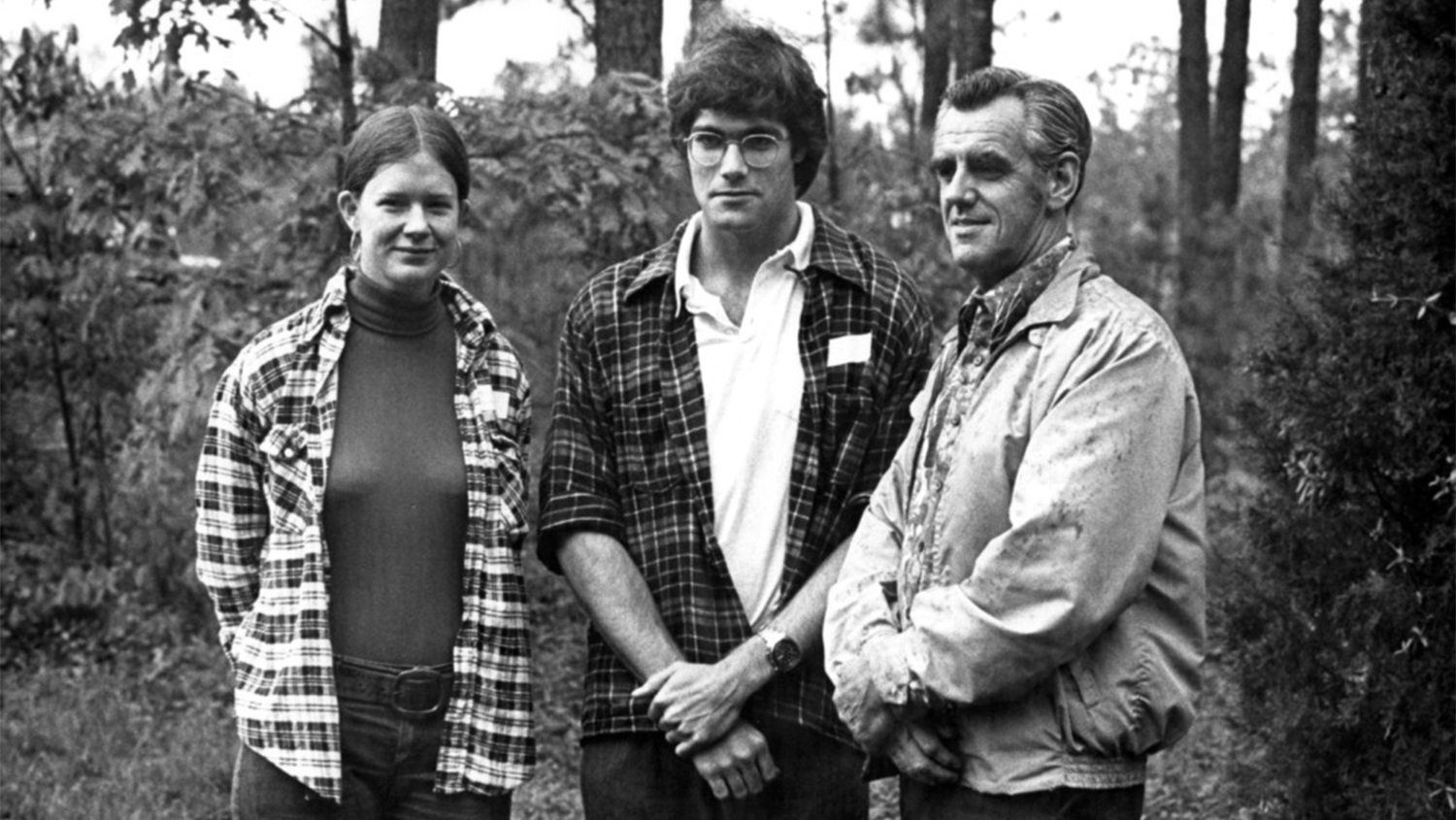 Over the course of his 28-year career at NC State, Eric Ellwood had a lasting impact on the College of Natural Resources. Now, thanks to his friends and colleagues, Ellwood's legacy will be honored for years to come.
Ellwood, who served as dean of the College of Natural Resources, passed away on May 27, 2020, after a brief illness. He was 97. To commemorate his contributions, a group of former and current faculty members have established a plaque in honor of Ellwood. It will be located on a picnic table outside of Biltmore Hall. Today, they fondly recall Ellwood's impact on the college and their lives.
"I loved his zeal for life," said Larry Nielsen, former dean of the college and professor emeritus of the Department of Forestry and Environmental Resources. "He was a man who met life full-on. Even though he was retired and he was getting older, he didn't let anything stop him from doing what he wanted to do. That's a great message, especially for someone who will eventually become a former dean, to know that life goes on afterward."
During his early professional career, Ellwood worked as a research forester and wood scientist in Australia. In 1957, he moved to the United States, where he worked as a wood technologist and professor at the University of California at Berkeley. In 1961, Ellwood came to NC State, where he taught forestry and later went on to become head of what is now known as the Department of Forest Biomaterials. Ellwood served as dean of the college from 1971 until his retirement in 1989. 
Ellwood would later devote his time to program development, forest and natural resources research and management, and state, national and international policy. His contributions to the field were honored through many awards, including the Fulbright Fellowship, Forest Products Wood Award and Forestry Award. Ellwood was also named the NC Forestry Association's Man of the Year in 1983.
"I thoroughly enjoyed spending time with Eric," said Robert Brown, former dean of the college and professor emeritus of the Department of Forestry and Environmental Resources. "He was great fun to be with, always a bright mind and just a joy to be around."
Brown was close friends with Ellwood from the time he became dean in 2006 until Ellwood's death. It was his idea to commemorate Ellwood's legacy. All of the college's former deans and current dean, Myron Floyd, contributed funds to the plaque.
Brown described Ellwood as "quite the character" and very adventurous, exemplified by his choice to ride a Harley Davidson motorcycle to work and his love of extreme sports, such as skydiving on his 93rd birthday and kiteboarding in the Outer Banks.
"I think having former college deans around like him, Larry Tombaugh, Larry Nielsen and J.B. Jett, who fought the same battles and had the same concerns, is very helpful," Brown said. "The secret to being a dean is having a good sense of humor, and they all had a good sense of humor, especially Eric."
Nielsen, who became friends with Ellwood upon arriving at NC State in 2001, fondly recalls one of his last memories of him: "I was doing a book talk at Quail Ridge Books; I had a new book out called 'Nature's Allies.' I never expected it, but there he was, in the front row, he and his wife Mary. It was a perfect example of who Eric was. He was always there, always participating … he just wanted to be part of the team while I was promoting my book."
Nielsen said Ellwood inspired him to be enthusiastic and put his whole heart into everything he did. He believes one of the key messages of NC State and the college is to be active and work toward the well-being of society, something Ellwood exemplified during his lifetime.
Today, faculty and students in the College of Natural Resources can find a portrait of Ellwood hanging on the walls of Biltmore Hall alongside other former deans. Ellwood's continues to stand out, according to Nielsen.
"All of us are static: we're standing or we're posed," Nielsen said. "But if you look at Eric Ellwood's portrait, he's walking through the woods and he's striding, and you get this idea of action and energy from his portrait. That is who I truly believe Eric Ellwood was."