Blog
Yale University's Thomas Easley to Keynote Diversity Discussion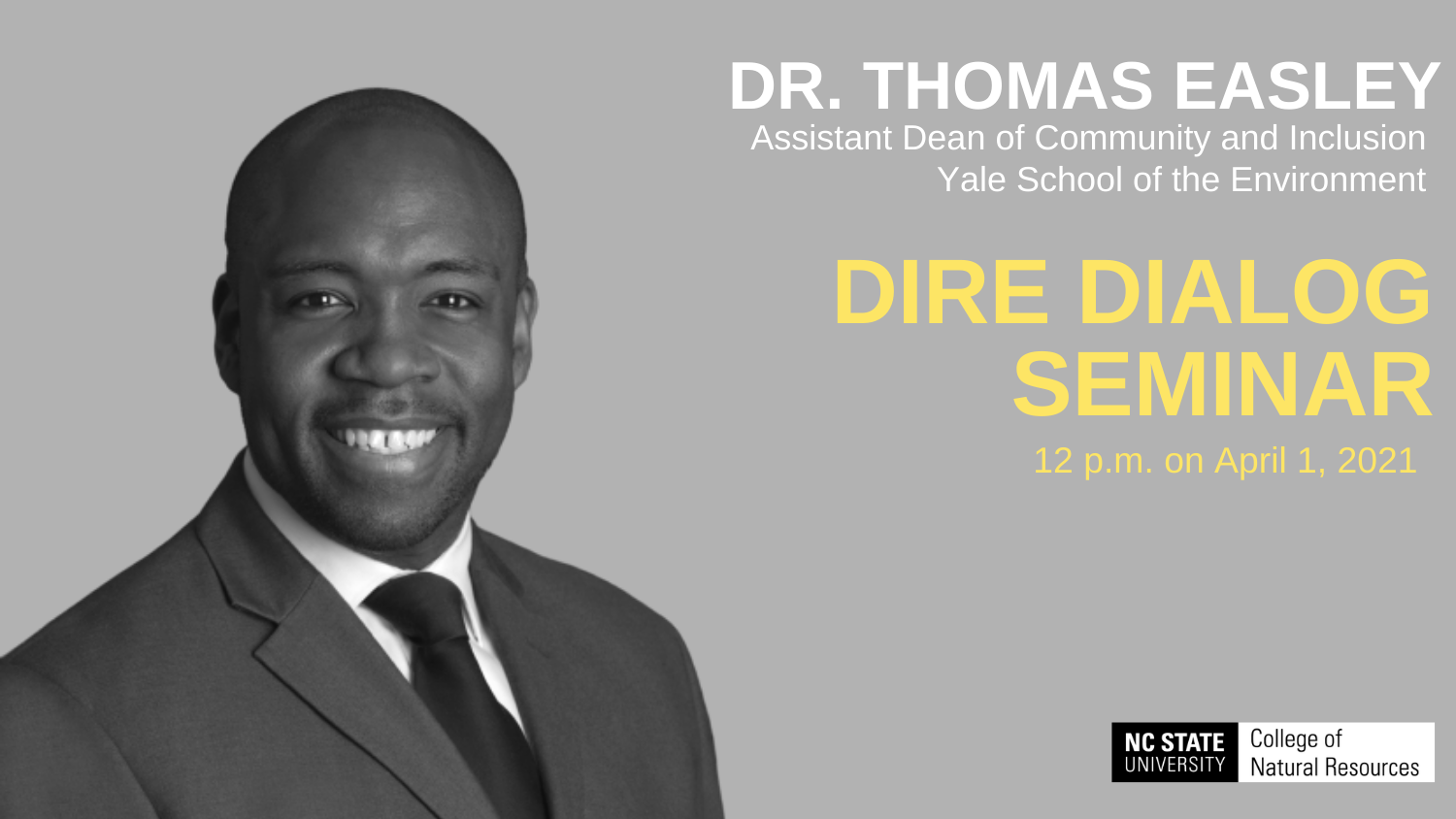 The Office of Diversity and Inclusion at NC State's College of Natural Resources is pleased to announce that Thomas Easley, assistant dean of community and inclusion at the Yale School of the Environment, will serve as keynote speaker for the final DIRE Dialog seminar.
Funded by the Duke Energy Foundation, the college's DIRE (Diversity, Inclusion and Racial Equity) seminar series aims to address the discrimination and systemic inequalities faced by marginalized individuals in fields related to natural resources. Each seminar is led by a local or national expert on diversity, inclusion and belonging in subject areas related to natural resources.
At Yale, Easley works with faculty, staff and students on a range of diversity, equity and inclusion initiatives. That includes working with faculty on courses to expand materials for an increasingly diverse student body.
Easley, who has a master's degree in forest genetics from Iowa State University and a doctorate of education from NC State, was the diversity director at NC State's College of Natural Resources for 13 years prior to joining Yale in 2018. He oversaw the development and implementation of a strategic plan around diversity issues and taught a course, "Diversity and Environmental Justice." He also coordinated equity and inclusion training for student organizations and other administration units across campus.
In addition to his career in higher education, Easley is also a hip hop artist who performs under the name RaShad Eas. His music — known as "hip hop forestry" — aims to introduce more minority groups to environmental issues.
Easley's virtual DIRE Dialog seminar is scheduled on Thursday, April 1 at noon. His talk will focus on his upcoming book, "Mind/Heart for Diversity," and the outcomes of his efforts at Yale. Easley will also discuss his recent keynote on "hip hop forestry" at the Audubon Naturalist Society's Taking Nature Black Conference.
"Personally it's been so incredible to watch Thomas' career blossom. I worked with him quite a bit during his time here at the College of Natural Resources," said Stacy Nelson, the college's interim associate dean for diversity and inclusion. "I've also been amazed to see the levels of challenges he's taken on in his new position at Yale. He has grown tremendously in his reach by not only helping to create effective changes that level the playing field for those individuals that have historically been underrepresented in the field of natural resources, but also by becoming a growing and well-recognized national voice that raises awareness on the issues of diversity, equity and inclusion for all." 
The DIRE Dialog series is free and open to students, faculty and staff at the College of Natural Resources. The seminar will be hosted via Zoom and can be accessed here. For more information, please visit https://bit.ly/3phvF0v.