Student Success
Graduation to Vocation: Brendan Tumpey is Tackling Packaging Problems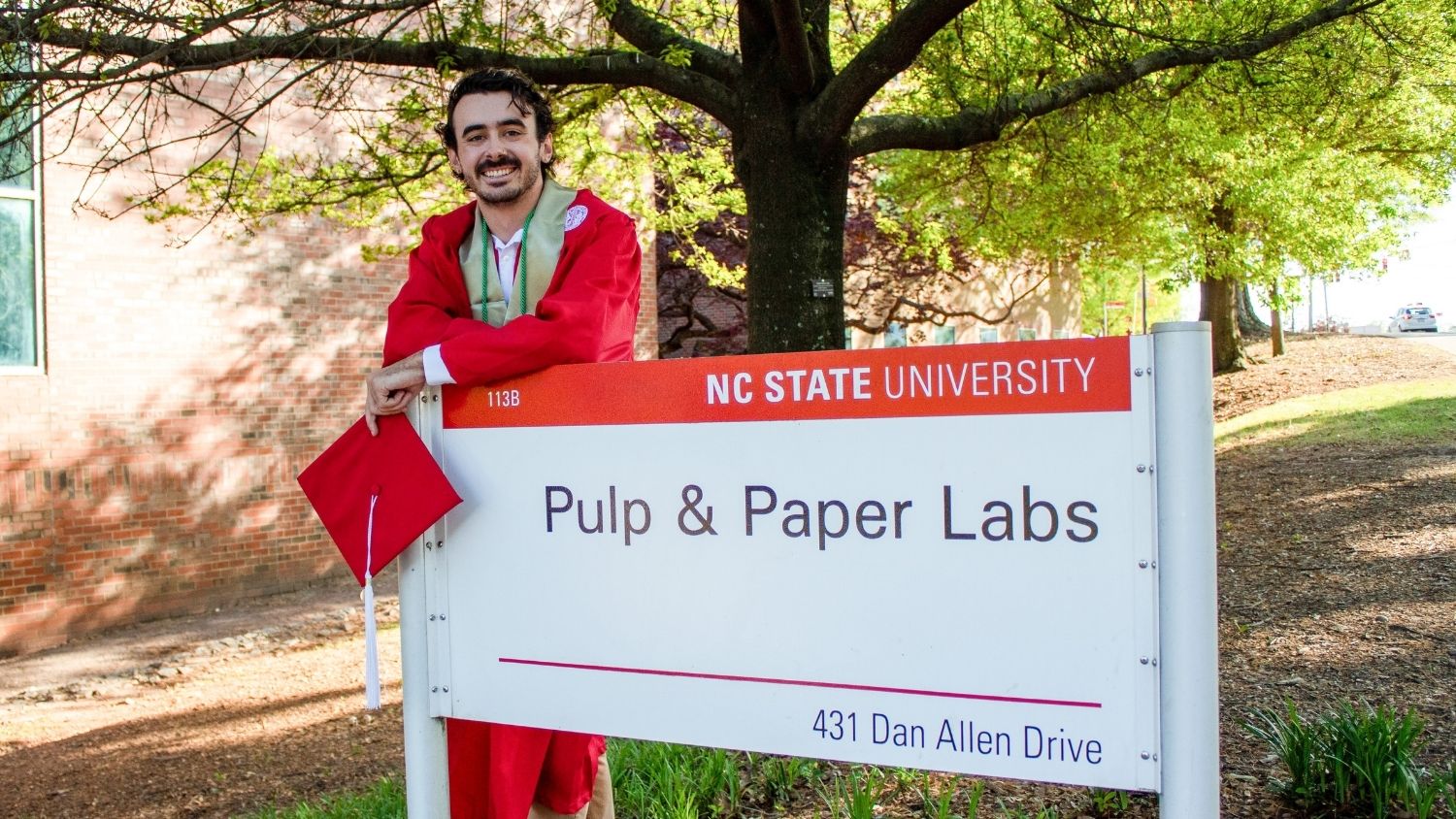 Brendan Tumpey will graduate in May 2022 with dual majors in paper science and engineering and chemical engineering. After graduation, he will work as a REACH (Recruit, Engage, Align College Hires) engineer at International Paper in Springfield, Oregon.
International Paper is a pulp and paper company, the largest of its kind in the world. The company's mill in Springfield manufactures linerboard for the production of corrugated boxes and packaging containers.
We recently spoke with Tumpey to learn more about how his time at the College of Natural Resources prepared him for the workforce. Check out the Q&A below.
How has the college prepared you for your future?
The College of Natural Resources has given me endless opportunities during my college career and has set me up for a lifetime of success. The professors are experts in their areas, and it shows how much effort and care they put into their classes and lessons to ensure that the students benefit from the program.
In Paper Science and Engineering, I was offered a co-op one month into my freshman year, something that is unheard of at many other colleges and universities. This first co-op led to a series of other work experiences, the last of which landed me in Oregon, where I plan to move after graduation. I believe the classes and co-ops/internships that were made available to me through the College of Natural Resources have prepared me as best as possible for my awaiting future.
What's your favorite memory or class from your time at the college?
My favorite class was Dr. Jameel's Pulp Processing Analysis lecture and lab. During this class sophomore year, the other students and I were provided a section of a log, and throughout several labs, we debarked and chipped the log, screened and pulped the chips, and then bleached the resulting fiber.
Some of these labs were quite lengthy, but Dr. Jameel bought hotdogs and hamburgers for us to grill outside for lunch. This class not only reinforced important topics learned in Dr. Byrd's freshman year class but did so in a way that was fun and hands-on. Despite the long labs, I always looked forward to attending this class.
What is unique about you or your work?
The paper industry produces products that are used by everyone each day. This includes cardboard boxes for shipping, cartons that protect food at the grocery store, and yes, toilet paper — and more. However, not many people understand how paper is made and how complex the involved processes are.
I have enjoyed learning chemical engineering topics as they apply to a specific industry. This not only made the topics less theoretical and more applicable but has molded me into a valuable future employee. I enjoy working in such an established, sustainable and vitally important industry because I know that my work is directly benefitting people around the country and the world.
What motivated you to pursue your work?
As a high school senior, I knew that I wanted to pursue chemical engineering. When I learned about the chemical engineering and paper science and engineering dual major here at NC State, I realized that it incorporated all the chemical engineering topics that interested me but focused on an industry that is important, stable and sustainable. I enjoy solving problems, and working as a chemical engineer in a paper mill will allow me to do just that.
What advice would you give students entering your major or field?
Take advantage of the amazing professors in the College of Natural Resources, especially in Paper Science and Engineering. These professors are the most dedicated and engaging professors I have experienced during my years at NC State. They are committed to helping the students become the best professionals they can be and are always there to help. Building relationships with professors outside of lectures or labs made me more comfortable to ask questions and made classes more enjoyable.
Additionally, I would greatly encourage any incoming students to embrace change. College is full of new experiences, and at times it may be daunting, but embracing the change can lead to incredible opportunities, adventures and memories.