Paper Science and Engineering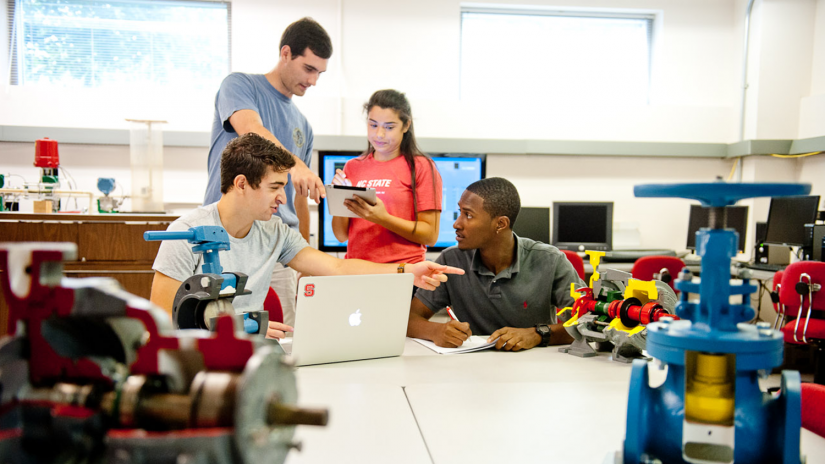 What is Paper Science and Engineering?
Even in this highly digital world, the paper industry continues to thrive and engineers specialized in the field are in high demand. Our accredited* paper science and engineering program combines elements of chemical engineering, environmental science and business management to convert trees into everyday products from shipping and packaging materials to household items and medical supplies. Students in this STEM (Science, Technology, Engineering and Mathematics) major gain a comprehensive understanding of the entire process of paper making and the conversion of any biomass into useful products.
Students learn applied skills on our $12 million in-house laboratory equipment, including a state-of-the-art paper machine. We are the only school in North America with equipment in-house that can convert any biomass material, such as grass, corn stalks and wood, into pulp and paper.
To help our paper science and engineering students transfer their skills and knowledge to the real-world, our Career Services office brings more than 30 companies a year to campus to interview students for internships, co-ops and full-time jobs. This program is so successful that all students participate in at least one internship, with pay between $18-30 per hour, prior to graduation. The average starting salary of students entering the workforce from this program is $76,600 per year, with a range of $77,000 to $80,000, and 100 percent of our graduates secure a job within six months of graduation.
*Students may receive two accredited engineering degrees, Paper Science and Chemical Engineering, with only one extra semester of course work through a partnership with the College of Engineering.
Paper Science and Engineering Curriculum
Our Students Get Jobs.
100 percent of our graduates secure a job within six months of graduation with an average starting salary of $75,000
Why are Paper Science and Engineering Graduates important?
From hygiene to printing, paper products are essential to our daily lives. Our graduates are in high-demand to keep up with global paper consumption, which has risen by 400 percent in the past 40 years.
Our alumni are leading the way to a more economical and sustainable future by creating innovative ways to produce and utilize paper while also developing methods to reduce and reuse the materials employed in the paper-making process.
Our graduates are part of a highly global, innovative industry. Pulp and paper is one of the leading industries in large-scale sustainable manufacturing. Many mills are close to being energy independent and are either integrated or developing biorefinery concepts.
HANDS-ON EXPERIENCES WITH PAPER SCIENCE AND ENGINEERING
Learn More About Paper Science and Engineering
Paper Science and Engineering Careers