Hodges Wood Products Lab Technical Services
From informal talks and tours to the development of industry-specific performance standards, the Department of Forest Biomaterials offers a range of technical services to help academic and industry partners overcome their wood products challenges.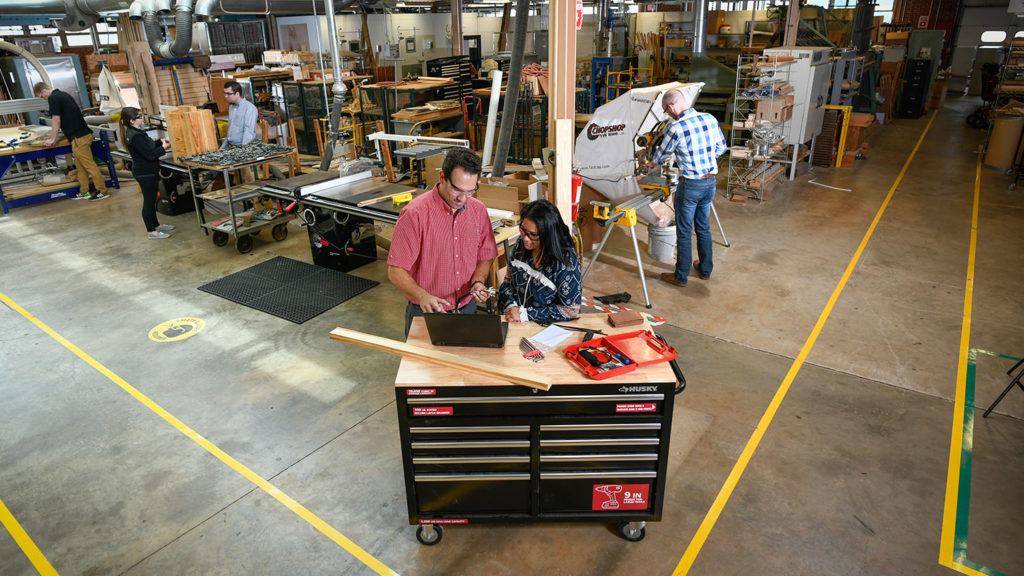 The Laboratory
Opened in 1960, the Hodges Wood Products Laboratory is the industry's premier testing and technical service facility. Through the generous donations of our partners, the 21,000-square-foot facility is outfitted with the latest woodworking tools, small-scale industrial equipment, testing machines and instrumentation for investigating the properties of wood, forest biomaterials and energy products. The laboratory currently houses the following services and programs:
Hodges Wood Products Technical Services
Wood Machining and Tooling Research Program
Biomass-Pellet Characterization Service Center
Housing Element Research Chamber
Sustainable Additive Manufacturing Research Lab
Laboratory Testing and Evaluations Services
Laminate flooring testing: We work with the North American Laminate Flooring Association to develop and update performance standards. We also provide a range of services related to laminate flooring, including stability, abrasion resistance, and mechanical and physical tests as well as the newly-developed surface swell test to evaluate topical moisture resistance.
High Pressure Laminate NEMA LD-3 & ISO 4586 Tests: We are well-equipped to conduct testing on high-pressure laminates, laminated panels, and melamine-faced boards.
Mechanical Tests: We can use computer-controlled, servo-mechanical and hydraulic equipment to perform static and dynamic tests and all standard physical and mechanical ASTM tests and analysis for solid, engineered and composite products. We can also test structural materials, connections and furniture parts.
Conditioning Samples: We offer cabinet-sized chambers and walk-in rooms for testing products at a variety of temperature and relative humidity conditions, allowing us to understand the behavior of their dimensional changes within different environments.
Lumber Kiln Drying: We are capable of performing conventional and high-temperature lumber drying with our 1,000-board-foot masonry kiln, which can accommodate a lumber stack that's up to 4 feet wide, 12 feet long and 4.5 feet high.
Troubleshooting: We can evaluate faulty or defective wood products and recommend solutions to production, installation or user issues.