Impact and Outreach
NC State Students Host Exhibition to Celebrate W.E.B. Du Bois' Visualization Work
At the 1900 World's Fair in Paris, W.E.B. Du Bois and students from Atlanta University presented a variety of data, graphs, photographs and even statues to show what life was like for Black Americans at the time.
NC State students recently celebrated this visualization work at GIS Week, an event administered by the Geospatial Graduate Student Organization in partnership with the Center for Geospatial Analytics and NC State University Libraries.
"We do quite a lot of visualization work in the Center for Geospatial Analytics, but a lot of us hadn't heard that much about, or were completely unfamiliar with, Du Bois' contributions," said Alex Yoshizumi, a Ph.D. student studying geospatial analytics and co-president of the Geospatial Graduate Student Organization.
"We definitely wanted to find a way to share his work with others, and we had the thought that holding an exhibit could serve as a powerful vehicle for forwarding that goal," Yoshizumi added.
Yoshizumi and his team worked with their partners to call for submissions, which could address one of two categories: current research focusing on diversity, equity, inclusion and justice or data visualization inspired by Du Bois' work. The team received submissions from current students and alumni from across many of the university's colleges.
The exhibition features a variety of research and data visualization projects, some solely digital and others in multimedia format. One project, for example, features an interactive map of Raleigh that allows users to select a community to see archived photos of historic neighborhoods and historically black communities.
Another project features a one-way mirror display, with the mirrored side displaying data from NC State University's 2019 Campus Climate Survey related to students' thoughts and experiences with diversity and inclusion. The other side features a quote from Du Bois about the double-consciousness experienced by Black Americans, a topic explored throughout much of his work.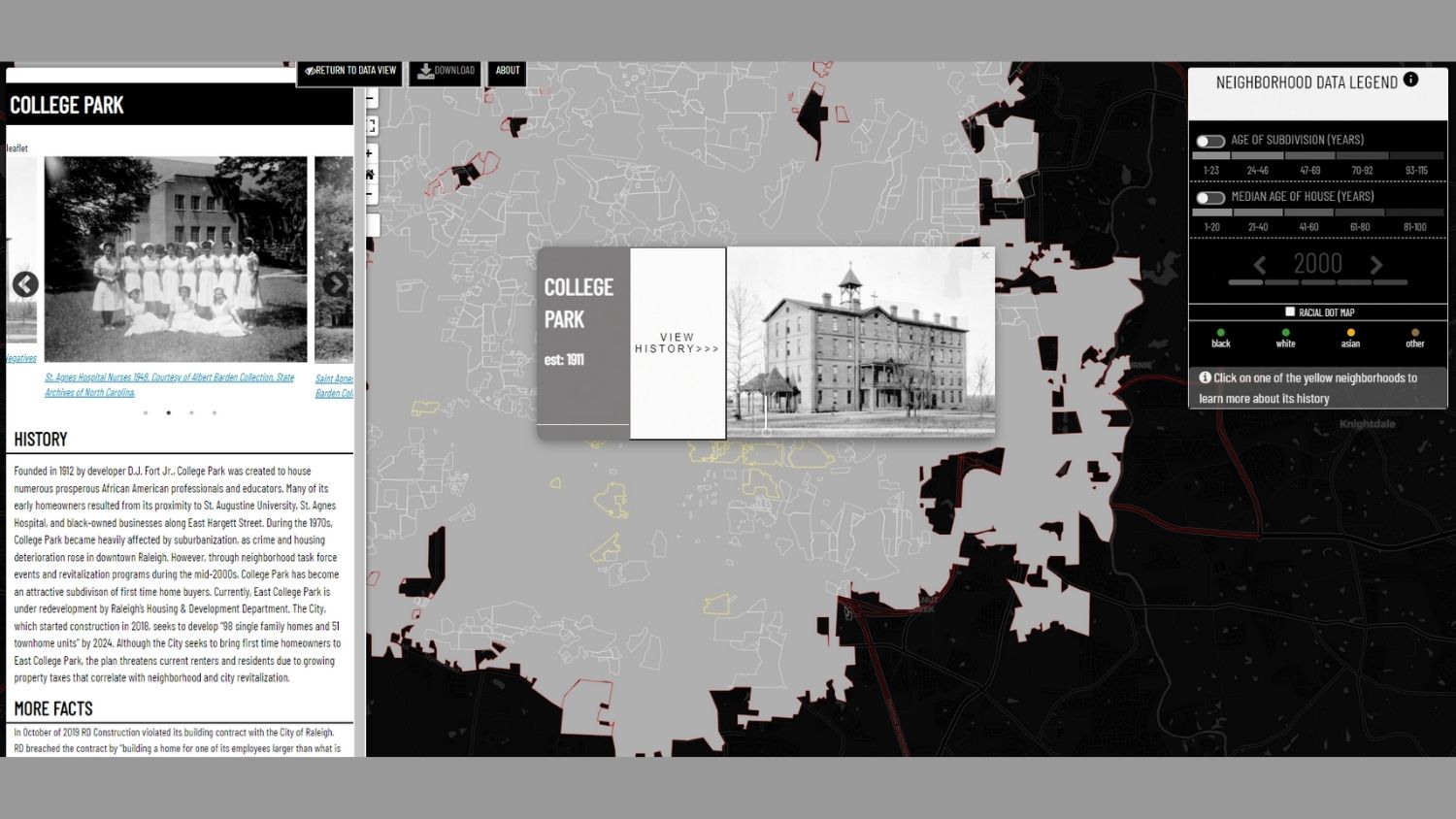 "Fortunately, we were able to provide every single person who submitted a $300 award," said Yoshizumi. "[This] was something that we were really passionate about, because so much of the work in this space frequently goes under-recognized and underfunded."
Yoshizumi added that funding for the awards and material costs of physical installations was provided by two grants. The group secured $2,400 with help from NC State University Libraries and then received $1,000 from a donor-funded program at the College of Natural Resource's Office of Diversity and Inclusion.
The physical exhibit was displayed in Hunt Library from November 2021 until February of this year. Since then, it has been hosted by Hill Library in the Innovation Studio. The content can also be accessed online at the GIS Week website.