Honors and Awards
Ivana Mali Named Distinguished Scholar for Conservation Biology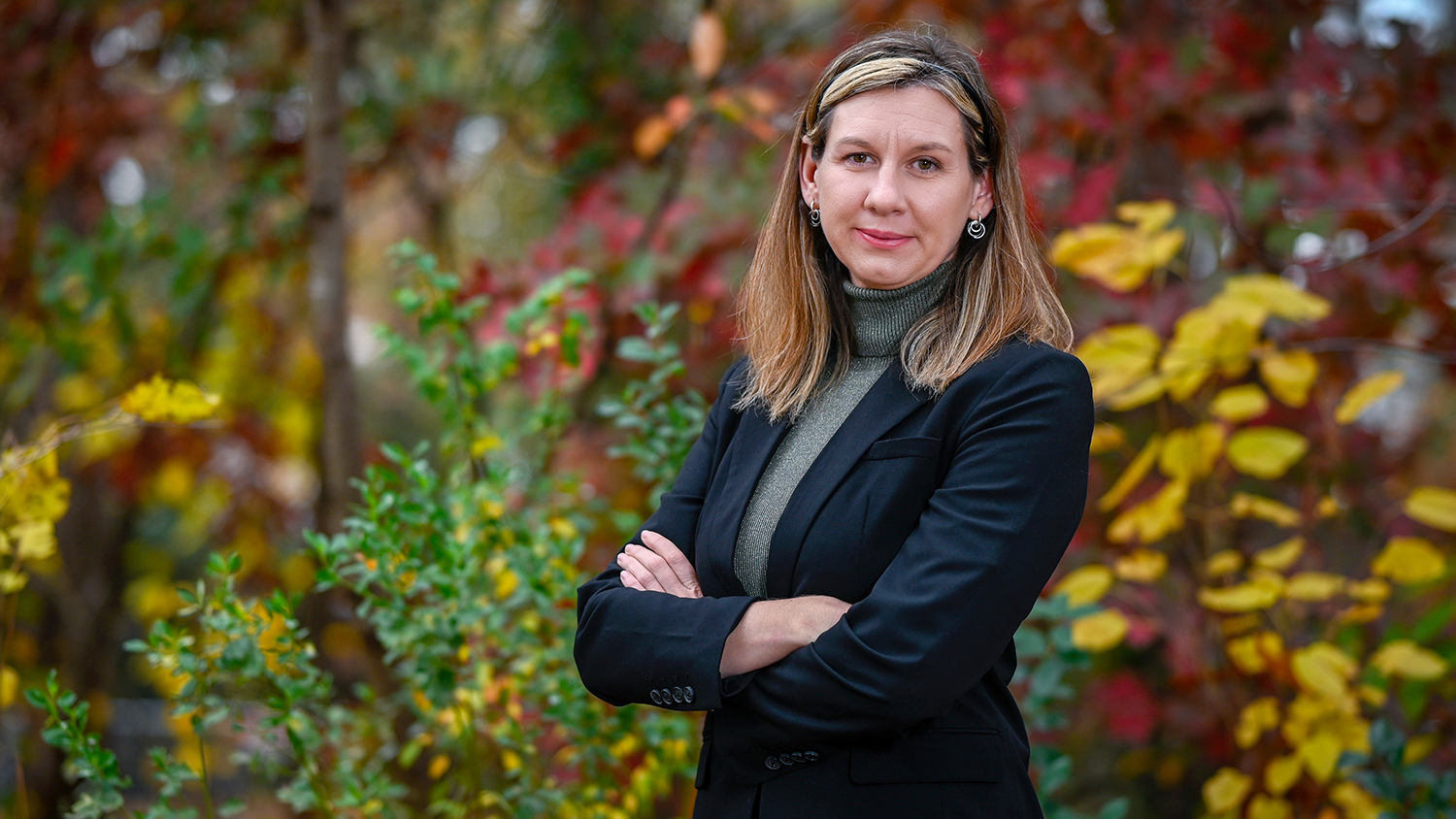 Ivana Mali, an associate professor in the Department of Forestry and Environmental Resources at NC State's College of Natural Resources, has been named the Ecology Wildlife Foundation Distinguished Scholar for Conservation Biology. The position was recently created through a generous gift from the Ecology Wildlife Foundation, a donor-advised fund dedicated to supporting organizations in North Carolina that encourage environmental conservation and education.
Prior to joining NC State in August 2022, Mali served as an associate professor of biology at Eastern New Mexico University, where she taught courses in wildlife biology and studied the Rio Grande cooter, a threatened freshwater turtle species native to the lower Pecos River in New Mexico, the lower Rio Grande watershed in southwest Texas and northeast Mexico. Mali received the university's Presidential Award for Excellence in Research, Scholarship and Creative Activity in 2020 for her contributions.
Mali, who is originally from Serbia, holds a bachelor's degree in biology with a minor in chemistry from Henderson State University in Arkansas; a master's degree in wildlife ecology from Texas State University-San Marcos; and a Ph.D. in aquatic resources from Texas State University. She briefly served as postdoctoral research assistant at Texas State University before joining Eastern New Mexico University in 2015.
"Dr. Mali is incredibly deserving of this recognition. She has a phenomenal record of involving students in her research and fostering the next generation of scientists in the field of wildlife conservation and management," said Erin Sills, Conger Professor and Department Head of Forestry and Environmental Resources at NC State. "We're fortunate to have her as part of the Wolfpack community."
As an expert in herpetological conservation, Mali's research examines how reptile and amphibian populations respond to anthropogenic stressors such as climate change, unregulated harvesting regimes and habitat degradation. She has published peer-reviewed studies on nearly every group of reptile and amphibian, though much of her research focuses on freshwater turtle conservation and management. Her lab also conducts research on the prevalence of hantaviruses in small mammal communities.
Mali is currently collecting data for a final series of studies on the Rio Grande cooter while assisting an NC State undergraduate student on analyzing radio-telemetry data in order to better understand natural history, home range and movement patterns of ornate box turtles. She is also developing research related to North Carolina's reptiles and amphibians, with a particular focus on the effects of urbanization.
"Turtles are remarkable animals. They remained unchanged for over 200 million years. But these incredibly durable animals are now under a very serious threat due to anthropogenic activities," Mali said. "The fact that even some of the most successful evolutionary groups like turtles are struggling to persist in the modern world is scary."
She added, "I work on shedding new light on species that have been poorly studied in the past but also on emphasizing the importance of keeping the common species common … Being able to contribute to changing management regimes toward more sustainable practices has made me even more passionate about continuing to address threats to turtle biodiversity."
In addition to her research, Mali will teach a herpetology course in the spring 2023 semester for both undergraduate and graduate students. She will also teach a Conservation Biology in Practice course for undergraduate students every fall beginning in August 2023. The latter is designed to focus on the scientific fundamentals of conservation biology, including population dynamics, rare species management, and more. Students will participate in active learning exercises, projects and debates.
Mali's teaching style relies heavily on experiential learning, which she believes is vital to preparing students to provide solutions to the challenges of natural resources use and management. "My goal is to excite students about ecology and conservation," she said. "Students can expect many hands-on exercises. I want them to get a glimpse of what I do as a researcher so I always try to create small research projects for them."
Students can also expect classroom discussions about conservation topics in the news and scientific literature, according to Mali. "Students will learn about the rationale behind the decisions of state and federal natural resource agencies and realize difficult decisions must be made to balance the needs of the wildlife and the needs of the people," she said.
Ultimately, Mali said being named the Ecology Wildlife Foundation Distinguished Scholar for Conservation Biology is the biggest achievement of her academic career so far. She looks forward to not only contributing to the college's research portfolio with her expertise but also to student success. "Because ultimately it is about training future generations and preparing our students for the uncertain world."