Alumni and Friends
5 Questions with Butterfly Specialist Tiffany Moore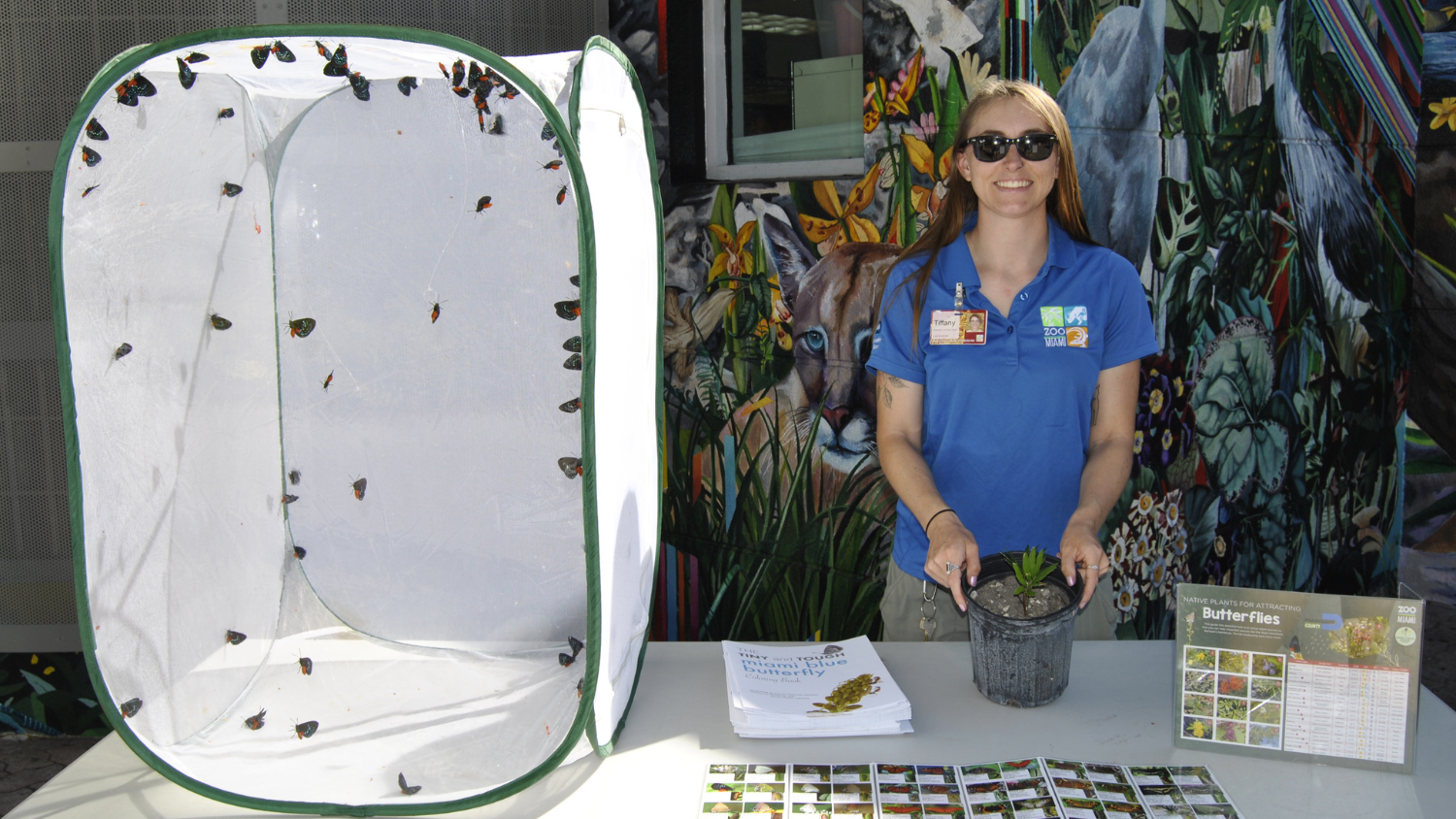 Tiffany Moore graduated in 2017 with a degree in environmental sciences and minors in entomology and outdoor leadership. She now works as a butterfly conservation specialist at Zoo Miami in Florida.
Zoo Miami is the fifth-largest zoo in the nation and the only sub-tropical zoo in the continental United States. The zoo cares for a wide variety of animals and a broad mix of species from Asia, Australia, Africa and the Americas.
We recently spoke with Moore to learn more about her position and passion for protecting the environment and how the College of Natural Resources prepared her for a career at the zoo. Check out the Q&A below.
What is a typical day in your job like?
Every day I manage a laboratory for raising native butterflies and moths. I'm able to do butterfly releases for general zoo guests and educate them on how they can help butterflies by planting a garden. During the fall and spring semesters, I may mentor a local university student who will conduct a research-based project.
During the summer, I have mentored a student through our Research for Undergraduate (REU) program. If I have research projects in the pine rockland preserve, I will take my equipment in a backpack and perform the necessary responsibilities. This can include monitoring rare and endangered species by taking measurements, taking a GPS point or taking photos.
What inspired you to study environmental science?
I knew from a young age that I was interested in all things nature. I was gifted a plastic microscope as a child and would collect insects to observe them before letting them go again. I spent most of my free time in the outdoors. My family would go hiking and camping in the North Carolina mountains. We spent summer weekends at the beach. So, naturally, I grew to care deeply about the environment.
What impact are you making through your position?
I have the opportunity to work with endangered species such as the Miami tiger beetle, Schaus' swallowtail and the Miami blue butterfly through collaborations and partnerships with the U.S. Fish and Wildlife and the University of Florida McGuire Center of Lepidoptera. The impact I'm able to make with these species is to provide assistance to our collaborators and conduct innovative research that will be used to help the U.S. Fish and Wildlife, Florida Fish and Wildlife Conservation Commission and forest preserve managers to better manage for the recovery of an endangered species.
I also make an impact by conducting life history research on Florida's native butterflies and moths. Much of the former literature for species requires updates to their life history which can help guide future actions in the event of climate change, sea level rise and other natural disasters.
How did the college prepare you for your current position?
While my undergraduate degree was environmental sciences, I added two minors: entomology and outdoor leadership. Through the core classes, I learned the causes and effects of climate change and how it all relates. My entomology minor allowed me to acquire a position in a research lab on campus. I spent three years there gaining experience of working in a lab as well as in the field conducting research. Having this experience in combination with my core classes for environmental sciences, I was able to acquire my first professional career job immediately after graduation.
What advice do you have for current College of Natural Resources students?
Talk to professors who research subjects you are interested in. Sometimes they can offer you a volunteer or paid position to get hands-on experience. It's ok to "shop around" and see what subject you are most interested in. College can be difficult and I found that taking the outdoor leadership minor was a way that I could relieve stress and be in the outdoors. Those classes were some of my absolute favorite times in college.