Alumni and Friends
Braden Holloway Named 2023 Distinguished Alumnus of the Year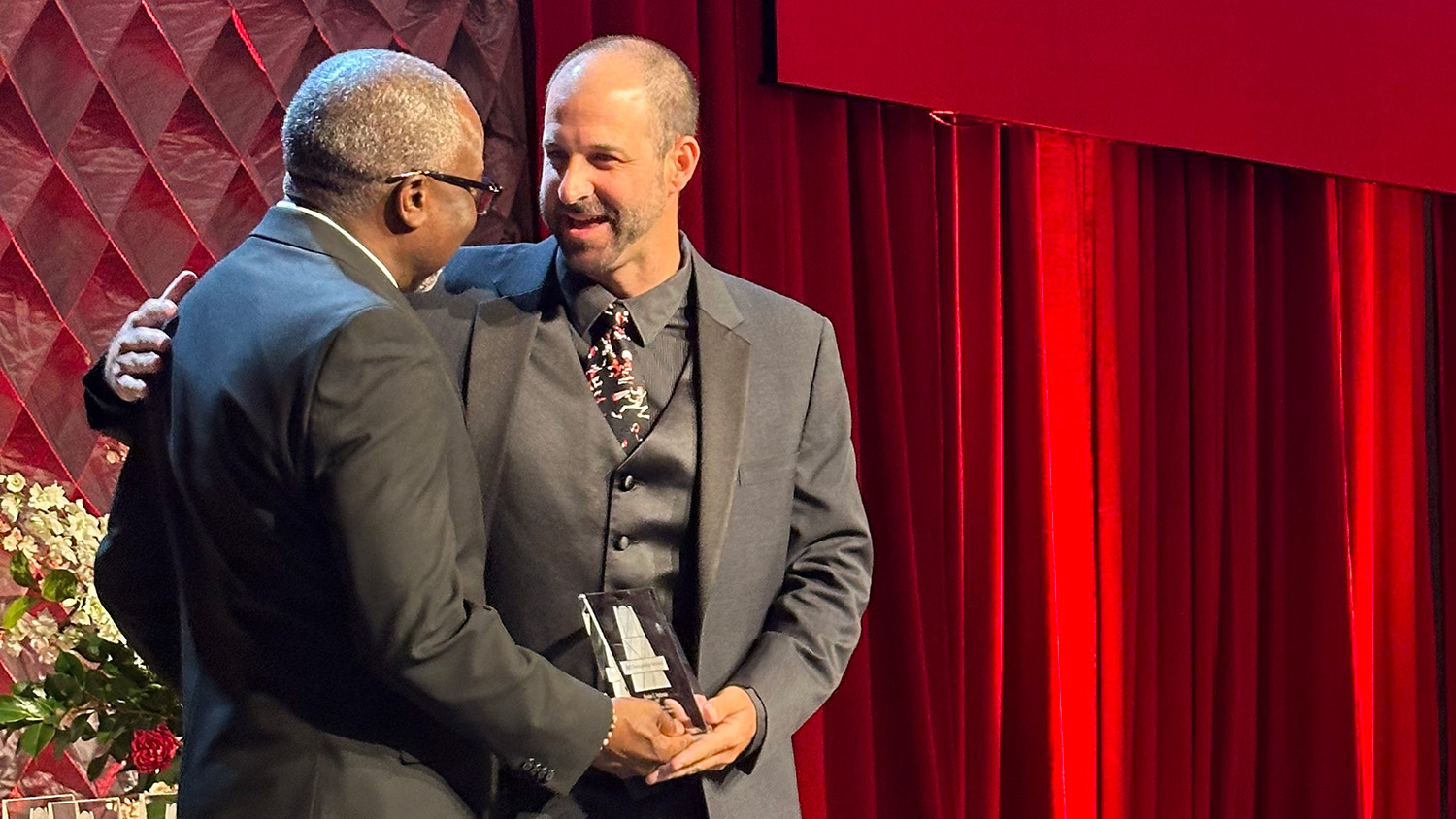 The NC State College of Natural Resources is pleased to announce that Braden Holloway has been named as its 2023 Distinguished Alumnus of the Year for his esteemed career in collegiate and international athletics and his contributions to the university as head coach of the Wolfpack swimming and diving program.
Holloway, who graduated from the College of Natural Resources in 2001 with a bachelor's degree in parks, recreation and tourism management, joined the program as head coach in 2011. He has since transformed it into one of the country's leading programs, producing conference and national championships — and Olympic athletes.
A nine-time recipient of the ACC Coach of the Year honor, Holloway has led the Wolfpack to seven NCAA relay championships, 11 NCAA individual championships, eight men's ACC championships, two women's ACC championships, 361 All-ACC performances, 454 All-America performances, 78 ACC individual titles and 46 ACC relay gold medals.
Most recently, Holloway led the men's and women's swimming and diving teams to their second-highest finish in program history at the NCAA Championships in March 2023 with a total of three individual national championship titles, 24 All-American honors and 20 Honorable Mention All-American honors.
"In his 12 years as head coach of swimming and diving at NC State, Braden has led the Wolfpack to unparalleled success and has built and sustained a culture of excellence," said Myron Floyd, dean of the College of Natural Resources. "His record of success extends far beyond sport and athletics as he coaches and develops young people to experience greater success in life beyond their time at NC State."
Holloway's commitment to excellence has not only helped student-athletes achieve success in the pool, but also the classroom. His program has produced more than 300 ACC Honor Roll or All-ACC Academic Team selections. He has also coached four CoSIDA Academic All-District Team selections, four ACC Scholar-Athletes of the Year, one National Academic Momentum Award winner and one NCAA Postgraduate Scholarship recipient.
In addition to his accomplishments at the collegiate level of coaching, Holloway has mentored 12 Olympians during his career. That includes Ryan Held, who claimed a gold medal at the 2016 Rio Olympics as the third leg of Team USA's winning 4×100 meter freestyle relay team. Held is a graduate of the Fisheries, Wildlife and Conservation Biology program in the Department of Forestry and Environmental Resources.
Holloway has served on the coaching staff of Team USA since 2017. He most notably led the team to a total of 40 medals at the 2019 World University Games in Italy, marking the most overall podium finishes and most first-place finishes for the United States in the competition's history. He most recently served as assistant coach for Team USA at the 2023 World Championships.
Prior to coaching, Holloway enjoyed an illustrious career as one of NC State's top swimmers. He lettered with the Wolfpack from 1998 to 2001, winning two ACC titles in the 100-meter backstroke, four All-ACC honors and five All-American honors. He also participated at the international level as an Olympic Trials qualifier at the 2000 Sydney Olympics. He was named to the ACC 50th Anniversary Team in 2002.
Holloway briefly served as an assistant coach at The University of the South in Tennessee from 2003 to 2004 before pursuing a master's degree in education from Virginia Tech. After graduating in the summer of 2007, he joined the Virginia Tech swimming and diving program as an associate head coach and recruiting coordinator.
During his time at Virginia Tech, Holloway guided the program to more than 30 school records, more than 20 All-Americans and more than 15 ACC individual championships. These successes led NC State to recruit Holloway as head coach following the resignation of Brooks Teal in 2011. The Wolfpack hadn't finished higher than seventh in the ACC in the 10 seasons prior to Holloway's return to his alma mater.
A native of Louisiana, Holloway is married to former NC State swimmer Mary Mittendor. The Holloways have four children – daughter Blyth Marie, son Ethan Robert, daughter Brynn Elizabeth and son Holden Jon.