Goodnight Scholar Q&A: A Conversation with Patrick Cardona '26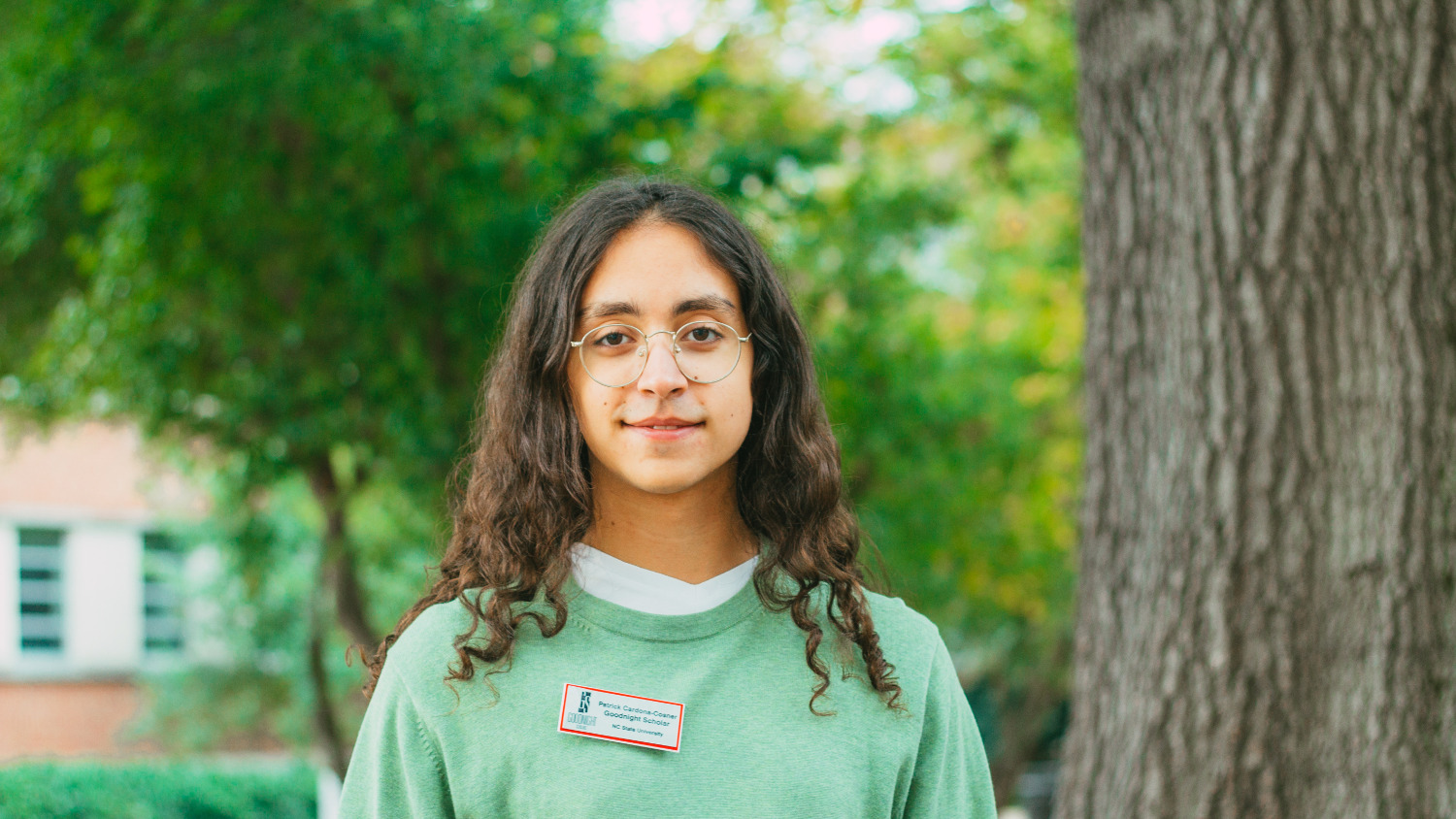 Patrick Cardona is a freshman studying environmental sciences in the Department of Forestry and Environmental Resources at NC State. He is among the 50 students in the class of 2026 recently selected for the Goodnight Scholars Program.
The Goodnight Scholars Program was founded in 2008 with support from NC State alumni Jim Goodnight '65 and Ann Goodnight '68. It provides full-tuition scholarships and student development programs designed to transform students into leaders within STEM and STEM-education fields.
We recently spoke with Cardona to learn more about his experiences in the Goodnight Scholars Program and why he chose the College of Natural Resources for his undergraduate education. Check out the Q&A below.
What does being a Goodnight Scholar mean to you?
Being a Goodnight Scholar, to me, means being a part of a community of individuals who wish to make a real difference in the world. It is not a matter of doing the best in your classes or doing the most volunteer work, rather, it is about a desire to do something meaningful in a field you are passionate about. It is about not stopping when it gets easy but striving to do something more. I see the others in my program, and I see people who truly inspire me to follow my dreams.
Not only do Goodnight Scholars seek to make a difference in their fields, but they also seek to make a real difference as people. I already see people making a difference just a month after arriving on campus. Most important of all though, is the community that the Goodnight Scholars Program brings. Each person follows their own path in college, but there is a great sense of comfort that comes with being a part of a small community that you can always come back to. From studying in Talley together to planning road trips over fall break, this community is one that will last a lifetime.
How do you feel the Goodnight Scholar program will prepare you for an education and career in the STEM field?
One of the most important aspects of college is building a network that will allow you to gain more opportunities to grow your experience. The Goodnight Scholars Program has this in mind by having programming events focused on meeting professionals in your field, networking, and resume building. Not only that, but the professional staff have extensive knowledge of STEM opportunities on and off campus and are more than willing to help members find what they need. Being in a cohort of exclusively STEM students also helps when finding experiences around campus such as clubs, events, and job opportunities that other scholars experienced themselves. Having a network of others so devoted to STEM allows you to reach out and find the educational experiences you need.
Which of your accomplishments have meant the most to you?
My most meaningful experience was running my high school's cooking club in my senior year. I previously had no experience running a club, so I knew I had work to do if I was to run the club in an orderly fashion. I worked incredibly hard to make sure the members had a good time at our club meetings every Friday. Ultimately though, I bit off more than I could chew and ended up having to cancel events due to time constraints or canceled meeting times. Long story short, I enjoyed that experience so much not because I thought I ran the club well, but because I learned so much from each mistake I made. It was an incredible experience to work with the other cooking club leaders, members, and staff representatives. My advice to high school students is to jump headfirst into opportunities that you are passionate about, even if you think you may not be good at it. The main thing that gets in the way of students' success is a fear of failure, but I say that you miss all the shots you do not take. Show your passion and do not be afraid to learn and improve in everything you do.
Why did you choose the College of Natural Resources for your undergraduate education?
The College of Natural Resources is incredibly unique in the fact that it prepares undergraduates for careers bridging the gap between science, engineering, humanities, and more. Not only that, but it also teaches students with real-world experiences to use real-world tools to solve real-world problems. The college is about being able to apply scientific knowledge and apply it in truly meaningful ways. Specifically, in my major of environmental sciences, I think the customizability of your chosen focal area describes the education environment of the college perfectly. The college encourages students to find a sustainability career that matches their strengths and interests to build their education and learn the appropriate skills required. As I always say, I feel like a kid in a candy store with so many amazing educational opportunities and specialties I can choose from. If you are interested in making a difference in the world of sustainability, the College of Natural Resources has an educational plan to prepare you for your career ahead.
What are your career aspirations?
I am still in the early stages of finding my niche in the environmental sciences field, so I plan to explore more fields as time goes on. If I was to choose a career now, I would work with either the Environmental Protection Agency as an environmental protection specialist or for an environmental consulting firm as an environmental scientist. I have always loved biology and chemistry, so I know I can tie in these interests to protecting the environment. Plants and animals have always been interests of mine, so I would love to continue this by specializing in ecology and wildlife protection. I still have time to explore career paths that interest me, so I know that during my time here at NC State, I will be able to find the exact one that is right for me.
Tell us about something you are passionate about outside of your academic studies.
Some of my passions include cooking, plants, and of course, the outdoors. A big part of my decision-making for my future career is separating what I like to do for fun versus what I would like to do as a career. I love cooking, as I find it very relaxing and a good creative outlet, but I know that if I had to cook for my job, I would not enjoy it as much. However, my passion for the outdoors and nature has always been at the forefront of my mind. It was not until relatively recently I decided that I should combine my love of the outdoors and science. I have always been drawn to science; something about being curious and asking questions while being able to find the answer has always been so intriguing to me. However, once I researched careers that involved both, I knew that this was something that I wanted to devote my life to.
This post was originally published in College of Natural Resources News.