O Christmas Tree, How Lovely Are Thy Branches that Retain Needles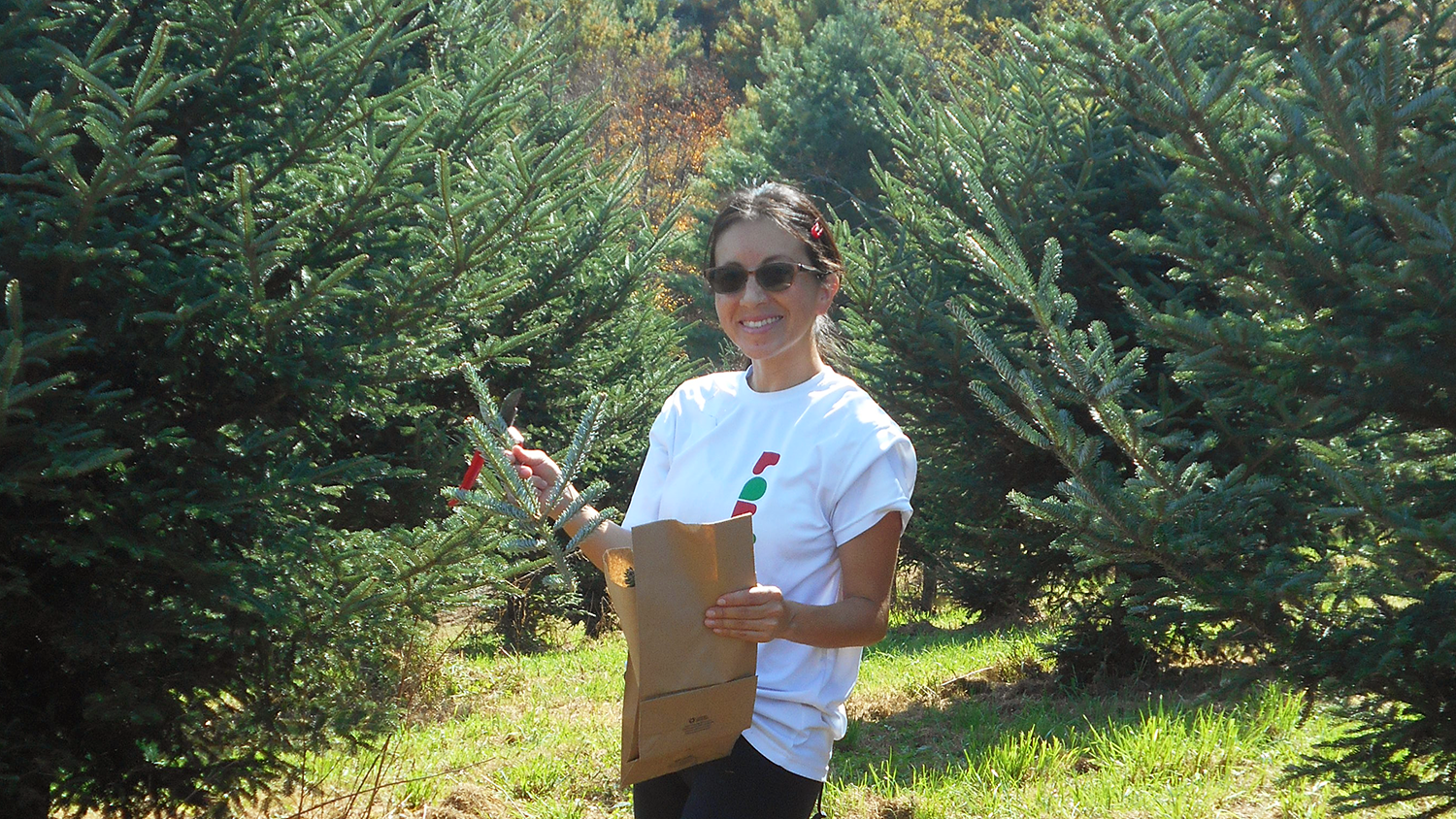 Nothing announces the holiday season like the sight and smell of a live Christmas tree. The fresh scent of fir and pine can transport us to favorite holiday memories and remind us that the time for pumpkin spice is over and peppermint and hot chocolate is on its way. The annual hunt for the perfect tree is not only immortalized in numerous holiday movies, it has become an essential rite of passage for families to begin the countdown to their favorite gift-giving events. Regardless of how you feel about blinking lights and hanging holiday ornaments, decorated Christmas trees are an iconic tradition enjoyed by millions of Americans and their families.
As beautiful as Christmas trees are twinkling in the night, nobody likes cleaning up the fallen needles. Movies like A Christmas Story, capture one of the market's biggest complaints best when Ralphie's dad asks the Christmas tree salesman, "This isn't one of those trees where the needles all fall off is it?"
Improving Trees — From our Lab to Your Floor
For many, needle retention is one of the main factors in choosing between a live or an artificial tree. At this holiday juxtaposition is where we meet research associate Lilian Matallana. She's trying to pinpoint the genes responsible for needle retention in Fraser fir. Working with professors John Frampton and Ross Whetten in the NC State Molecular Tree Breeding Lab, the research team is trying to improve the quality of Fraser fir in the North Carolina Christmas tree market, which ranks second in the nation for the number of trees harvested—98 percent of which are Fraser fir.
"The main goal of this project is to improve post-harvest needle retention using new genomics tools for the identification of gene networks and molecular markers that control this trait in Fraser fir and other Christmas tree species, and increase the Christmas tree industry's competitiveness with artificial trees," Matallana said.
Needle retention becomes a big issue for consumers when trees sit for a long time in people's homes after they are cut down, or harvested. Commercially grown trees could be harvested as early as the end of October to be prepped and shipped to meet demand in all 50 states and countries around the globe, including the Caribbean Islands, Mexico, Canada, Bermuda and Japan. A Fraser fir with good needle retention traits retain their needles during the long period between October and December, even under usual home conditions like dryness and increases in temperature and light.
Although data shows that a prolonged absence of sufficient cold from early harvest causes a decline in needle retention, it does not make economic sense for Fraser fir growers to wait longer to harvest trees for the holiday season. Because of this, Matallana and the research team are using the power of genomic tools to predict elite trees for farmers and growers. The research team is working to identify molecular markers, or genes, that are associated with needle retention and other desirable traits for marketing like disease and pest resistance to create tests to anticipate which trees will keep desirable characteristics. The team's research will have a huge economic impact on an industry with an annual revenue of more than $100 million.
Setting New Industry Standards
The process of determining which trees have the longest needle retention rates begins on research plantations in Western North Carolina and Washington State. At places like the Upper Mountain Fraser Fir Clone Bank in Laurel Springs, the 3,200-foot elevation is perfect for growing and studying North Carolina Fraser fir, a crop native to the Appalachian Mountain region.
"The Christmas Tree Genetics Program screened around 28,500 trees from about 540 families from six mountaintops in our 2000 Progeny test series," said Christmas tree genetics research specialist AnneMargaret Braham. "Based on growth, density, shape and USDA grade, we chose the best trees from the best families in 2005 and 2007 to go to the clone banks. Now we are screening the selections for needle retention and these trees will make up the parents of the next generation of trees. By both evaluating at the phenotypic level, or outward appearance, and linking the gene identification work that Lilian is doing, we can choose the best parents to cross together for improved seed."
In 2017, Braham and her team cut tree samples, branches about a foot long, from the different tree families to bring back to the Molecular Tree Breeding Lab at NC State. The samples then sat in paper bags for four weeks to determine which ones retained the most needles. In addition, researchers rated each sample's color and stiffness. Since Christmas Trees are not just seen, but also decorated and touched by consumers, the research team also gently brushed each sample after a few weeks to see which samples held the most needles at different stages.
"Once we score and register the data, we can determine how well the trees look on display and retain the needles," Matallana said. "From there, we can distinguish between families and use the best and the poorest needle retention-type of trees to continue with the genetic analyses. The last part is identifying key genetic markers that will allow us to predict which trees will retain the needles better.
Research Advancement
Since the initial screening, Matallana has begun a new project with Kelly Goode, a senior in the College of Agriculture and Life Sciences and a research assistant in the Department of Forestry and Environmental Resources. As Goode and Matallana were collecting data, they wondered if there was a faster way to predict which trees would have good needle retention other than growing an embryo, cultivating the tree for years and collecting samples to analyze in the lab.
Matallana realized the changes they were seeing in the data may represent something physical in the tree. So they began to examine the post-harvest needle abscission site, the area where the needle separates from the tree branch. According to Matallana, this was the first time anyone had taken a close look at the abscission site to compare good and bad needle retention clones. They found that, unlike most trees, Fraser firs have a cork-like layer in the abscission site, leaving small openings for nutrients to pass through. The same cork-like layer is used to seal the abscission site once the needle is cut off.
Ultimately, Goode and Matallana found that the cork-like layer accumulates in trees with both good and bad needle retention in a similar fashion. However, the trees with bad needle retention accumulate the layer earlier. This discovery will help them better understand the correlation between these physical changes at the genomic level, Matallana said, and help researchers predict which trees will have better needle retention simply by looking at the abscission site.
Another large advancement in their research is the addition of the first transcriptome for Fraser firs. A transcriptome is basically a transcript for the genes being actively expressed in a tree (think color, height, branch length, etc.). Matallana and her team built the transcriptome using data from samples collected both before and after needle abscission in Fraser firs, as well as Canaan fir and Balsam fir, two species used as Christmas trees in the western U.S.
"We believe that these 'shared genes' found in the three species will play not only a key role during post-harvest needle abscission but also could be markers with the potential to predict which trees will be more likely to retain the needles before abscission occurs," Matallana said. "If so, future studies will use this information to identify those trees with stronger needle retention and to design strategies to breed them in a shorter period."
Matallana and the team at the NC State Molecular Tree Breeding Lab plan to publish their new findings in 2019.
Increasing Public Understanding of Genomics
As Matallana and her team get further into their research and closer to applying their data outside of the lab, they know they may run into some bumps in the road.
Matallana recognizes how challenging it can be to help the public understand genetics and genomics. "I'm trying to convince people that genomics is not a bad thing. It's a tool that we can use in a good way," Matallana said.
From her perspective, one common misconception about genomics is simply the ethics of humans deciding which genomes to utilize and which to change. "We are using genomics in a way to discover and know more about the genome of the trees that are [in North Carolina]. Nature itself has been changing genomes in a very good way for a long time."
Using genomics, Matallana and her team are discovering which trees naturally have better conditions for adaptation and wood and needle retention. These trees may be more resistant to drought and heat stress, and therefore more adaptable to climate change. Matallana hopes that with time and collaboration, she and her team at the NC State Molecular Tree Breeding Lab will be able to implement the data they've been collecting for over 5 years in the field and enhance an industry that's treasured by the United States.
Local Research, International Recognition
Originally from Colombia in South America, Matallana did not grow up with live Christmas Trees. She only recently developed a passion for the industry five years ago when she started this project, with support from the Specialty Crop Research Initiative Grant through the USDA's National Institute of Food and Agriculture.
"I didn't grow up with real Christmas trees at home," she said. "We had plastic trees with white tips because we never have winter. But I love being close to the growers and applying science to agriculture. I feel a real connection and have been very lucky to be part of this project. It's nice to study the kinds of things that have such a big impact."
In 2017, Matallana presented her research at The Young Researchers' Symposium in Stockholm, Sweden. The symposium was part of the events leading up to the presentation of the Wallenberg Prize, widely considered the Nobel Prize in Forestry, by the King and Queen of Sweden to Dr. Ron Sederoff, a recently retired Forestry and Environmental Resources professor and pioneering molecular geneticist. Matallana was one of only four researchers to participate from NC State. She presented "How Genomics is shaping the future of Christmas Trees," a practical look at the progress of plant and forest genomics for the Real Christmas Tree Industry (RCTI) in American and European economies during the 3-minute thesis presentation.
"The Young Researchers' Symposium is intended by the Marcus Wallenberg Foundation to foster international relationships among the next generation of researchers working to improve forests and forest products for the future," Whetten said. "Lilian has already begun building international networks of professional colleagues and collaborators. It has been a genuine pleasure for me to work with her, and I look forward to great things from her as her career continues to develop."
At the end of the event, the top five peer-ranked presentations and the top three presentations ranked by the selection committee were announced. Jack Wang and Matallana from NC State were both ranked in the top five, according to the peer rankings, and Wang was part of the top three picked by the selection committee. "I feel very excited that from four NC State participants, two were peer-ranked in the top five, out of the 36 participants," Matallana said.