Student Success
Not Your Average Summer: Utilizing Data to Promote Sustainability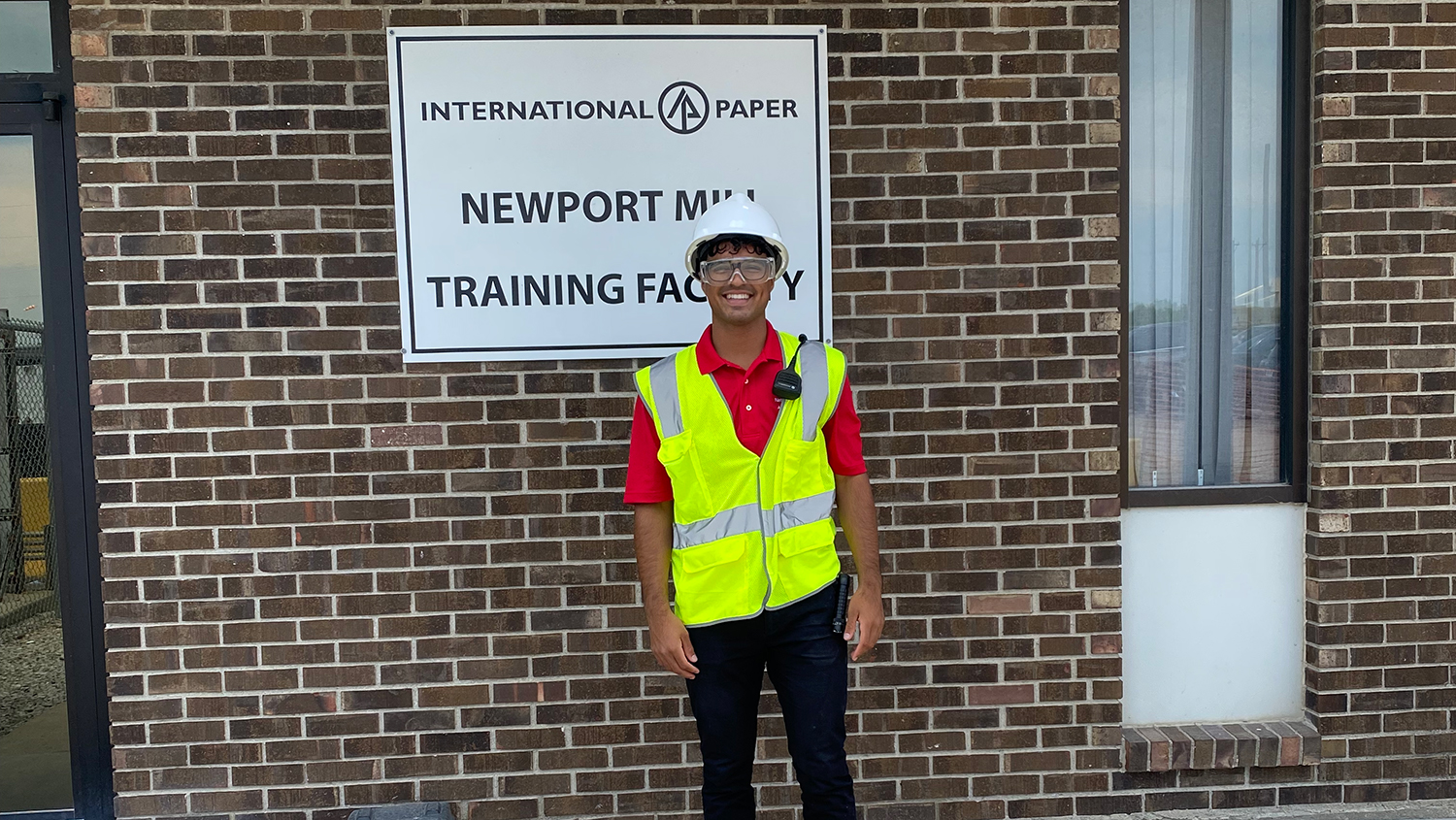 Kelvin Borges is a sophomore dual majoring in paper science and engineering and chemical engineering at the NC State College of Natural Resources. This summer, Borges is participating in a super co-op as a process engineer at International Paper's mill in Cayuga, Indiana.
Founded in 1898, International Paper is one of the world's leading producers of fiber-based packaging, pulp and paper, serving 25000 customers in 150 countries around the world. Borges will continue working at the company until December. We recently spoke with Borges about his internship experience and what he's learned so far. Check it out below.
What kinds of things are you doing during your co-op?
At International Paper, I am working as a process engineer. This means a lot of my job requires me to understand the steps and machines within paper manufacturing. A few of my projects recently have been to look at previous data and see how I can optimize different factors and save money for the mill. For example, I am looking into the different chemicals we use to see if I can reduce the amount of chemicals we use while still maintaining certain specifications in the final product for our customers. Another project requires me to reduce the weight of some of our grades of paper without sacrificing its strength. This allows me to do a multivariable analysis and change the speeds and loads of different machines to change other properties about paper that give it its strength.
These projects have been extremely interesting, and it is giving me a great first experience into paper science engineering and chemical engineering. I am really excited to keep working here for the next couple of months because I am at a smaller mill which means I have access to a wide array of projects in different departments. This allows me to meet and work with more people and it broadens my skillset while allowing me to figure out what kind of engineer I want to become after I graduate college.
How did you find out about this co-op and why were you interested in it?
I found out about this internship through the paper science department within the College of Natural Resources. They made it extremely easy to interview with different companies. I was interested in this internship because I knew it would challenge me to be a better engineer. I also knew that a co-op early in my college journey would better prepare me in my classes and help me understand how those subjects are applied in the real world.
In what ways did the College of Natural Resources prepare you for this co-op?
The College of Natural Resources prepared me for my internship by taking the time to teach me what these big companies expect out of their interns and what we can do to impress them during our time there. They also helped me a lot when it came to getting this internship because they helped us write a professional resume that stood out. They also performed mock interviews with feedback in order to help us present our skills in the best way and be more confident during the real interviews.
What are your long-term goals, career plans and how does this co-op factor in?
As a young paper science engineer and chemical engineer, I am using this super co-op experience to help me decide what industry I want to go into after I graduate. When it comes to working, I also like the business side of things, so I will be looking to get my MBA eventually. I also want to relocate through my job and move internationally. This co-op with International Paper is interesting because I am already building my contacts and asking them for advice on the best way to fulfill my long-term goals.
What's the most important thing you've learned while at NC State?
The most important thing I've learned while at NC State is to take any opportunity that comes your way. Even if you do not know where it will lead you and even if it seems scary at first, you should make use of the opportunities available at NC State because something good will always come out of it and you will always learn something. For example, I was nervous going into my first ever interview which was actually with International Paper, but now I am working at one of their mills on the other side of the country. This would not have happened if I didn't take that risk and believe that I would come out on the other side as a better person.