Student Success
NASA Intern Elyssa Collins Uses Satellite Data to Safeguard Earth's Water Resources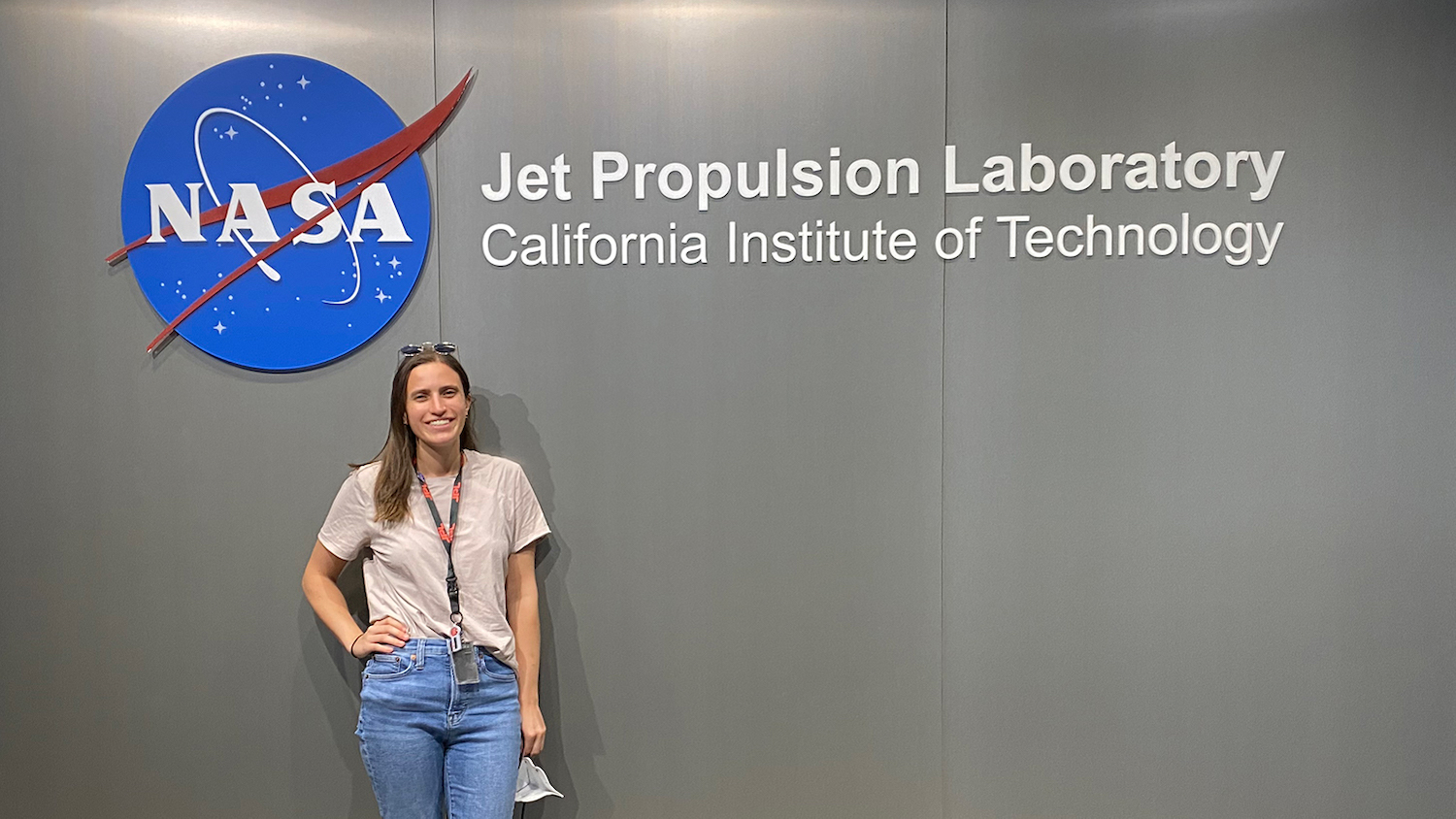 This article is part of the Not Your Average Summer series highlighting the internship experiences of both undergraduate and graduate students from the NC State College of Natural Resources.
Elyssa Collins is a fourth-year doctoral student in the Center for Geospatial Analytics. Her research focuses on identifying computationally-efficient approaches to modeling flood risk and flood hazard using machine learning, inundation modeling, and streamflow modeling.
This summer, Collins is interning with the Water and Ecosystems Group at NASA's Jet Propulsion Laboratory (JPL) in Pasadena, California. The Water and Ecosystems Group combines spaceborne and airborne data with observations and computer models "to better understand the Earth's land and coastal waters and their ability to sustain life."
Check out the Q&A below to learn more about Collins' experience at NASA's Jet Propulsion Laboratory and the role of the College of Natural Resources in preparing her for the internship.
What kinds of things are you doing during your internship?
I'm working in the Water and Ecosystems Group on a project evaluating water availability in Earth's river networks using open-source software and open-access data.
How did you find out about this internship and why were you interested in it?
I reached out to my current mentor at JPL, Cédric David, to obtain feedback/guidance on a research project that I'm working on for my dissertation. We set up a meeting and I walked him through the project and asked if he would like to join as a co-author. At the end of the meeting, he asked if I have ever thought about applying to an internship at JPL. And now here I am!
In what ways did the College of Natural Resources prepare you for this internship?
I took classes for my Ph.D. in the College of Natural Resources that helped provide me with the necessary computational skills to prepare me for the internship (e.g., Python, R, open-source GIS). The research I've been doing in the College of Natural Resources for my Ph.D. with my mentors — Ross Meentemeyer, Georgina Sanchez, Adam Terando and Helena Mitasova — has also helped prepare me. Through this research, I've gained skills in big data processing, high performance computing, large-scale geospatial modeling and hydrological modeling.
What are your long-term goals and how does this internship factor in?
My long-term goal is to continue doing geospatial/hydrologic research. I think I would like to stay in research that has national to global implications. This internship will hopefully either lead into a post-doc or research position in government or provide me with more skills/knowledge required for other potential positions.
What's the most important thing you've learned while at NC State?
The nature of collaborative research. Through my Ph.D. studies, I've learned how to collaborate with people from other research areas, universities, and agencies. My learned collaborative research approach has allowed me to take advantage of everyone's expertise and conduct the most robust scientific research.