Ph.D. in Geospatial Analytics
Our innovative Ph.D. program brings together departments from across NC State University to train a new generation of interdisciplinary data scientists skilled in developing novel understanding of spatial phenomena and in applying new knowledge to grand challenges.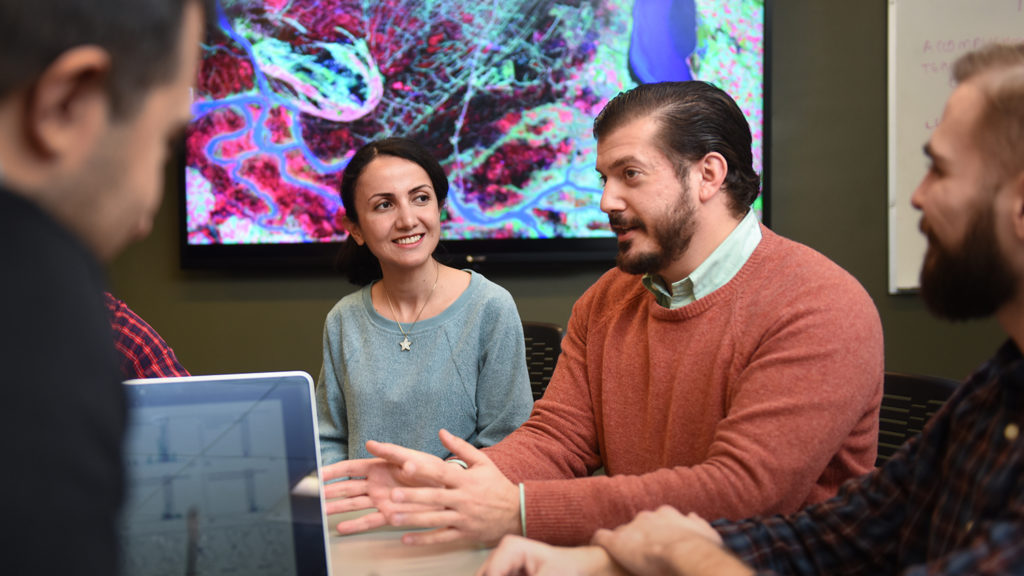 This one-of-a-kind degree focuses on integrative thinking and experiential learning:
Multidisciplinary advising unites expertise from across complementary academic departments
Cross-cutting curriculum spans core classes in solution-driven analytics and discipline-specific electives
Geospatial externship enriches practical understanding through a one-week internship with an external partner
If your research goals intersect geospatial problem-solving from any number of fields, you will find your fit here. Our Faculty Fellows advise students interested in a range of disciplines––from design, to social and behavioral sciences, natural resources and the environment, computer science, engineering and more––and approach their work in a range of geospatial research areas. Students with strong backgrounds in quantitative methods in geography, geomatics/informatics, remote sensing and earth sciences are strongly encouraged to apply. Find recent publications by our faculty through NC State's Libraries Citation Index.
Apply for a Ph.D. in Geospatial Analytics
Twelve fully funded Ph.D. graduate assistantships with $25,000 salary, benefits, and tuition support are available for Fall 2022 through the Center for Geospatial Analytics. Students are encouraged to suggest prospective advisor(s) and describe shared research interests in their application's personal statement.
The application period for Fall 2022 admission to the PhD in Geospatial Analytics is closed at this time. The cycle for Fall 2023 admissions will begin in September.
Admission Requirements
Competitive applicants will have
Undergraduate GPA ≥ 3.0
Graduate GPA ≥ 3.0 (if entering with a Master's degree)
For international applicants: IBT TOEFL score ≥ 80 overall (18 in each section), IELTS score ≥ 6.5 on each section, Duolingo English ≥ 110. Scores are not required for citizens of these countries or who have completed at least one year of full time study at U.S. college or university
Note that GRE scores are optional for applicants for Fall 2022 admission
Supporting Documents
Official NC State Graduate School application.
Unofficial transcripts from all colleges/universities attended (official transcripts are only required if admitted to the program).
A personal statement, not to exceed 2 pages. We encourage you to consider the following:

Your academic and career goals
Special interests and prior research in the area of geospatial analytics
What makes you well-suited to our program
Describe any computational, quantitative, and/or geospatial training
You are encouraged to suggest prospective advisor(s) and describe shared research interests

3 letters of recommendation. Submit the names and contact information for your recommenders through the online application, and they will receive an email with instructions for submitting their letters online.
Curriculum vitae/resume.
Optional short answer questions.
If you have questions about the application process, please contact Rachel Kasten, Graduate Services Coordinator (rachelkasten@ncsu.edu, 919-515-2800). Please note that there is a required application fee of $75 for domestic applicants and $85 for international applicants.
More information for prospective international students can be found here.
Degree Requirements
The Ph.D. program consists of
72 credit hours beyond the Bachelor's degree. The core required courses comprise 18 credit hours. The remaining 54 credit hours are devoted to an individually tailored selection of electives and research.
an off-campus professional experience. By the beginning of their third year in the program, students participate in an experiential learning activity within government (local, state, federal), industry, private and academic research institutions, or other organizations in the geospatial arena. Students consult with their advisors to identify specific opportunities that will enhance their doctoral program.
a comprehensive exam. The written exam is required by the end of the 4th semester, followed by an oral exam consisting of the dissertation proposal defense, typically before the start of the 5th semester.
a written dissertation and final dissertation oral defense required to complete the degree.
Core Curriculum
The core curriculum includes the following courses; click course names to view descriptions:
Frequently Asked Questions
Below are some of the most frequently asked questions we have received about the Ph.D. program in Geospatial Analytics. If your questions are still not answered here, please feel free to contact us through the form below.
Questions?
We're here to help! Contact us for more information about the Ph.D. in Geospatial Analytics.
Explore Opportunities
Our graduate assistantships are fully funded with a yearly stipend, tuition support, and benefits. Learn more about opportunities at NC State and the Research Triangle to enrich your graduate experience.