Geospatial Graduate Student Organization
The GGSO is a registered student government organization that supports all graduate students affiliated with the Center for Geospatial Analytics. The organization sponsors professional development activities, social events and service projects, such as partnering with Wake County's Holiday Cheer program.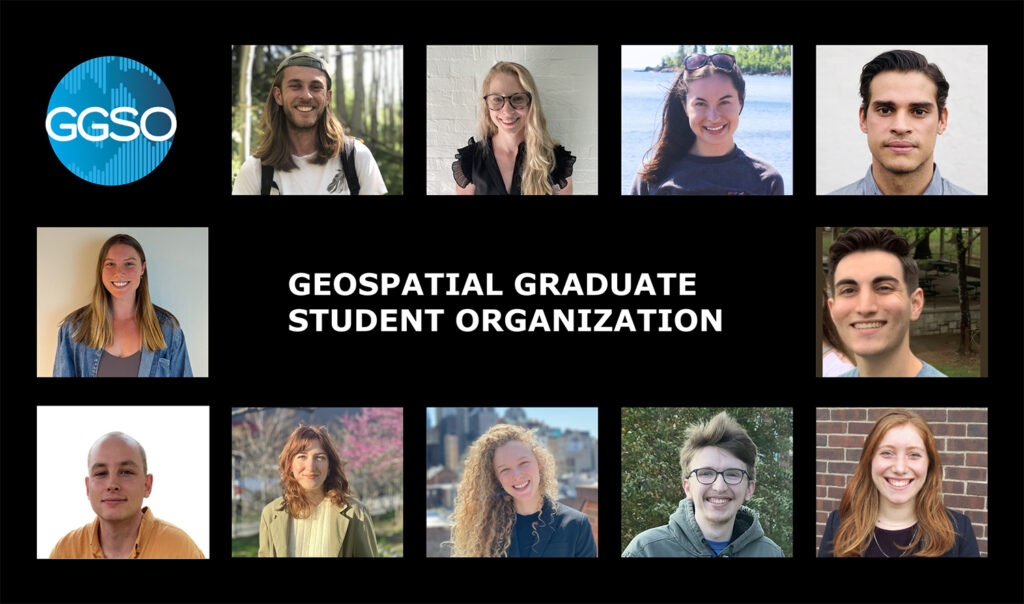 Who We Are
Community, Career-Building and Support
The Geospatial Graduate Student Organization (GGSO) supports students from all graduate programs at the Center for Geospatial Analytics. We provide educational, networking and other professional development opportunities to connect students in the geospatial community and advance the interests of interdisciplinary geospatial research and education.
Any student currently enrolled in the center's graduate programs –– including the Master of Geospatial Information Science & Technology (MGIST), Ph.D. in Geospatial Analytics and Graduate Certificate in GIS –– as well as any NC State student working closely with or being advised by center faculty or faculty fellows to earn a master's or Ph.D. can become a member and serve as an officer or committee member. Check out the GGSO's Constitution and Bylaws for more information.
How to Get Involved
Interested in a leadership role with the GGSO?
Any center-affiliated graduate student, online or on-campus, can serve as an officer or committee member. Officer and committee members serve a one-year term beginning each May.
Join the GGSO on NC State's Get Involved site to ensure that you receive announcements for officer and committee chair nominations and voting in early May each year.
Suggestion Box
If you have suggestions for future GGSO activities or would like a way to anonymously express concerns related to the GGSO or the center's graduate programs, please use the form linked above and we will do our best to support you.
Suggestions can include ideas for Lunch + Learn topics, career-building, networking, socializing, academic support, volunteering, physical and mental wellbeing, etc. Any topic or endeavor that you think would be valuable for Center for Geospatial Analytics graduate students are welcome.
Thank you for your input!
Current Officers (2023–2024)
Co-Presidents
Margaret Lawrimore, malawrim@ncsu.edu
Andrew Shannon, ashanno@ncsu.edu
Presides over meetings of the organization; maintains contact with organization advisors; serves as a spokesperson for the organization; acts as student liaison to Center faculty and fellows; advocates for issues on behalf of the student organization; serves as the student representative during center-wide meetings.
Secretary
Christina Perella, cdperell@ncsu.edu
Obtains appropriate facilities for organization activities; keeps a record of all members of the organization; notifies all members of meetings; prepares organization's calendar of events; keeps and distributes minutes of each meeting.
Treasurer
Eli Horner, eahorner@ncsu.edu
Is familiar with university and center accounting procedures and policies; pays organization bills; prepares all budget requests for funds; prepares and submits financial reports to the members; provides faculty advisor with a summary of financial records at the end of the academic year.
Distance Education Representative
Abby Wiese, awiese2@ncsu.edu
Provides feedback and insight regarding needs of distance education (DE) students; provides feedback for how the GGSO can better support off-campus students through academic and professional development, networking, and social events; is an additional point of contact for assistance with DE questions; conducts yearly or semesterly surveys disseminated to DE students to gather needs, concerns, likes, dislikes, comments, etc.; ensures presentations and materials are available for DE students, such as professional development courses, networking events, lectures/presentations; attends GGSO meetings on-campus or via web meeting to promote awareness of DE students' needs.
External Representative
Louis Goodall, lagoodal@ncsu.edu@ncsu.edu
Serves as GGSO representative in the NC State Graduate Student Association (GSA). Updates GGSO on relevant information.
Current Committee Chairs
Geospatial Forum Chair
Felipe Sanchez, fesanche@ncsu.edu
Responsible for chairing the Geospatial Forum Committee, which works closely with the Center to identify and secure speakers for its Geospatial Forum.
Geospatial Forum Committee Member
Rebecca Composto, rcompos@ncsu.edu
Responsible for serving on the Geospatial Forum Committee, helps identify speakers for its Geospatial Forum.
DEI Chair
Jenna Abrahamson, jnabraha@ncsu.edu
Provides resources and guidance to adjust GGSO policies and practices to improve diversity, equity and inclusion. Is a representative for all students to ensure every student has a voice. Attends relevant NC State DEI events, shares findings with GGSO.
Social Chair
Emma Butzler, ebutzle@ncsu.edu
Responsible for chairing the Social Committee, which designs and organizes online and in-person social events for CGA-affiliated students, faculty and staff.
Marketing Chair
Truffaut Harper, tsharpe2@ncsu.edu
Responsible for maintaining GGSO's GIS Week website, designing marketing content for GGSO's events, managing event registrations and designing post-event summaries (if applicable).
Faculty Advisor
Dr. Eric Money, esmoney@ncsu.edu
Serves as an initial contact person for any feedback the GGSO would like to provide to center leadership and/or faculty; ensures that the GGSO adheres to all of the standards outlined in its constitution; relays center-related information to the GGSO as appropriate.
Center-Wide Resources For Students
GIS Week @ NC State
GIS Week at NC State University is designed to be an accessible learning and professional development event series centered around geospatial analytics and spatial data science. Drawing inspiration from NC State's motto "Think and Do," GIS Week is designed to connect researchers, practitioners and industry partners across varying sectors and disciplines. The week-long event offers workshops, social events and opportunities to learn how geospatial analytics is being used at NC State and nearby universities.
Good News Form
Share your accomplishments with the whole Center! Please fill out this form each time you win an award, receive a grant or publish a paper; are interviewed by the press, invited to speak somewhere, accepted to present at a conference; or have anything else you'd like to share. The info will help our Graduate Services Coordinator, Rachel Kasten (rachelkasten@ncsu.edu), and our Science Communicator, Dr. Megan Skrip (mmskrip@ncsu.edu), to spread the word about just how great you and your work are!
More Resources